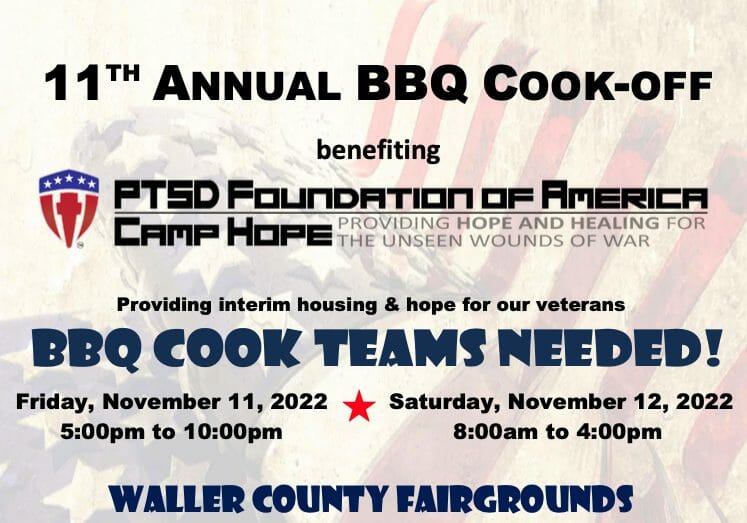 11th Annual BBQ Cookoff November 11 benefiting Camp Hope – Waller (Houston)
This Event Reminder is Sponsored by: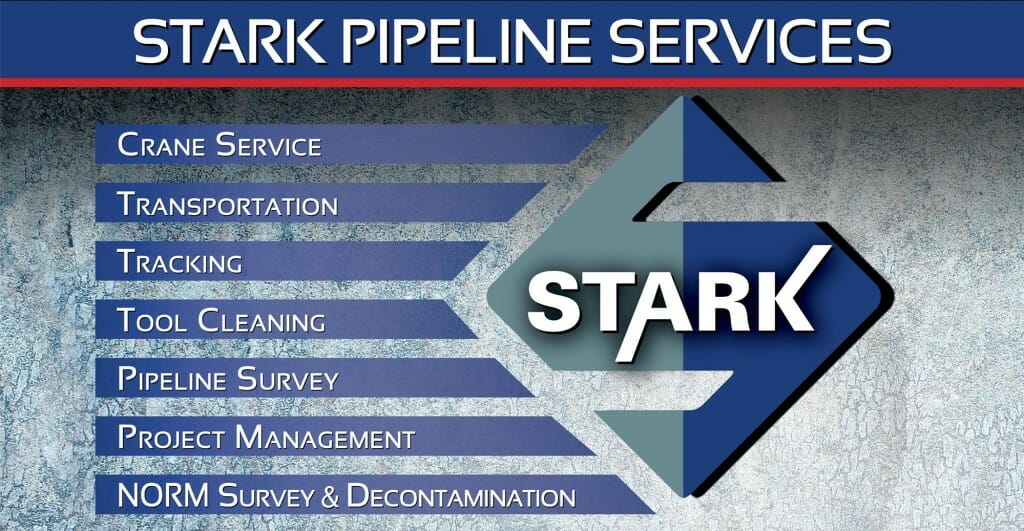 Special Message for 11th Annual Camp Hope BBQ
November 11th-12th
Friday, November 11 – 5 PM to 10 PM
Saturday, November 12, 2022 – 10 AM to 4 PM
Title Event Sponsor $10,000 (1 available)
Entertainment Sponsor $2,500 (14 available)
Camp Hope Team Sponsor $3,500 (1 available)
Veteran Cook Team Sponsor $2,500 (5 available)
Signage Sponsor $2,500 (3 available)
General Donation to Camp Hope
Friends and fellow supporters of Camp Hope and our military heroes,
With your support we have built something incredibly special at Camp Hope where the program continues to save veterans lives and return them to their families and communities! There is only one Camp Hope in the United States and it's right here in Houston Texas! It is reducing the horrific veteran suicide rate in our country! This country is still losing 20-30 veterans daily to suicide, but the rate would be higher without Camp Hope! You should be proud that you have stepped up to help make this happen and to assure that Camp Hope will always be there to answer the phone in a veteran's time of need! Camp Hope currently has 85 veterans enrolled in the residential combat trauma program and has had over 1700 veterans come through the program over the past 10 years! The PTSD Foundation and Camp Hope continues to be completely free of charge to our nation's veterans through your unselfish support in donations and fundraising! Please watch this link to learn more:
The 11th Annual Camp Hope BBQ offers you an opportunity to step up in support in a fun and effective way as we have raised over $1 million to date with an average overhead cost of less than 1%! We've been averaging 40 BBQ Teams and would love to increase it to 80 teams this year. You, your friends, and/or your company can get involved by entering a team, becoming an event sponsor, or by volunteering to help pull off this great event! For the benefit of our BBQ Teams and their guest this year's entertainment will be a private concert by Texas Singer Songwriter Mark Chestnutt and his son Casey Chestnutt. Whereas Mark is a veteran of the country music scene, Casey is an accomplished musician and a combat veteran of the UNITED STATES MARINE CORP, Hoorah!!
The cost to enter a team is $2500, which goes directly to the PTSD Foundation, so it offers a tax deduction. You'll receive a 30'x40' space for you to set up a pit and hospitality area and are welcome to install a banner to market your company! You'll receive 25 wristbands for guest to the private music concert, so you can invite clients out for a great Fall evening of live music, great BBQ, and to support America's veterans and fund it out of your marketing budget! If you don't have a BBQ team, we can hook you up with a world class BBQ team from the Houston Livestock Show and Rodeo, who will cook for you for free, since you have paid the entry fee! If you'd prefer not to enter a team this year, then feel free to pay the entry fee for a veteran's cook team or be an event sponsor. You can also donate raffle items to help us raise funds! Of course, we are always in need of volunteers to help pull this fun event off!
If you feel that its time that we step up for our military veterans and would like to be a part of this great event in some manner, then please contact us:
Doug Brown- dbrown@greystar.com Denise Deason- ddeason@greystar.com Rick Stephanow- bargebroker@yahoo.com
Follow MidstreamCalendar.com for upcoming industry events. Midstream Calendar was created to help synchronize the industry by providing a free lookahead for key industry events across the country. We focus on non-profit support, community, and industry specific trade shows and 2022 midstream & pipeline conferences for gathering and gas processing, transmission, compression, refining plants, chemical plants, fertilizer plants, terminals, storage facilities, LNG plants, syngas, and bio mass. The original energy calendar featuring all streams of energy with renewables.
2022 Oil and Gas Events added every day.
2022 Oil and Gas Events Houston