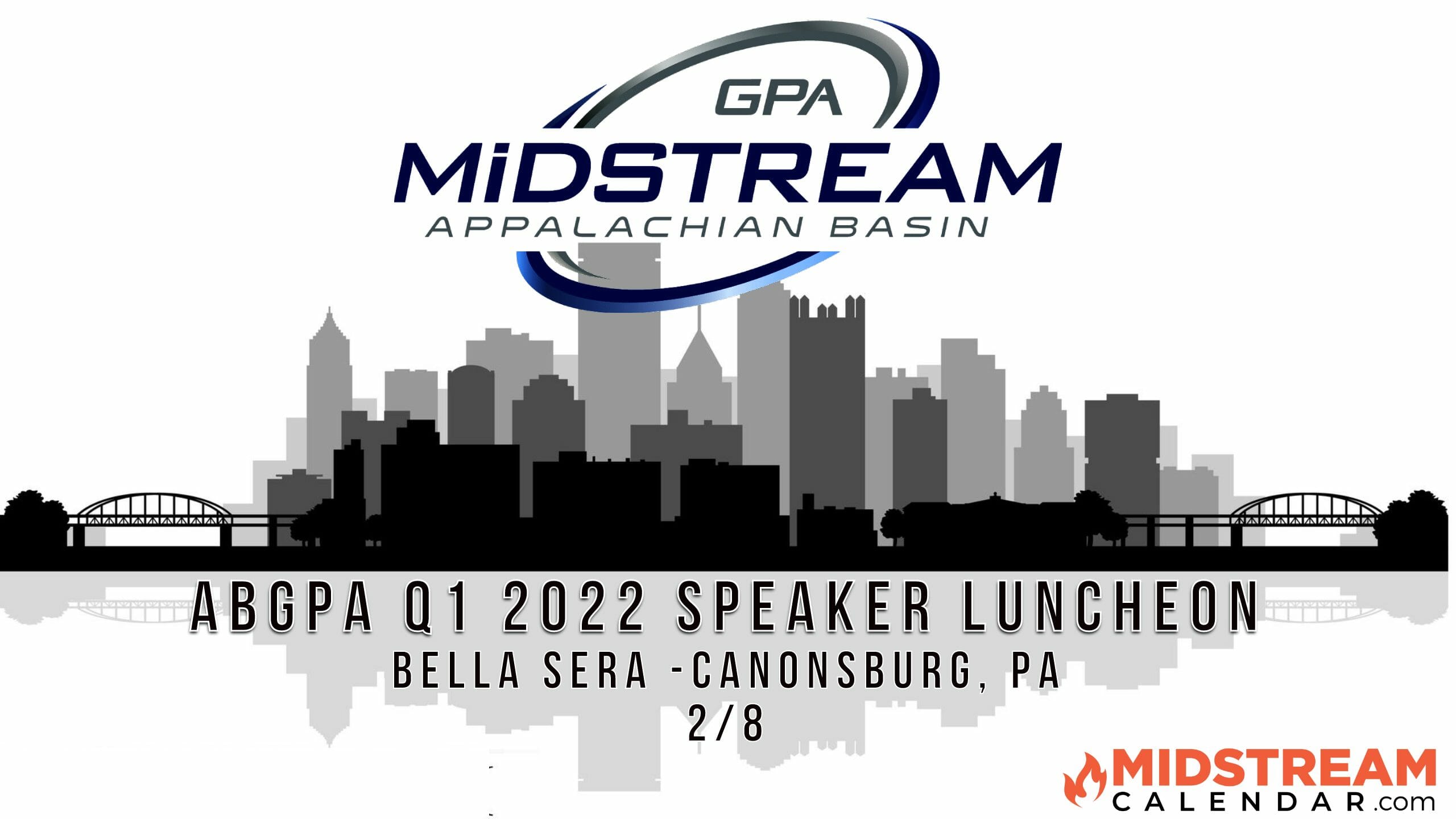 Register Now for the 2022 Q1 GPA Midstream Appalachian Basin Meeting 2/8 – Pittsburgh
This Event Reminder / Save The Date is Sponsored by:
Please join the ABGPA Midstream on February 8, 2022, at Bella Sera for our Q1 Speaker Luncheon. This luncheon can earn you 1.0 hour of Continuing Education Unit (CEU) and Professional Development Hour (PDH) credit!  Be sure to request your certificate of participation when you check-in at the event.
Speaker Matt Curry, President – Green Zone Technologies, will be presenting on "ESG's New World", which will cover topics such as: ESG in shale operations, Bitcoin mining, natural gas role in electricity, and a general outlook for natural gas market. 
Matt Curry has worked exclusively in oil and gas for the entirety of his professional career.  A native western Pennsylvanian, Matt has had the fortune to be on teams of first movers in the Barnett and Marcellus Shales.
A chemical engineering graduate of Penn State, one of Matt's first roles was with Mitchell Energy in Fort Worth who was eventually figured out the Barnett Shale and therefore launched all shale activity.
In 2008, Matt returned to Pittsburgh to join Range Resources.  Matt established the Range's Marcellus development teams and later helmed Range's NGL business development overseeing the first domestic and international ethane sales from the region, the first oil condensate exported via the U.S. East Coast, and the first producer to market their propane from the Appalachian basin globally by virtue of the Mariner East pipeline and Marcus Hook terminal.
Within the last year, Matt subsequently co-founded an emerging company, Green Zone Technologies to provide clean, stable electric power.
Matt received his bachelor's degree in Chemical Engineering from Penn State and an MBA from Southern Methodist University. Matt has completed petroleum engineering courses at the University of Tulsa as well as the Executive Leadership Development program at Stanford University.
Matt resides in Peters Township with his wife, three children, two dogs, and several fish which may or may not be the same fish purchased initially, as far as his oldest son knows.
Luncheon Details
Early Bird Registration (Ends January 25th, 2022)
Member Cost: $45
Non-Member Cost: $65
Online (Ends February 7th, 2022) and On-Site Registration
Member Cost: $55
Non-Member Cost: $75
Date: February 8th, 2022
Location: Bella Sera
Time:  11:00 am – 1:00 pm
Early Bird registration is $45 / member and $65 / non-member. Early bird pricing ends at Midnight two weeks prior to the event. Regular and on-site registration is $55 / member and $75 / non-member. PLEASE NOTE THAT YOU MUST BE A CURRENT MEMBER AND LOGGED IN TO RECEIVE THE $20 DISCOUNT. 
Online pre-registration closes at noon the day before the event, but attendees are welcome to pay on-site at rate above. We appreciate attendees pre-registering so that we can plan seating and food accordingly.
Follow MidstreamCalendar.com for upcoming industry events. Midstream Calendar was created to help synchronize the industry by providing a free lookahead for key industry events across the country. We focus on non-profit support, community, and industry specific trade shows and 2022 midstream & pipeline conferences for gathering and gas processing, transmission, compression, refining plants, chemical plants, fertilizer plants, terminals, storage facilities, LNG plants, syngas, and bio mass. More 2022 Oil and Gas Events added every day.
Email Ops@MidstreamCalendar.com to get involved. Follow our sister page at www.UpstreamCalendar.com for upcoming 2022 Oil and Gas Events
2022 Oil and Gas Events Pennsylvania
2022 Oil and Gas Conference Pittsburgh
2022 Pipeline Events Northeast
2022 Pipeline Integrity Events Pennsylvania
2022 Gas Processing Association Northeast