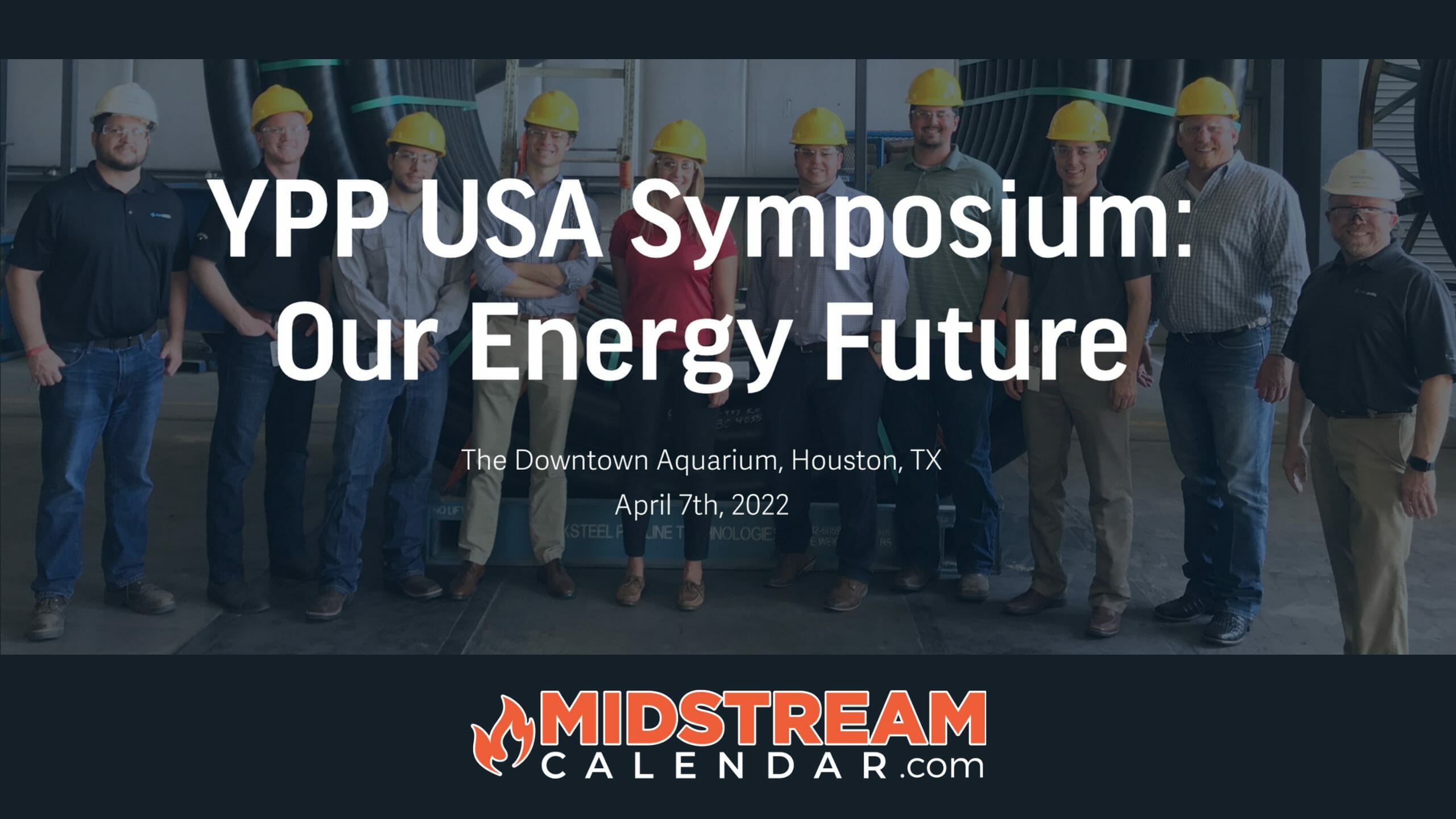 Register Today for the YPP USA Symposium : Our Energy Future – April 7th – Houston
This Event Reminder is Sponsored by:

Keynote presentation by Alan Armstrong, President and CEO of Williams, and Tisha Schuller, Founder and CEO of Adamantine Energy
The Energy Future Requires You
As CEO Alan Armstrong positions Williams Companies for the next 100 years, he must envision what the low-cost, low-carbon energy company of the future requires. One thing is certain, it will require the best and brightest, ready to operationalize the evolution of energy. Tisha Schuller, CEO of Adamantine Energy and author of the The Gamechanger's Playbook: How Oil and Gas Companies Thrive in an Era of Continuous Disruption, will interview Alan to explore the opportunities that are abound for the pipeline industry's emerging leaders. What do you have to look forward to? What skills and characteristics must you develop now? What do we know about the landmines and disruptions ahead? This conversation is a must-attend for anyone ready to embrace the pipeline industry's leadership responsibilities to capitalize on the myriad professional opportunities ahead.
As part of our mission to educate and train young professionals, we engage with our members through monthly webinars, quarterly in-person/virtual workshops, engagement at conferences, and networking events. In addition to these opportunities, YPP USA hosts a bi-annual symposium. The YPP USA symposium is our flagship event that brings together industry experts and young professionals to discuss opportunities in the pipeline industry. Our last two symposiums had over 100+ attendees and received very positive feedback.
Our next symposium will be hosted on April 7th, 2022 with the theme "Our Energy Future". At this event, we will bring together industry experts to discuss the future of the pipeline industry and the opportunities it presents as we transition to a carbon-neutral industry. Key topics will include the introduction of hydrogen in pipelines, the future of pipeline integrity, pipeline asset security, and the latest technologies being implemented in pipeline design. In addition, this event will host two-panel sessions including senior executives from operators and service providers to discuss the energy composition of the future and managing future workforce talent in the pipeline industry.
Tentative Schedule
Please note times of certain sessions may shift as we finalize our speakers.
7:30am – 8:00am        Registration and Breakfast
8:00am – 8:15am        Opening Remarks
8:15am – 9:00am        A Session with Adamantine Energy
9:00am – 9:45am        Event Keynote with Alan Armstrong, CEO Williams, and Tisha Schuller, Founding Principal, Adamantine Energy
9:45am – 10:00am      Morning Break
10:00am – 11:00am    Operator Executive Panel – What Does Your Company Strategy for Our Energy Future Look Like?
11:00am – 11:30am    D&I and Future Growth of the Pipeline Industry
11:30am – 12:00pm    Legal Landscape of the Pipeline Future
12:00pm – 12:45pm    Lunch
12:45am – 1:30pm      Natural Gas Pipeline Conversion to Hydrogen
1:30pm – 2:15pm        The Commercial Future of Energy
2:15pm – 3:00pm       Cyber Security Future and Pipelines
3:00pm – 3:15pm       Afternoon Break
3:15pm – 3:30pm       White Paper Competition Results
3:30pm – 4:00pm      Regulatory Future
4:00pm – 4:30pm      Future of Pipeline Integrity
4:30pm – 6:00pm      Reception, Poster Sessions, Sponsor Tabletop Booth Visits
Hotel Information
Live the city pace when you stay at The Westin Houston Downtown. Located across the street from Minute Maid Park and walking distance from many attractions, this downtown Houston hotel offers meaningful amenities and energetic spaces. YPP USA has secured a group rate of $229/night.
If you are wondering when the YPP USA 2023 Symposium is going to be, look no further. The 2023 Young Pipeline Professionals Symposium will be on May 18th and they will be doing a Tour of ADV Integrity's test lab. More info can be found HERE:
Register Now for the YPP USA 2023 Symposium May 18, 19 – Houston