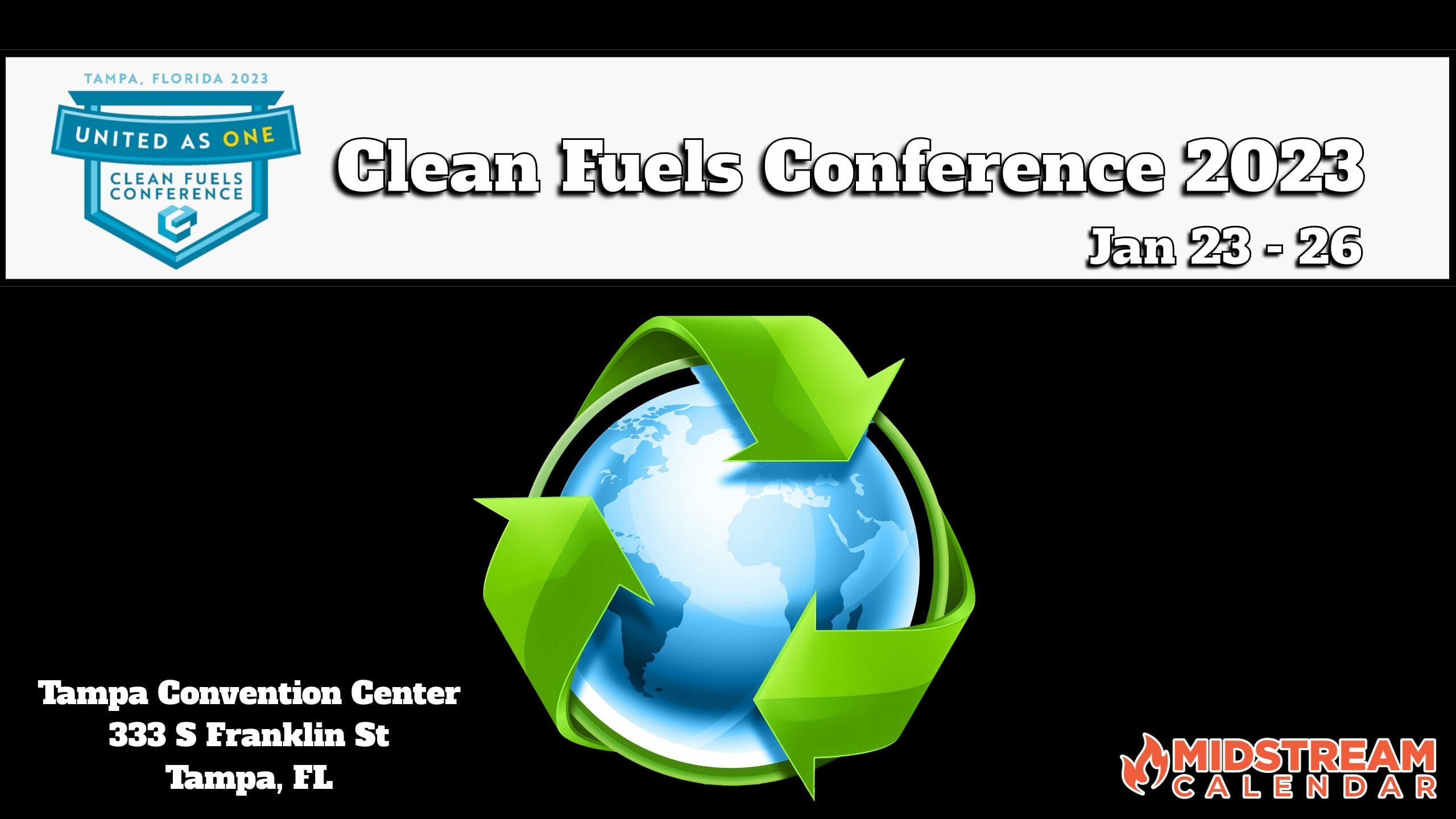 Register Now for the 2023 Clean Fuels Conference Jan 23 – 26 – Tampa
This Event Reminder is Sponsored by:
Monday, January 23
Clean Fuels 101
4:00 PM | BALLROOM B
Whether you're a straight up newcomer to the clean fuels industry or just looking for a refresher, this session will cover the basics of biodiesel, renewable diesel and sustainable aviation fuel.
Welcome Reception
6:00 PM | THE TAMPA CONVENTION CENTER RIVERWALK
Sponsored by MEG Corp.
Tuesday, January 24
Breakfast
8:00 AM | CONFERENCE CENTRAL
Sponsored by AGP.
United as One: A Year of Thriving for Clean Fuels
9:00 AM | CONFERENCE CENTRAL
As we transition to a Brave New Low-Carbon World, we remain united in this: positive clean fuels policy is vital. In the last year, Clean Fuels Alliance America and its members fostered a successful policy…
Morning Break
10:30 AM | CONFERENCE CENTRAL
Sponsored by ADM.
ONE Hundred Percent: States Pursue B100 and Other Ambitions
11:15 AM | BALLROOM A
Jurisdictions like Portland, Oregon, California and others are seriously considering and passing policies that amount to sever reductions or all-out bans on petroleum diesel. What would a shift to higher blends of biodiesel, Bioheat® fuel…
One World, Many Goooooals: A Global Perspective
11:15 AM | BALLROOM B
The race to Net Zero is a global affair – like the World Cup of carbon sequestration. Several nations have set aggressive goals, with today's clean fuels in a starting position. This session will hit…
BREAK
Lunch
12:30 PM | CONFERENCE CENTRAL
Sponsored by Canola Council of Canada.
On the Move with B20 and Beyond: Vehicle Technology Showcase
1:30 PM | CONFERENCE CENTRAL
Diesel engines power the equipment that gets work done for fleets around the world. As fleet managers consider strategies to lower carbon emissions from their operations as quickly and effectively as possible, biodiesel and renewable…
Afternoon Break
3:00 PM | CONFERENCE CENTRAL
One Big Demand Driver for Soy: Biodiesel, Renewable Diesel and SAF
3:30 PM | BALLROOM B
Coast-to-coast, major companies and other industries are counting on using more of our fuels – and beyond 20% blends – to meet their sustainability goals. What does this mean for suppliers of crop-based feedstocks, such…
Anticipating Change: What's Ahead for Federal Tax Policy
3:30 PM | BALLROOM A
Clean Fuels federal affairs pros will help stakeholders understand the new sustainable aviation fuel tax credit and the new clean fuels production credit scheduled for 2025.
Federal Growth Opportunities: Accessing Infrastructure Grants and More
4:15 PM | BALLROOM A
Learn about the Infrastructure Investment Act and the Inflation Reduction Act, which expanded funding opportunities at several federal agencies, including USDA's blending infrastructure grants, DOE's biorefinery grants, and DOT's grants for rail and rural infrastructure. Experts…
Wednesday, January 25
Breakfast
8:00 AM | CONFERENCE CENTRAL
Sponsored by World Energy.
Ready for Takeoff: Aviation, Rail, Heating and Marine Markets
9:00 AM | CONFERENCE CENTRAL
Powerhouse companies like Amazon and Microsoft are insisting the shipping industry clean up its act. Airlines are also navigating aggressive sustainability goals. Cue biodiesel, renewable diesel and sustainable aviation fuel, offering an immediate low-carbon solution…
Ride & Drive
10:30 AM
Departing from the Front Drive, just outside the Convention Center.
Morning Break
10:30 AM | CONFERENCE CENTRAL
The ABCs of ESG: What Corporate Commitments Spell for Clean Fuels
11:00 AM | BALLROOM B
As major corporations and other entities continue their march toward aggressive carbon reductions, biodiesel, renewable diesel, and sustainable aviation fuel stand ready to answer the call – especially in difficult-to-decarbonize sectors. We'll learn from leaders…
B100/B50: The New B20? Uniting Fuel Standards for 2030, 2050, and Beyond
11:00 AM | BALLROOM A
A focus on ASTM fuel standards and attention to fuel quality for blends of 20% biodiesel (B20) and below has enabled the North American industry to unite in reaching ambitious goals – over 3 billion…
Lunch
12:15 PM | CONFERENCE CENTRAL
Sponsored by HERO BX.
Greenhouse Gas Accounting 101
1:30 PM | BALLROOM B
Policymakers and end users with greenhouse gas emissions reduction goals have a variety of ways to demonstrate progress. But what exactly is GHG Accounting and how does it work? This session will examine how government…
Become a Top Influencer: Advocacy 101
1:30 PM | BALLROOM A
After a busy year for clean fuels policy coast-to-coast, this session will hit highlights of state activities and how they may impact demand. And one thing is for sure: On-the-ground advocacy played a major role…
Afternoon Break
2:45 PM | CONFERENCE CENTRAL
United We Stand: CEOs Share Perspective on a Changing Landscape
3:15 PM | CONFERENCE CENTRAL
Soybean farmers continue to weather challenges from every corner: Supply chain issues, global conflict, inflation and climate change, to name a few. Yet the farm economy remains well-positioned – helped by diverse market demand and…
Clean Fuels Happy Hour
4:30 PM | SAILS PLAZA
Sponsored by W2 Fuel – Lincoln Energy Solutions. All ye mateys, join us outside for the ultimate pirate-themed "Happy ARRR!" We'll celebrate the first-ever Clean Fuels Conference in true Gasparilla style – with rum cocktails,…
Thursday, January 26
Breakfast Closing Session: Clean Fuels for Cleaner Cities
8:00 AM | CONFERENCE CENTRAL
Sponsored by Kinder Morgan Terminals. Enjoy a plated breakfast followed by an enlightening discussion as we wrap up the first-ever Clean Fuels Conference! You'll learn the latest on a groundbreaking study that shows when it…
Follow MidstreamCalendar.com for upcoming industry events. Midstream Calendar was created to help synchronize the industry by providing a free lookahead for key industry events across the country. We focus on non-profit support, community, and industry specific trade shows and 2023 midstream & pipeline conferences for gathering and gas processing, transmission, compression, refining plants, chemical plants, fertilizer plants, terminals, storage facilities, LNG plants, syngas, and bio mass. The original energy calendar featuring all streams of energy with renewables. More 2022 Oil and Gas Events added every day.
Email Efrain@AllstreamEP.com to get involved.
2023 Renewables Events Florida
2023 New Energy Events Florida
2023 Oil and Gas Executive Conferences