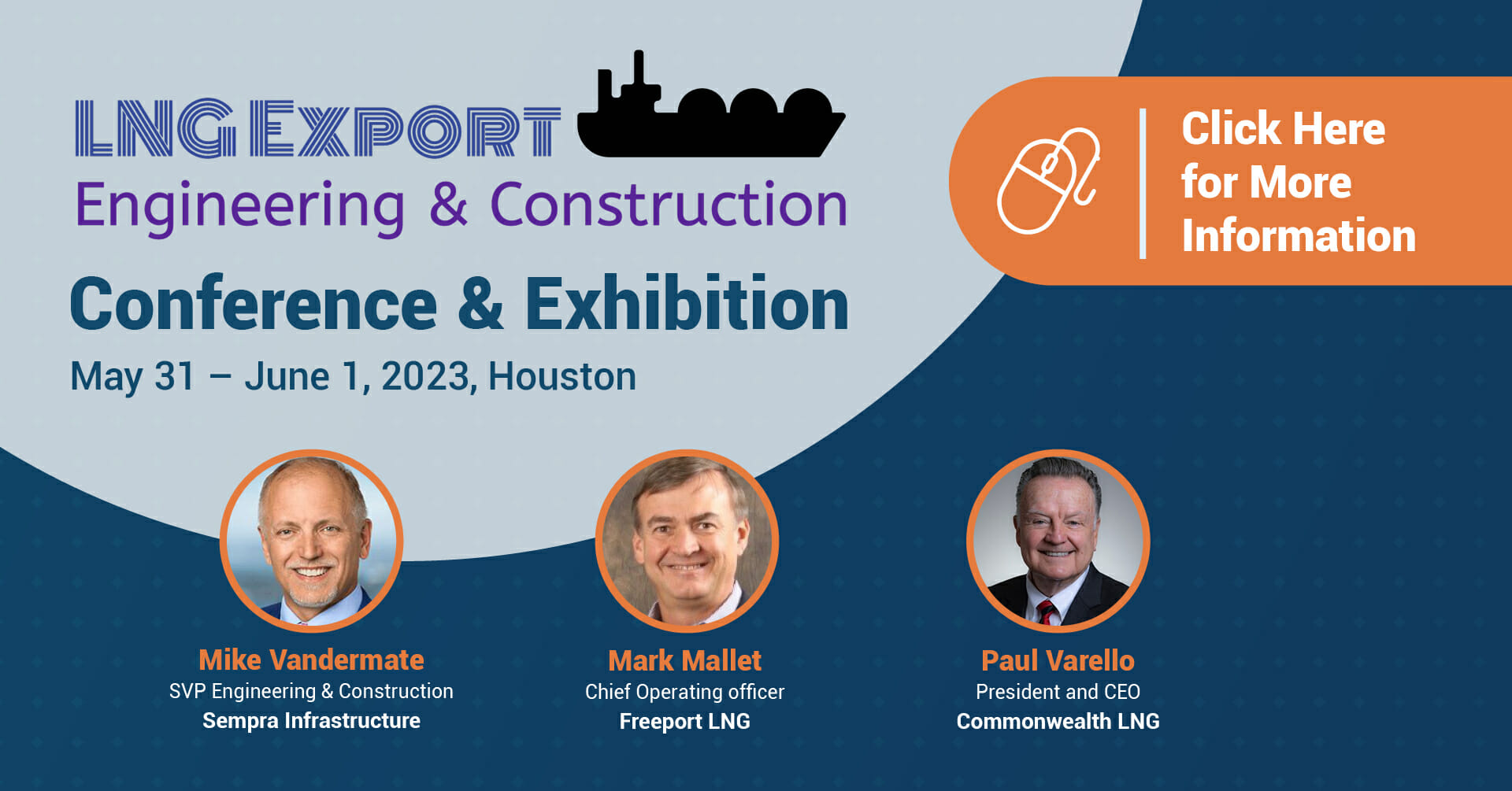 Register Now for the LNG Export Engineering & Construction May 31-June 1 – Houston
This Event Reminder is Sponsored by:

Project Execution Excellence Through Cost Control, Collaboration & Innovation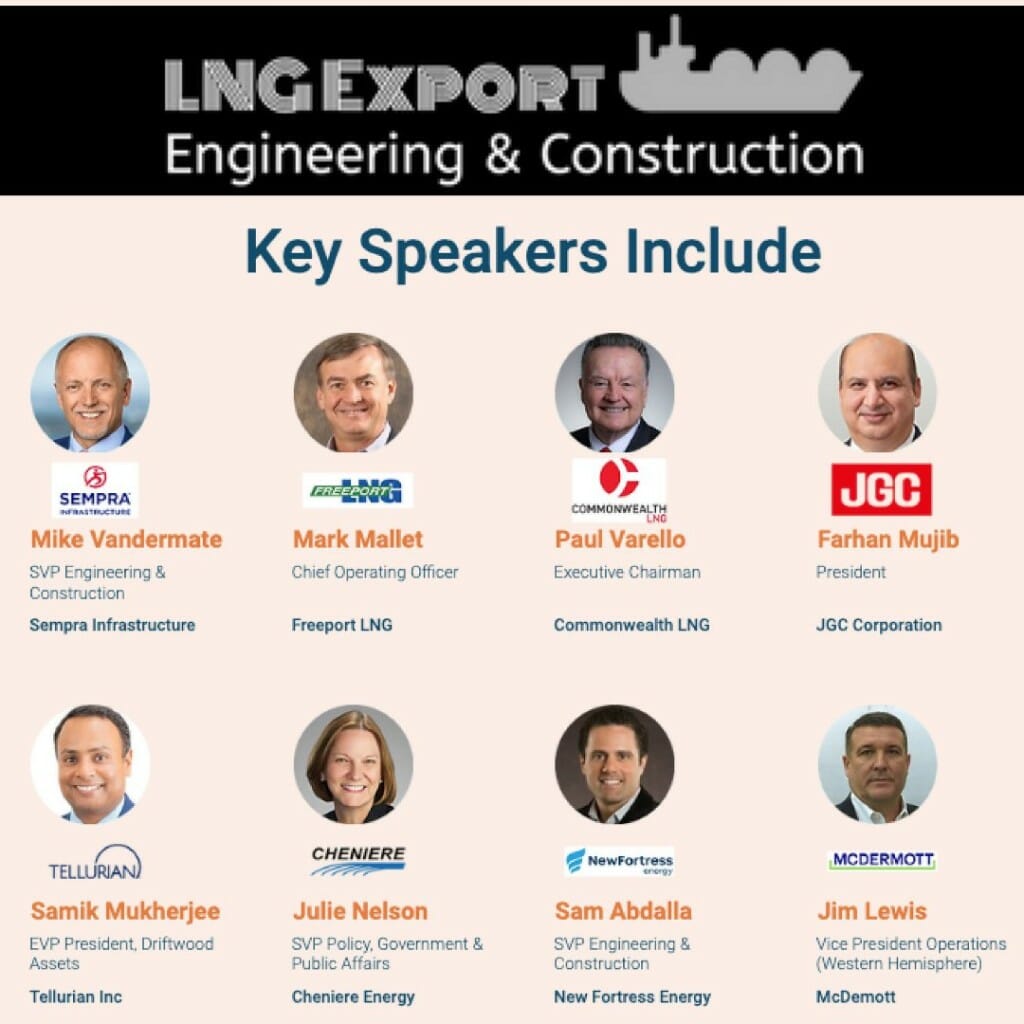 For More Info:
Joshua Bull Event Director josh.bull@lngexport.us +1 (814) 702 0418
Andrew York Head of Business Development andrew.york@lngexport.us +1 (832) 548 5702
Keynote Panel Session
Industry Leaders Discuss the State of Play in LNG Export Engineering & Construction
Hear thought leadership discussion around:
Project Updates
Hear how key projects are progressing and lessons learned so far
The Energy Transition
How operators are creating greener LNG projects and supply chains
Workforce Development
What can the industry do to attract the talent it needs​
Supply Chain & Logistics
What are the crunch points they are seeing and when do they think things will normalise
Industry Standards
Does the industry need to work together to create industry standards and what will the benefits be
Demand Outlook
How do they see the demand picture for LNG going forward and what does that mean for project investment in the future
Execution & Design Strategies – Global Project Perspectives
Project Updates
Hear how key projects are progressing and lessons learned so far
​Design Concepts
Evaluate differing project design concepts from major global projects and identify ways to improve project economics & efficiencies on your project
Execution Strategies
Analyse and compare execution strategies from across a wide range
of individual projects
Modularization Vs Stick Build
Hear from developers who are doing both, key considerations and identify which approach you think is best for your project
Single Contractor VS Multiple
Which approach should you take and what are the some of the downfalls of competitive bidding
Facility Sizing Philosophy
Should you go large or small? What are the benefits and risks of each approach and which is best for your project
Gulf Coast VS the Rest of the World
Projects Outside the Gulf Coast
Assess the ability to get LNG Export projects committed outside of the U.S Gulf Coast
Global Competitiveness
Evaluate the competitiveness of the Gulf Coast as a project location VS the rest of the world (Canada, East Coast / West Coast, Mexico, Middle East)
Project Execution Case Studies
Compare the execution of individual projects outside the gulf coast and assess key benefits and risks
Contracting & Risk Management
Changing Contracting Model
From lump sum turnkey to reimbursable & open book lump sum and why
that matters
Breaking the Cycle of "Someone Always Loses"
How to create a risk structure which is a "win-win" for all parties
Risk Structure
How to create more fairness in the risk structure between operators and contractors in a highly volatile commodity pricing backdrop
Contracting Philosophies
Hear how project owners decide on their contracting philosophies
Common Mistakes & Pitfalls
Hear from EPC's on what they consistently see the owners forgetting
in the contracting phase
Regulation, Standards & Codes
Industry Standards & Codes Discussion
An overview of the existing LNG standards we have as well as future ones in development. Additional gaps where standards may need to be developed. Discussing the potential of developing an LNG standards subcommittee and the key industry benefits
FERC
How are FERC going to be able to handle the next wave of project requests and permits which are coming down the line? What steps are they taking now to prepare, how ready are they and how might this impact your project timelines
PHMSA, TCEQ, Coast Guard
Hear from the other key regulators on the steps they are taking to prepare for increased project development as well as the latest on updated codes and regulations that may impact your project planning
Supply Chain & Logistics
Supply Chain & Logistics Issues
COVID has wreaked havoc on global supply chains for LNG project developers with significant material cost escalation, massive expansion of lead times, delays on key equipment deliveries and shortages of key materials and labour
Hear directly from key stakeholders
Involved across the supply chain such as major OEM's, on the steps they are taking to address these key issues and ways in which they are working to mitigate volatility for supply chain & logistics on their projects
LNG Decarbonisation and the Energy Transition – Driving Towards Net Zero LNG
Carbon Reduction Strategies
Evaluate the various ways in which project developers are integrating greener technology into their projects such as carbon capture and storage, sequestration, flaring reduction, bringing efficiencies from the renewable sector and digital led technology solutions
Green Economics
How will these changes impact the economic model of your plants?
And ways in which to absorb those additional costs
Greenfield & Brownfield Assets
Assess the best approach for carbon reduction strategies on both green and brownfield projects
Geopolitical Landscape – End Customer Perspectives
​
Hear From Your Customers
Hear from European & Asian utility customers on their emission and carbon reduction requirements in addressing the dual challenge of energy security and carbon reductions and how that may impact your design and execution strategy
​What are their Demands
What are their LNG demands looking forward given the changing geopolitical landscape. And how many projects do they think are needed in order to satisfy that demand going forward
​The Role of LNG in the Energy Mix
Understand the role they see LNG playing as a transition fuel, their thinking on nuclear power and the political backdrop driving those choices
Workforce Development
​
Construction Labor Shortages
​
Meeting Upcoming Construction Labour Demand
With demand for labour set to hear from construction companies about the steps they are taking to ensure they have the labour force in place and their solutions for addressing this issue in previous construction waves
The War on Talent
How to ensure the LNG industry secures its fair share of Engineering & Construction talent to support the development of planned projects
Operational Workforce Development
​
Cross industry Collaboration
Hear from key stakeholders across the industry (including universities/colleges, regional associations, major operators, contractors and local government) on the ways in which they are working together to develop the LNG workforce needed to support the development of projects across the Gulf Coast
Attracting Talent
Understand what the industry needs to do in order to make jobs in the LNG industry appealing to graduates and attract the talent it needs to prosper
Identify the Gaps that Need to be Filled
To drive the increased transition of students from the point of graduation into careers in the LNG industry
Cost Mitigation
​
Hear from cross industry stakeholders on ways in which you can work to mitigate costs and cost inflation on projects without impacting safety.
With a focus on:
Project Planning & Estimation
Bidding
Contracting
Risk Management & Mitigation
Due Diligence
Vendor Lists & Selection
Construction Innovation
​
From Silicon Valley to Houston
The latest in innovation for construction projects
From Theory to Practice
Hear from project developers with experience in implementing and adjusting to the new technology
Follow MidstreamCalendar.com for upcoming industry events. Midstream Calendar was created to help synchronize the industry by providing a free lookahead for key industry events across the country. We focus on non-profit support, community, and industry specific trade shows and 2022 midstream & pipeline conferences for gathering and gas processing, transmission, compression, refining plants, chemical plants, fertilizer plants, terminals, storage facilities, LNG plants, syngas, and bio mass. The original energy calendar featuring all streams of energy with renewables. We help oil and gas events get scheduled out for max participation. From the Oil Patch to LNG ship loading.
2023 Oil and Gas Events added every day.
2023 Oil and Gas Events Houston
Contact Efrain@AllstreamEP.com for more info.