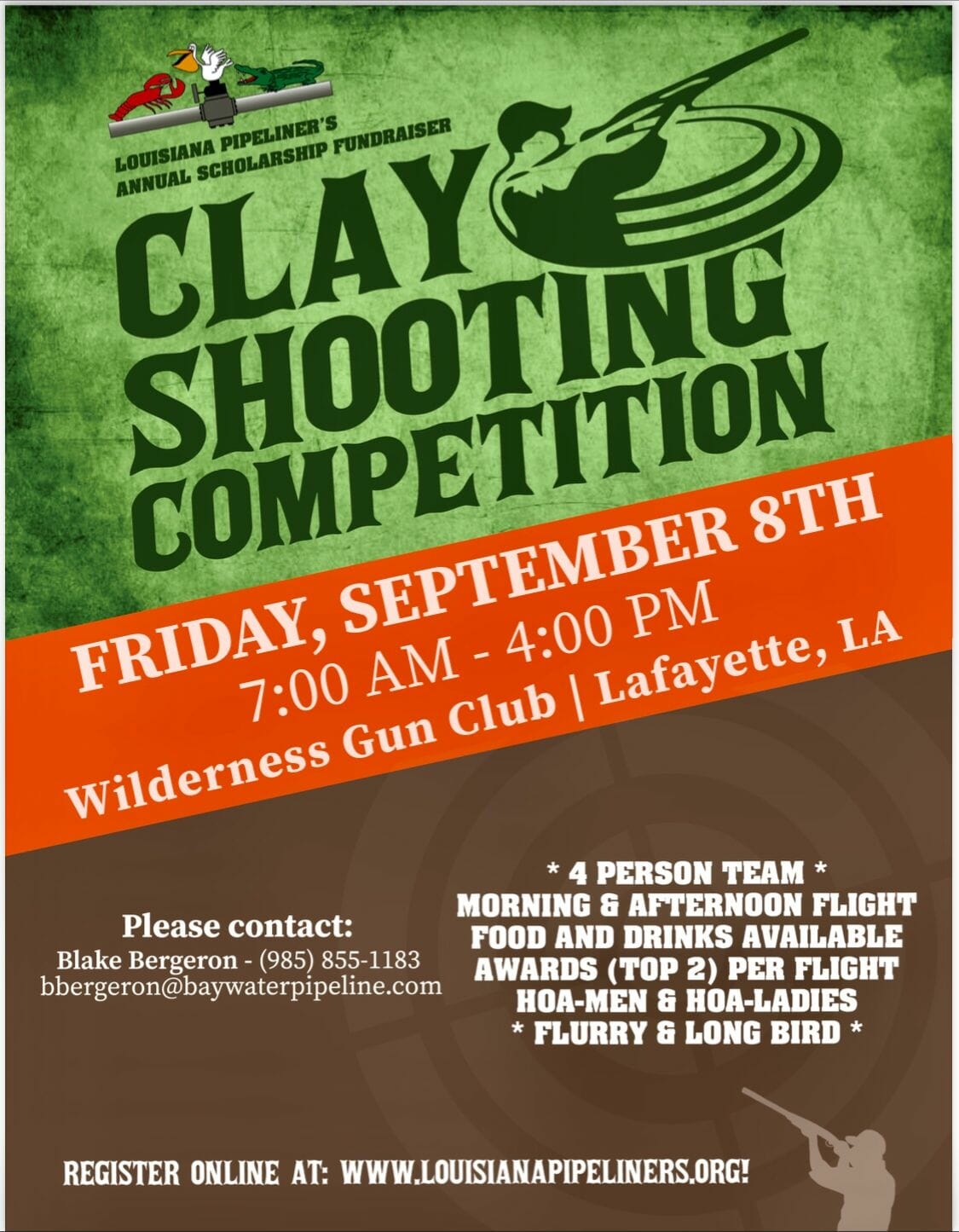 2023 Louisiana Pipeliners Sporting Clays Tournament September 8, 2023 – Lafayette
This Event Reminder is Sponsored by:

The Louisiana Pipeliners Annual Clay Shoot will open registration soon. Mark your calendar for September 8th @ the wilderness gun club in Lafayette, La. As always, we are hoping for this to be the biggest and best year yet, so we can raise money for our scholarship recipients. We can't do it without your support and participation, so sign up early.
Louisiana Pipeliners Association Clay Shoot
DATE:    Friday, September 8, 2023
PLACE:  Wilderness Gun Club
7 Teurlings Dr, Lafayette, LA 70501
TIME:      Morning Flight  8:30am – 11:30am
Afternoon Flight  12:00pm – 2:30pm
All scorecards must be turned in promptly after each flight.
CLAY SHOOT CONTACT:
Blake Bergeron
bbergeron@baywaterpipeline.com
EVENT INFO:
100 Bird Clay Shoot
Long Bird & Flurry competition optional
Shooters provide own ammo (7 1/2, 8, 9 only)
No alcohol permitted on premises during shoot.  Alcohol will be available after flight.
Shooters must bring your own cart!
4 PERSON TEAM – $500                                  Add Long Bird ($10/person for 5 shots)
INDIVIDUAL – $150                                             Add a Flurry ($20/ticket for a 2-man team)
EVENT SPONSORSHIPS AVAILABLE:
Gold Sponsor:  $1,250 – Two 4 person teams- Company logo on banner and trophies and 8 hats
Silver Sponsor:  $900 – One 4 person team,   Company logo on banner and 4 hats
Bronze Sponsor:  $700 – One 4 person team,  Logo on the banner and one 10X10 cooking spot
Gun Cleaning  $250  – SOLD OUT
Station Tents  $250
Alcohol  $250  – SOLD OUT
Non Alcoholic Beverages  $250
Long Bird  $250
Flurry  $250  – SOLD OUT
There will also be a door prize raffle for $5 per ticket.  You can purchase online and/or at the Clay Shoot.