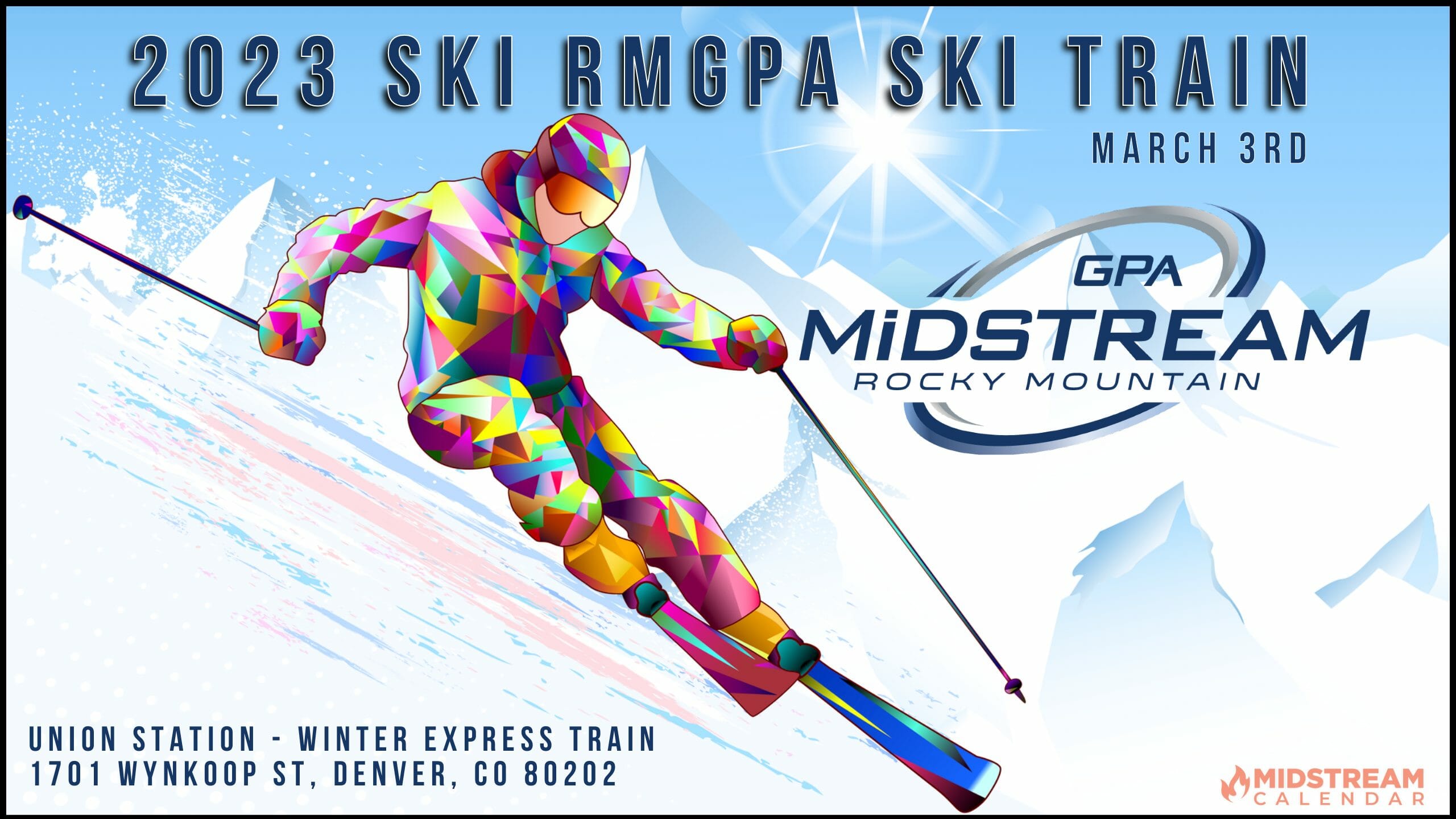 Register NOW for the 2023 RMGPA Ski Train March 3rd by GPA Midstream Rocky Mountain Chapter – Denver
This Event Reminder is Sponsored by:

EVENT DATE: March 3, 2022 @ 5:30am
We are excited to be back on the Ski Train this year!
**Must be a Member to Register**
REMINDER: No name changes or replacements will be allowed on train due to TSA restrictions.
Amtrak required a passenger manifest to be provided one week prior to the event and that has been submitted. Please be advised that they reserve the right to require a government ID matching the passenger manifest. Passengers not listed on the manifest are subject to fines or other penalties under penalty of law. The GPA Midstream Rocky Mountain Chapter will not be responsible for individuals choosing to ignore this requirement.
Please make sure you and your guests fill out a waiver online before Friday or they will need to complete a paper waiver prior to boarding the Ski Train. Waivers will be available at morning check in table at the Winter Express Train Track TBD (Cars 1 – 4).
Please note we will need to have the name of the passengers that will be boarding train NLT Friday February 25, 2022. No changes can be made after this date.
Amtrak prohibits the use of personal alcohol on the train. Drink tickets will be provided in your registration packet.
General Information for the Event:
Location & Parking:
1701 Wynkoop Street
Denver, CO 80202
Short term and long-term parking is available for a fee near the station. Visit https://parking.amtrak.com/ and search for Denver to see available parking locations.
Arrival/Departure Info:
The Train #1105 departs from Track TBD at 7 am.
Passengers should arrive 45 minutes before departure in order to load ski equipment. Loading will begin at 6:15 am. Follow the directions of car hosts on the platform. The Train #1106 departs WP at 4:30 pm.
Passengers should arrive 30 minutes before departure in order to prepare ski equipment for loading.
Passengers should line up at 4:00 pm.
Baggage/Seat Guidelines:
There is no checked baggage service.
Each passenger may carry‐on 2 pieces of luggage, plus one set of skis/poles or one snow board.
No item may exceed 50 pounds. Please wrap or bundle skis and poles together.
Each passenger must bring their own ski/snowboard equipment and other luggage to the train.
Direction will be given at train‐side to the car that shall be boarded. Skis, poles and snowboards will be loaded in the large carry‐on baggage areas as directed by train staff.
Snow suits, helmets, ski boots, parkas, etc. must be taken to passenger's seat. Other baggage may be stowed on lower-level luggage racks, or the overhead rack above each seat.
All ski equipment must be labeled with the passenger's name and phone number.
Seats are unassigned. Train staff will assist in finding seats. Passengers returning to Denver the same day will have the same car and seat number as the trip up to Winter Park.
All ski equipment must be labeled with the passenger's name and phone number.
Personal alcohol brought on board is not permitted.
Snacks and beverages, both alcoholic and nonalcoholic will be available for purchase on the Winter Park Express.
Passengers may bring food and non-alcoholic beverages to enjoy on the train.
SKI TRAIN EVENT SCHEDULE:
5:30 am: Registration Opens (look for GPA table at the Winter Express Train, Track TBD; Cars 1 -4)
7:00 am: Winter Express Departs (Promptly; if you miss the train your ticket will be at the WP Group Sales Office)
9:00 am: Arrive Winter Park Ski Resort
9:00 am – 3:45 pm: West Portal Level 4 – see attached map (gear storage, Bloody Mary & Mimosa's, Lunch and Après Ski activities)
12:00 pm: Lunch Catered at West Portal Level 4 –Reserved Space for GPA Ski Train Event
4:30 pm: Winter Express Leaves Promptly (if you miss the train, you are on your own to get home)
6:40 pm: Arrives back at Union Station
Questions: support@gparmc.org or ski@gparmc.org
Follow MidstreamCalendar.com for upcoming industry events. Midstream Calendar was created to help synchronize the industry by providing a free lookahead for key industry events across the country. We focus on non-profit support, community, and industry specific trade shows and 2023 midstream & pipeline conferences for gathering and gas processing, transmission, compression, refining plants, chemical plants, fertilizer plants, terminals, storage facilities, LNG plants, syngas, and bio mass. The original energy calendar featuring all streams of energy with renewables. We help oil and gas events get scheduled out for max participation. From the Oil Patch to LNG ship loading.
2023 Oil and Gas Events added every day.
2023 Oil and Gas Events Rocky Mountain GPA Midstream
Contact Efrain@AllstreamEP.com for more info.


About GPA Midstream Rocky Mountain Chapter
GPA MIDSTREAM Rocky Mountain Chapter (GPARMC) is a 501(c)(6) non-profit organization committed to serve as a forum for exchanging ideas and information regarding the midstream industry and provide opportunities for social interaction with others involved in the industry in the local Rocky Mountain area.
GPA Midstream Rocky Mountain Chapter membership consists of more than 70 corporate members of all sizes and more than 1000 individuals employed by 200+ companies.