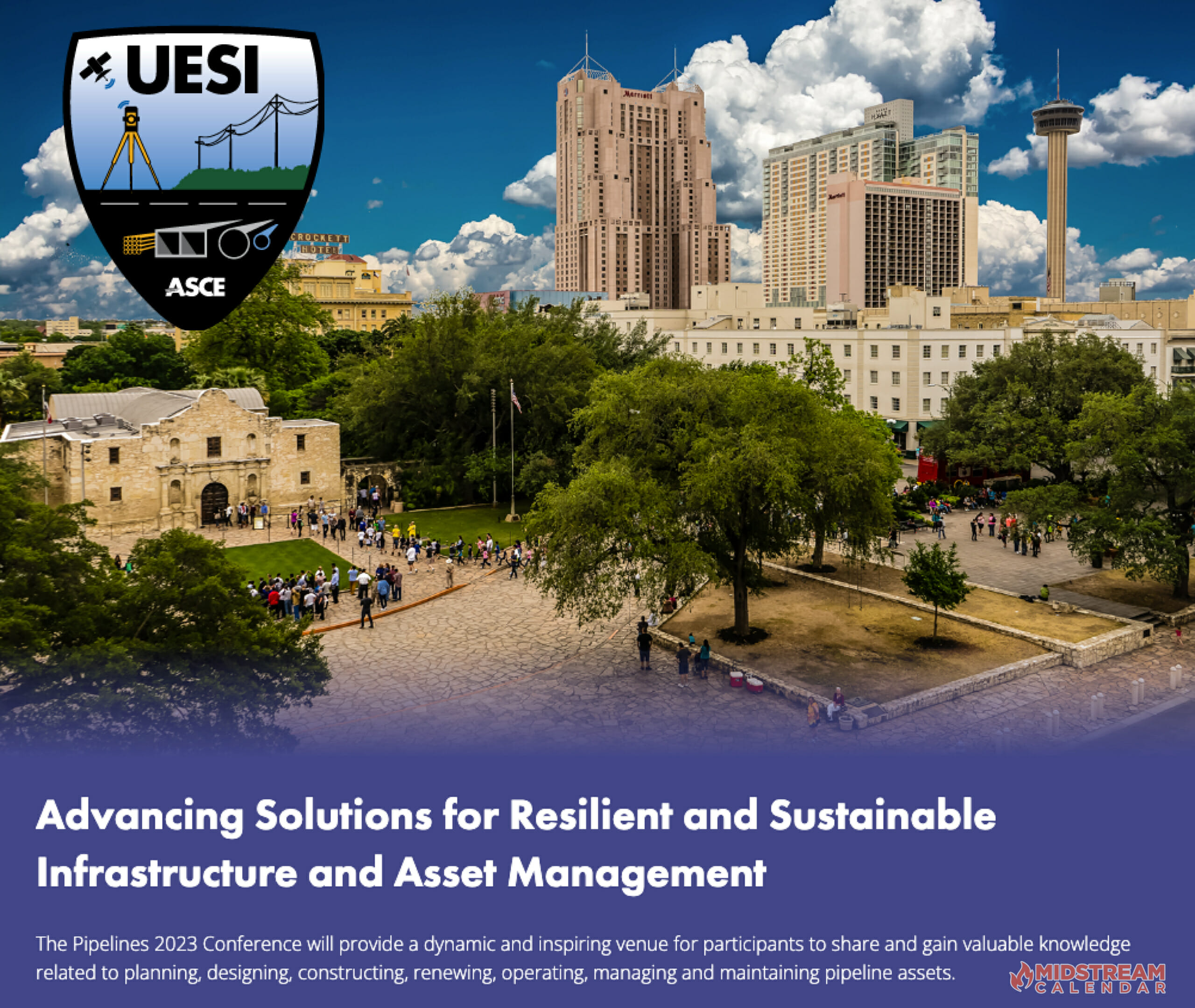 2023 UESI Pipeline Conference August 12-16 – San Antonio
This Event Reminder is Sponsored by:

Advancing Solutions for Resilient and Sustainable Infrastructure and Asset Management
The Pipelines 2023 Conference will provide a dynamic and inspiring venue for participants to share and gain valuable knowledge related to planning, designing, constructing, renewing, operating, managing and maintaining pipeline assets.
The Pipelines 2023 Conference is part of the new ASCE Utility Engineering & Surveying Institute (UESI). The conference will continue to provide a forum for pipeline engineers and practitioners from all around the world to share their experiences in meeting the challenges of today's pipeline infrastructure. This premier industry event has become the conference of choice for utility and pipeline owners, design and consulting engineers, contractors, manufacturers, suppliers, students, educators, researchers, and pipeline professionals. The conference will also include surveying as it relates to pipeline and utility projects.
Top Reasons to Attend
Expand your knowledge base to enhance the success of your projects at this leading industry event for practitioners covering the most current state-of-the-art engineering technologies for pipeline and utilities infrastructure.
Take advantage of this platform to network with your peers, potential clients, sponsors, and project team leads.
Earn Professional Development Hours (PDHs) via thought-provoking interdisciplinary education, inspiring and enlightening keynote speakers, and short courses on topics relevant to pipeline and trenchless technologies in water, wastewater, storm drainage, gas and oil pipeline systems.
Utility Engineering & Surveying Institute (UESI) of ASCE
The Utility Engineering & Surveying Institute (UESI) was officially established on October 1, 2015 to become the first national organization designed to meet the needs of all individuals working within the utility, pipeline and surveying industry. UESI is fully inclusive, with active membership available to industry practitioners from all occupational and educational backgrounds. UESI offers individuals and organizations the opportunity to network with other professionals, sharpen skills and shape the future of the industry by participating in technical activities, conferences and the development of internationally recognized standards. It is one of the American Society of Civil Engineers' 9 specialty Institutes.
The Utility Engineering & Surveying Institute (UESI) is the worldwide leader in generating products and services that promote and reward excellence in the engineering, planning, design, construction, operations, and asset management, for utility infrastructure and engineering surveying.