Rocky Mountain GPA Midstream Scholarship Golf Tournament 2021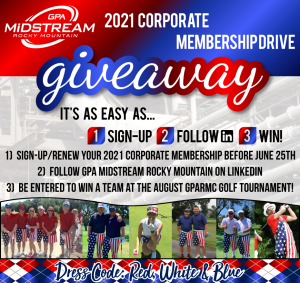 24-HOUR VIP Sponsor Registration starts TODAY, March 18th at 9:00 am.
General Member Registration starts at 9:00 am on FRIDAY, March 19th.
So VIP Members/Sponsors make sure to take advantage of your exclusive early access, and general members make sure to plan to secure your spot immediately thereafter on Friday @ 9 am! (***Note: Registration Button will only appear to each group at the dates/times listed above***)
(***Due to the very high demand for this event, registration is restricted to MEMBERS ONLY. We also ask that all members VIP and General, limit their purchase to a max of 2 teams and that VIP Sponsors wait for general registration if their registration does not include a sponsorship***).  Please make sure your 2021 individual or corporate membership has been purchased/renewed before trying to register, and note we reserve the right to cancel/refund any teams that do not adhere to the requirements above and/or exceed the 2 teams per company max.
Sign up for your 2021 membership using the MEMBERSHIP PAGE or check the 2021 MEMBER DIRECTORY to see if your individual or corporate membership is active.
BONUS:  Anyone who registers for a Corporate Membership prior to June 25th, 2021 will be entered into a special drawing for a FREE TEAM in the second Summer Golf Tournament being held August 13th, 2021!
---
This year's first GPARMC Annual Scholarship Golf Tournament will be held June 25th, 2021 at Riverdale Golf Courses in Brighton, CO. Golfer registration opens at 6:30 am followed by a 7:30 am Shotgun Start. Covid-Friendly Lunch Social  & Raffle will be immediately following the round.
Golf Tournament Fees:
$800 – Team Foursome (68 teams available for registration, including sponsor's teams) ***Participants please arrive 60 minutes early to sign in & prepare to tee off***
Mulligans – $5 each or $20 Set of (5) (Maximum 5 Mulligans per team).
Raffle Tickets – $5 Single, $20 Set of (5), $100 Set of (25).
All event proceeds will go to the GPA Rocky Mountain Chapter Charity, Training, and Scholarship Programs!
MidstreamCalendar.com was created to help all midstream events across the country align for maximum participation.