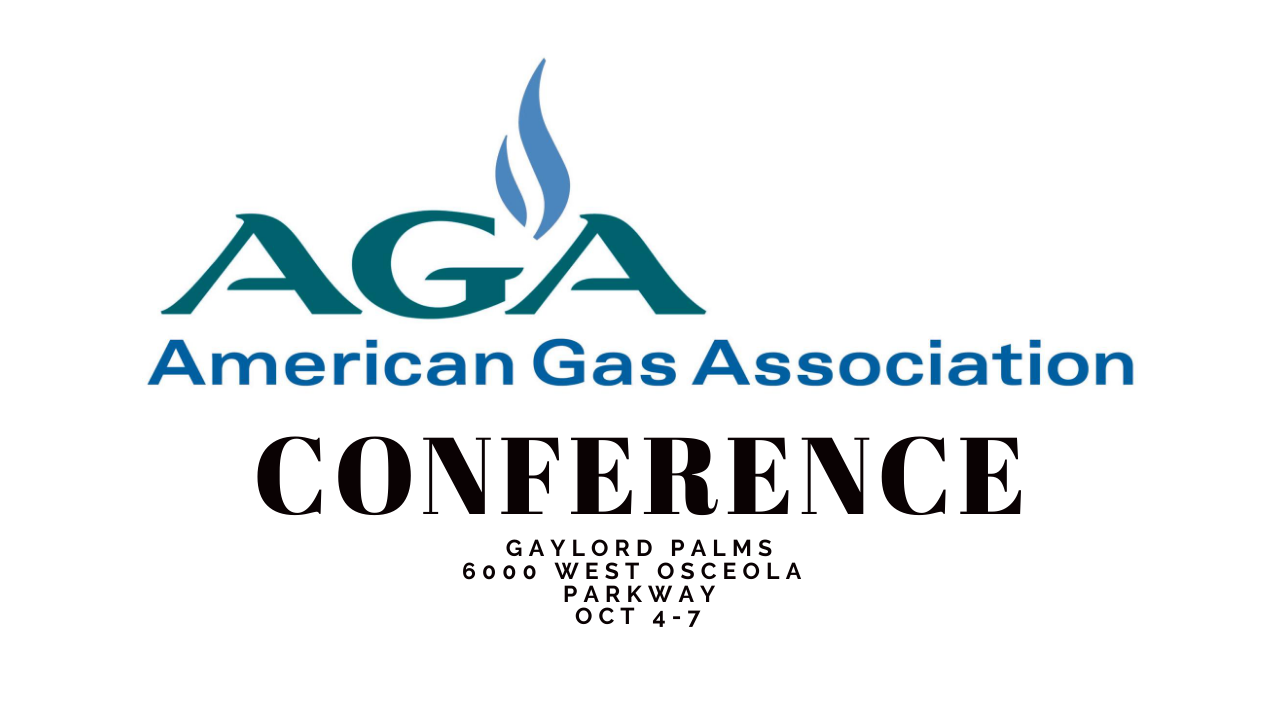 2021 AGA Operations Conference & Biennial Exhibition & Fall Committee Meetings
This Event Reminder is Sponsored By:

2021 AGA Operations Conference & Biennial Exhibition & Fall Committee Meetings
October 04, 2021 – October 07, 2021
Location:
Gaylord Palms
6000 West Osceola Parkway
Kissimmee, Florida
---
Event Overview
The annual AGA Operations Conference is the natural gas industry's premier gathering of natural gas utility and transmission company operations management from across North America and the world for the sharing of technical knowledge, ideas and practices to promote the safe, reliable, and cost-effective delivery of natural gas to the end-user. The Operations Conference is AGA's largest forum with regularly more than 900 operations management in attendance, including over 100 speakers, and 120 technical presentations that run the gamut of topics, such as gas measurement, operations advocacy, safety, environment, storage, engineering, construction and maintenance, gas control, supplemental gas, corrosion control and plastic materials.
2021 Exhibition
The 2021 exhibition will be held in conjunction with the conference. MC The exhibition attracts approximately 250 domestic/international vendors occupying 50,000+ square feet of Exhibit Space, including large islands. For exhibit inquiries, please contact AGA Exhibit Management at aga@epponline.com.
---
Safety/Health Requirements to Attend AGA Fall Technical Meetings/Conference/Exhibition

AGA will be taking various actions to provide a safe meeting environment at the Gaylord Resort. These include actions required of all attendees.  AGA's approach is consistent with CDC guidelines and practices adopted by other organizations to mitigate the risk of COVID-19 transmission.

Safety and Health Requirements all attendees will be required to submit:

Proof of full vaccination; OR
The results of a negative COVID test taken within 72 hours of their arrival to our meeting
We will be using a third-party smart phone-based app to collect information from attendees. This will begin prior to the start of our meetings and continue daily through the conference. Instructions for the use of this app will be emailed to registered attendees in the coming weeks. In addition, AGA is working on a set of questions and answers which will provide a clearer understanding of how health and safety protocols will be managed once we are onsite.
Additional things we will be doing to create a safe meeting environment include: 
All attendees will be required to wear a face covering unless presenting or actively eating or drinking
Every effort is being made to allow for social distancing at all times, including meals
Individual meals will be served by hotel staff wearing bracelets that indicate receipt of a cleared health screening that day
High touch surfaces will be cleaned frequently and hand sanitizer will be provided
Follow MidstreamCalendar.com for upcoming industry events. Midstream Calendar was created to help synchronize the industry by providing a free lookahead for key industry events across the country. We focus on non-profit support, community, and industry specific trade shows and conferences for gathering, gas processing, transmission, compression, refining plants, chemical plants, fertilizer plants, terminals, storage facilities, LNG plants, syngas, and bio mass.