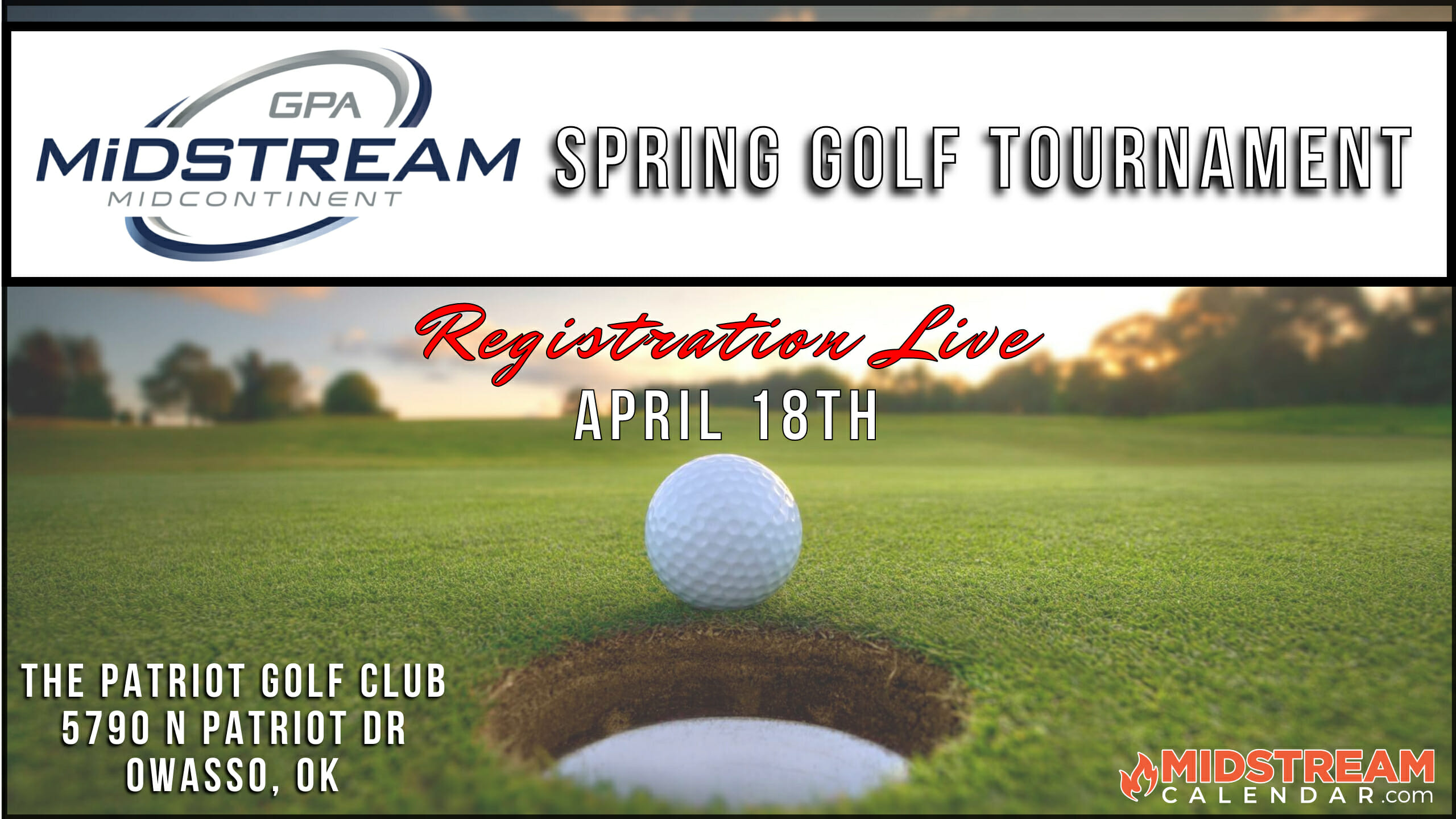 GPA Midstream Midcontinent Spring Golf Tournament April 18th – Oklahoma
This event reminder and save the date is Sponsored by:

SAVE THE DATE For the GPA Midstream Midcon Spring Golf Tournament.
Tuesday, April 18th, 2023 at The Patriot Golf Club in Owasso, OK
This tournament is expected to be one of our most popular events of the year! Don't miss the chance to network and feature your company as a supporter of MCGPA Midstream and the Oil & Gas Industry with one of the new, highly visible sponsorships.
Spring 2023 Details & Pricing
When: Tuesday, April 18th, 2023
Where: Patriot Golf Club, 5790 N. Patriot Dr. Owasso, OK 74055
Registration: Starts at 7:30am
Start Time: Shotgun start at 9:00am (players need to be in or around their carts 15min prior)
Cost Per Team: $1,000
Cost for an Individual: $300
(2) Mulligans: $20 per player or $80 per team
Pink Ball Competition: $100 adder – a pink ball (one max per team) will be provided, and will be rotated through shots. If lost, you're out. If you return your ball, you are eligible for a prize.
Sponsorship Opportunities
Title Sponsor: $5,000 (1 Available)
Your company logo will be printed on all major signage and social media posts. This also includes the opportunity for a company representative to introduce themselves, hole sponsorship, and pro-shop gift cards.
Swing Diagnostic Pro Sponsor: $2,500 (1 Available)
Your company logo will be located at this station. Each player's swing will be recorded with information on swing metrics.
Box Lunch Sponsor: At Cost (1 Available)
Breakfast Sponsor: At Cost (1 Available)
Golf Ball Sponsor: $2,000 (1 Available)
Your company logo will be printed on a pack of golf balls given to everyone playing in the tournament. There will be no charge if you supply your own company golf balls. Be prepared to provide as many as 36 dozen golf balls.
Commemorative Photo Sponsor: $1,500 (1 Available)
A picture of every team will be taken and uploaded digitally to our website. Your company logo will be displayed.
Hole-in-One Sponsorship: $1,500 (1 Available)
Drink Cart Sponsor: $1,500 (1 Available)
Pink Ball Sponsor: $1,500 (1 Available)
Cart Sponsor: $1,000 (1 Available)
Driving Range Sponsor: $1,000 (1 Available)
Your company logo will be on the driving range dividers. Come out and introduce yourself and your team while all players warm up!
Practice Putting Green Sponsor: $1,000 (1 Available)
9 Hole Flag Sponsor: $1,000 (2 Available)
Your company logo will be on every pin for 9 holes.
9 Hole Cup Sponsor: $750 (2 Available)
Your company logo will be displayed in every cup for 9 holes.
Hole Sponsorship: $750 (18 Available)
Set up your company tent on a tee box and provide swag, food, etc. This sponorship comes with a sign with your logo. Come out and enjoy the outdoors and meet some new customers!
Cart Path Sponsor: $750 (2 Available)
Bag Drop Sponsor: $500 (1 Available)
Raffle Sponsor Gold: $500 (unlimited)
Company Representative introduces their company and draws three tickets.
Raffle Sponsor Silver: $250 (unlimited)
Company Representative introduces their company and draws a ticket.
Bloody Mary Bar Sponsor: At Cost (1 Available)
Come introduce yourself and your team to everyone as they arrive. The dollar value will be determined by how many drinks are served. $500 min cost.
After Round Party Sponsor: At Cost (1 Available)
Create your own custom customer experience after the awards ceremony.
Cooker Sponsorship: At Cost (unlimited)
Bring your team and cooker, and show off your culinary skills. No sponsorship fee, cost of food provided only.
Please be advised that once you have registered for any event, we will not be able to offer refunds, as we use the proceeds from registrations for scholarships and other association activities. We would be pleased to welcome a guest in your place if you are unable to attend. Please email the Midcon GPA secretary to make any changes.
Please call Brian Leedy (405) 880-0827 or Jon Tate (918) 550-2160 if you have any questions.
Follow MidstreamCalendar.com for upcoming industry events. Midstream Calendar was created to help synchronize the industry by providing a free lookahead for key industry events across the country. We focus on non-profit support, community, and industry specific trade shows and 2023 midstream & pipeline conferences for gathering and gas processing, transmission, compression, refining plants, chemical plants, fertilizer plants, terminals, storage facilities, LNG plants, syngas, and bio mass. The original energy calendar featuring all streams of energy with renewables. More 2022 Oil and Gas Events added every day.
Email Efrain@AllstreamEP.com to get involved.
About Our Media Partner: PFS Nitrogen Services
PFS's mobile nitrogen pumping services use modern tandem trailers and bobtail pumper trucks. Operating independently from the diesel prime mover is a high-BTU heater for converting liquid nitrogen to gaseous nitrogen. A 2,000 to 3,000 -gallon vacuum-jacketed tank mounted on the truck or trailer supplies the liquid nitrogen to the cryogenic pumps.
PFS Nitrogen Service's mobile pumping equipment is capable of delivering gaseous nitrogen up to 8,000 psi, controlled temperatures from 35°F to 400 °F and single unit flow rates up to 740,000 scfh.
Units are outfitted with pressure and high/low temperature shut downs. Certified pressure relief valves custom set prior to each project is mounted on each system we are conducting work on to ensure over-pressurization of your equipment is not possible.
Larger liquid nitrogen requirements are transported to the pumpers by our own transport fleet and liquid can be stored on location in kings or queens depending on the project needs.
​PFS has strategic alliances with all the major liquid nitrogen providers.
Industries Served
Pipelines

Refineries

Chemical Plants

Vessels & Tanks

Storage Facilities

Power Generation plants

Government Agencies

Liquid Terminals

Waste Water treatment plants

Paper mills

Marine

Solar Farms
Product Experience
Natural Gas

Crude Oil

Propane

Y Grade

Ethanol

Gasoline

Jet Fuels

Diesel

Ethylene

Butadiene

Ammonia

Acids

Catalyst

Molten Salt

Coal and Coal Pellets

Other Refined Products, Chemicals, and Hydrocarbons
Uses
Purging, Inerting or Blanketing

Inhibitor & Cleaning Pig Runs

Gauge Pig Runs

ILI Tool Runs

Product Displacement

Pneumatic Pressure Testing

Accelerated Cool-down

Accelerated Warm-up

Molecular Sieve Changeouts

Catalyst Support

Freezing

Drying
Nitrogen Purge "Money Saver" Units
​

Is a nitrogen pump overkill or bottle rack just not enough volume? On a tight budget and need a more economical solution?

1,000 and 2,000 gallon nitrogen purge trailers, with outputs up to 50 psi at 500 scfm.