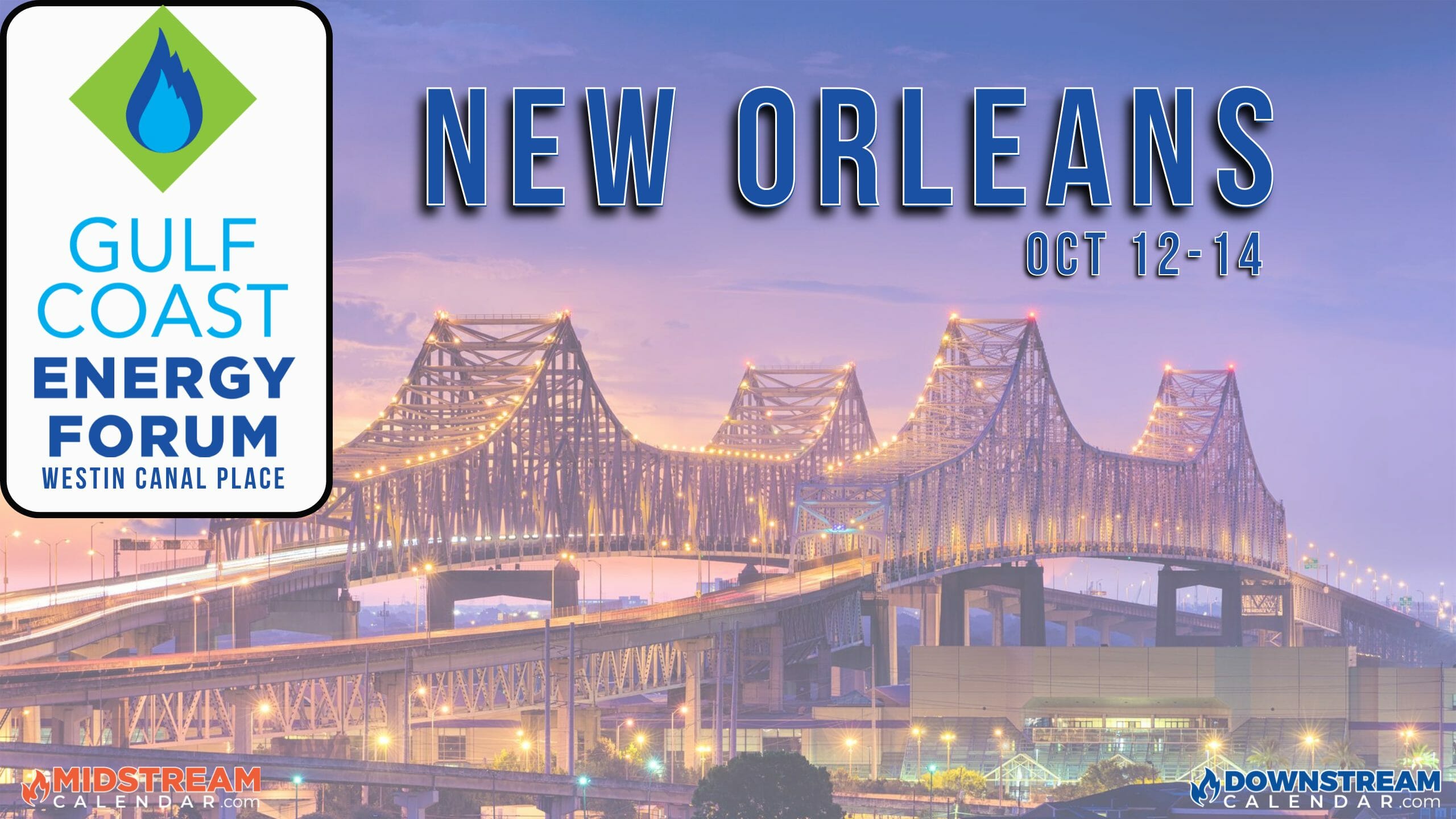 Gulf Coast Energy Forum – New Orleans, LA – In Person – October 12-14, 2022 — Westin Canal Place
This Event Reminder is Sponsored by:

Gulf Coast Energy Forum – New Orleans, LA – In Person – October 12-14, 2022 — Westin Canal Place

About the Gulf Coast Energy Forum:
The 4th Annual Gulf Coast Energy Forum takes place in New Orleans, October 12-14, 2022.  This event from the producers of the industry leading LDC Gas Forums is the ideal venue for industry professionals involved in the entire LNG export and supporting natural gas commercial value chain, including feedgas supply, pipeline transportation, LNG liquefaction, LNG shipping, marketing LNG to global end users, as well as key supporting services and products. New Orleans is the logical location for a gathering of hundreds of dealmakers examining the market and concluding transactions for LNG exports and supporting natural gas supply along the U.S. Gulf Coast.
Forum topics include:
Global LNG Market fundamentals (supply, demand, transport, price)
Natural gas supply sources for LNG
Global LNG market assessments and competing domestic U.S. markets
Infrastructure inventory and developments (liquefaction facilities and supporting pipelines)
Identification of key players: facility operators, suppliers, markets, investors
Regulatory considerations
Sales and purchase agreements anatomy and trends in commercial transactions and operations
View Attendee List Here:  https://tinyurl.com/f4u82uw6
Visit website for more info:   https://tinyurl.com/2s46pv3e
Register here:  https://tinyurl.com/38whfj47
Follow MidstreamCalendar.com for upcoming industry events. Midstream Calendar was created to help synchronize the industry by providing a free lookahead for key industry events across the country. We focus on non-profit support, community, and industry specific trade shows and 2022 midstream & pipeline conferences for gathering and gas processing, transmission, compression, refining plants, chemical plants, fertilizer plants, terminals, storage facilities, LNG plants, syngas, and bio mass. The original energy calendar featuring all streams of energy with renewables.
2022 Oil and Gas Events added every day.
2022 Oil and Gas Events Houston