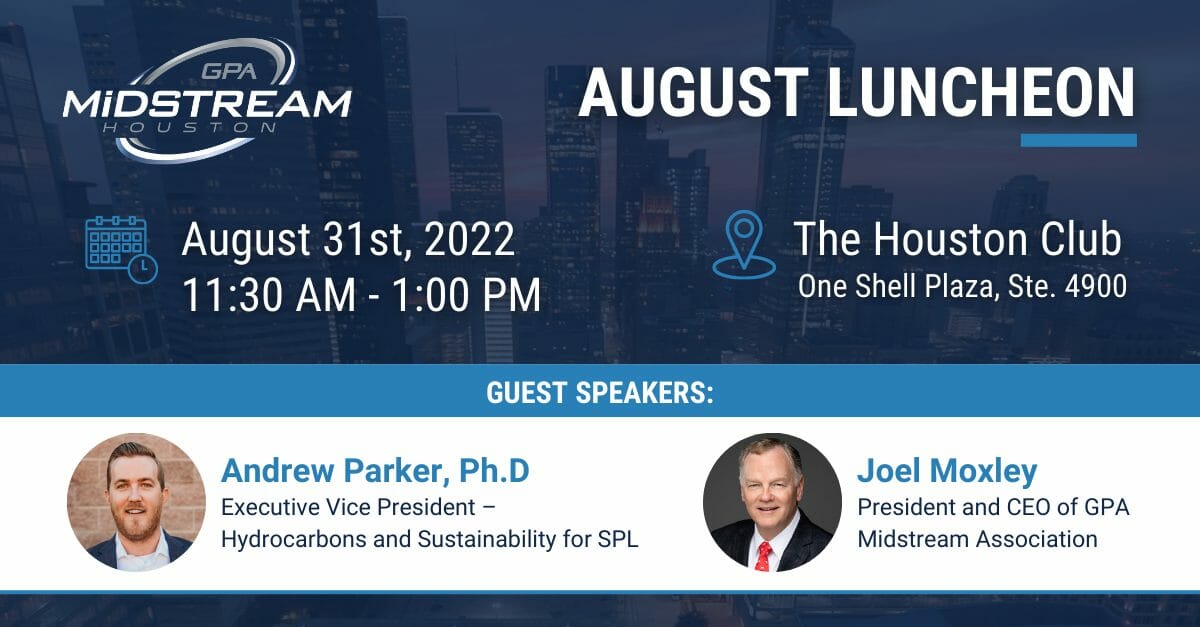 Register Now for the Houston GPA Midstream (HGPA) Luncheon Aug 31st – Houston
This Event Reminder and Place Holder is Sponsored by: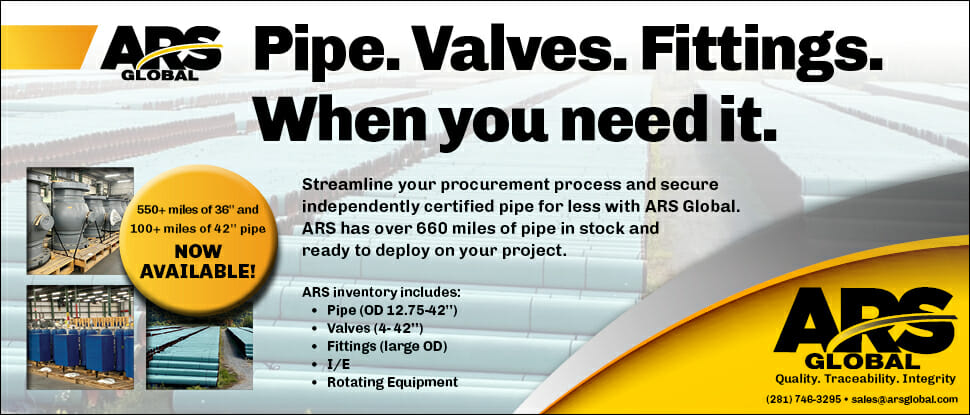 More details coming soon for the Houston GPA Midstream Monthly Luncheon at The Houston Club
Owner / Operators FREE
Individuals $65
Join us at our August Kick-off Luncheon on Wednesday, August 31 at 11:30am where we will hear from our guest speakers – Joel Moxley and Andrew Parker, Ph.D!
TOPICS:
Upcoming GPA convention, the Let's Clear the Air campaign, and the relationship between the national GPA Midstream organization and the Houston GPA chapter.
"Making the Case for Certified Natural Gas" – The climate is indeed changing, but our understanding of the mechanics and resulting impacts of that change are far less certain. Nevertheless, lawmakers, regulators, and environmentalists have made the energy industry public enemy number one when it comes to the fight against climate change. With the resulting emergence of ESG initiatives, the concept of "certified natural gas" has quickly risen in popularity. As the industry continues to educate the world about the role oil and gas will play in the energy transition, certified natural gas provides an opportunity for the industry to demonstrate that natural gas is truly a clean, abundant, low-cost transitional energy source.
More on our guest speakers:
Joel Moxley is president and CEO of GPA Midstream and CEO of GPSA and is responsible for the strategic leadership of the organization. Prior to his appointment to lead the associations in 2019, Moxley worked in the midstream industry at a variety of companies including Southcross, Crestwood, Crosstex, Enterprise, El Paso, PG&E and Valero. He held position ranging from engineering and operations to corporate development, HR, and IT over his 40+ year career. Moxley had been involved with GPA Midstream as a member and volunteer long before he was appointed CEO. His association involvement began with the Houston GPA Midstream chapter in the mid-90s, and over time, led to serving on and leading many committees within the national organization. He served as GPA Midstream chairman of the board from 2013 – 2015. As president and CEO, he has moved the organizations to take more active positions in Federal advocacy, led GPA Midstream's efforts to develop an ESG reporting template and pushed to increase the midstream industry's visibility through the Let's Clear the Air campaign.
Andrew Parker, Ph.D currently serves as the EVP of Hydrocarbons and Sustainability for SPL, a leading provider of testing, inspection, and certification services for the energy industry. Andrew earned a B.A. in Geology with Honors from the University of Colorado-Boulder. He then continued his education at Texas A&M University earning a Ph.D. in Oceanography, where he studied Earth's carbon cycle and it's role in paleoclimatic changes. Since his entry into the energy industry, Andrew has worked directly with state and federal rule making bodies to draft several protocols related to the sampling and analysis of crude oil for use in emissions inventories. He has published several technical papers on this topic. At SPL, Andrew and his team have been working to develop ways for companies to more efficiently manage and monetize their ESG efforts through improved measurement and data organization techniques. Andrew is an active industry volunteer with several industry organizations. He is currently the chair for GPA's GHG Measurement and Abatement Committee and sits on the American Petroleum Institute's ESG Reporting Subcommittee.
Follow MidstreamCalendar.com for upcoming industry events. Midstream Calendar was created to help synchronize the industry by providing a free lookahead for key industry events across the country. We focus on non-profit support, community, and industry specific trade shows and 2022 midstream & pipeline conferences for gathering and gas processing, transmission, compression, refining plants, chemical plants, fertilizer plants, terminals, storage facilities, LNG plants, syngas, and bio mass. The original energy calendar featuring all streams of energy with renewables. More 2022 Oil and Gas Events added every day.
Email Ops@MidstreamCalendar.com to get involved.
2022 Oil and Gas Events Houston
2022 Oil and Gas Events Texas