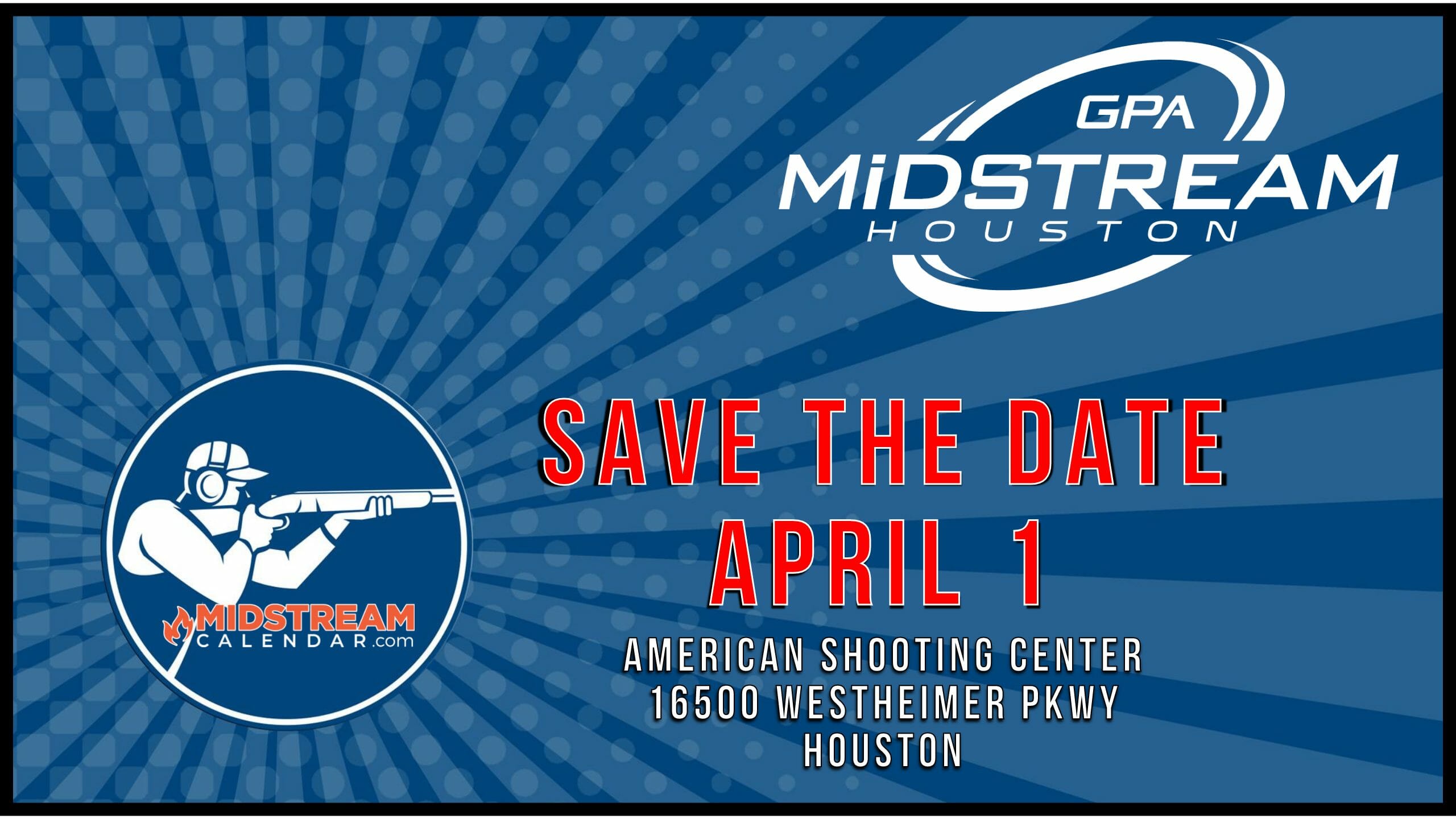 HGPA Sporting Clays Tournament – Event Date 4/1
This Event Reminder is Sponsored by:

General Registration!!!
Opens February 11th @ 10AM
48 Hour VIP Sponsor Registration
Opens Wednesday, February 9th @ 10AM
(Please note: For General Member Registration the "Register" button will not appear on the event page until 10:00 am CST February 11th, 2022).
Please join us in honoring our friend David and supporting our Annual Scholarship Fund. David was an invaluable member of Houston GPA for many decades and spent 10+ years of that time serving on the HGPA board.  As most of you know, the HGPA Annual Sporting Clay event was his pride and joy, his heart and passion were poured into the event year after year. His work and dedication to the clay shoot provided tens of thousands of dollars to the HGPA scholarship fund over the years. His dedication, contribution, and presence will be greatly missed.9:00 AM – Registration & Games Open
10:00 AM – Group Safety Talk
10:15 Main Event Begins
12:00 PM – Lunch & Drinks Served as teams come in
2:00 PM Presentation, Awards & Prizes
Event Format:  Participation in 4 man teams proceeding through 10 shooting stations on 3 courses (60 Total 4-Man Teams). At each station, everyone will shoot a total of 10 possible targets. Door Prizes and raffles will follow the shoot and participants will also have a chance to win one in 20+ raffle prizes including shotguns, rifles, and pistols plus an additional 40+ door prizes!
Event Pricing:
$250 each Per Person for a Single Registrant ($1,000/team)
**You don't need to register a full team. If registering fewer than 4, the HGPA will add people to complete your team*** *12 and 20 gauge ammo included provided at each station
Teams: **Please indicate the team Captain's Name when setting up a team and provide a Mobile phone number (not a landline) for yourself and anyone you are registering if possible. We will be using Mobile numbers to set you up with your team and other information as needed the day of the event**
Safety Rules:  Eye and Ear Protection is Mandatory. Shotguns must be open and empty until in the standready to shoot Ammunition. Shot size must be 7 ½, 8 or 9 and not over 1 1/8 ounces. Carry shotguns with the muzzle either pointed up or down.
Four Classes – Lewis Class Scoring System
First Place Trophies awarded for each class
Gun Raffle and Door Prizes- Must be present to win!
---
Event Sponsorship Opportunites
---
***SPONSORSHIPS SECURED AFTER MARCH 16th may not be included on "All Sponsor" materials.***
$3,000 Pavillion Sponsor (Max 1)

Signage & ONLY Sponsor Table in the Main Hall!
$1,500 Breakfast Sponsor (Max 1- Must provide breakfast) 
$1,000 Cooker Sponsor (Max 3) (Must provide lunch)
$1,000 Snack Sponsor (Max 1) (Must provide snacks)
$2,500 Golf Cart Sponsor (Max 1) 
$1,500 Trophy Sponsor (Max 1)  ​​
$1,000 Welcome Table/Registration Sponsor
$1,000 Game Tent Sponsor (Max 3)
$1,500 Sharpshooter Sponsor (Max 5)
$2,000 Shotgun Shell Sponsor (Max 1) 
$1,000.00 Gun Sponsor (15 available)
$1,000 Gun Cleaning Station Sponsor (Max 1)
$1,000 Course Sponsor (Max 3)
​$1000.00 Station Sponsor (Max 15)

Tent at shooting station
Must provide $100 raffle item to be raffled during award ceremony
Additional raffle items at tent permitted 

$1,000 Alcohol Sponsor (Max 1-Must provide alcohol) 
$500 Ear protection sponsor (Max 1) 
$500 Eye protection sponsor (Max 1) 
$500 Cigar Sponsor (Max 1) 
​$250 Drink Sponsor (Max 1- Must provide drinks) 
$250 Games by the Lake Sponsor (Max 1) 
$250 Raffle Flyer Sponsor (Max 1) 
$500 Koozie Sponsor (Max 1) (Must provide magnetic koozies to place on golf carts)
---
Scholarship Sponsors
---
Platinum – $750
Gold – $500
Silver – $300
Bronze – $200
---
​Door Prize Sponsors
---
Platinum – $750
Gold – $500
Silver – $300
Bronze – $200
Follow MidstreamCalendar.com for upcoming industry events. Midstream Calendar was created to help synchronize the industry by providing a free lookahead for key industry events across the country. We focus on non-profit support, community, and industry specific trade shows and 2022 midstream & pipeline conferences for gathering and gas processing, transmission, compression, refining plants, chemical plants, fertilizer plants, terminals, storage facilities, LNG plants, syngas, and bio mass. More 2022 Oil and Gas Events added every day.
Email Ops@MidstreamCalendar.com to get involved.
About our Media Partner EnRUD Resources, Inc 
EnRUD Resources is dedicated to providing solutions for managing environmental and maintenance information in the petrochemical, refinery and manufacturing industries. Our information management solutions are designed to automate and facilitate many of the daily labor intensive activities performed by facilities around the world. Leaders in LDAR, Method 21, Air Emissions Monitoring, OPGal, Drone Inspections, Regulation V, Stack Testing and ESG Environmental.