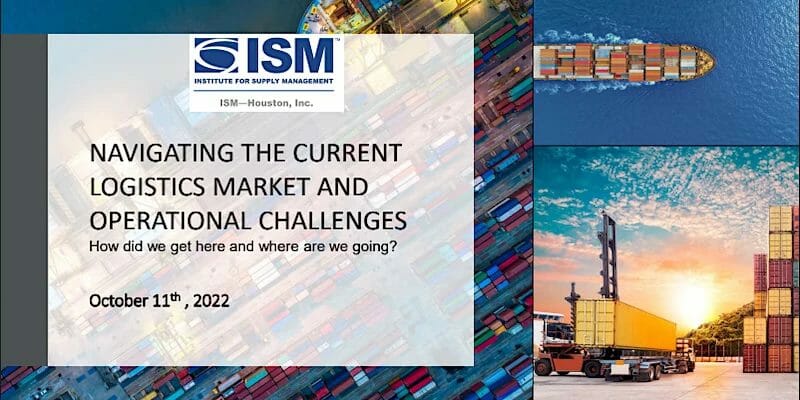 Register Now for the ISM October Professional Dinner Meeting Oct 11 – Navigating Current Logistics Market & Operational Challenges: How did we get here & where are we going?
This Event Reminder is Sponsored by:

Navigating The Current Logistics Market and Operational Challenges:
How Did We Get Here And Where Are We Going?
About This Event
Dine with us as we communicate news and opportunities within our organization and our industry.  This is an opportunity to engage among supply chain professionals and establish lasting external connections in a social setting. Cash bar is available.
---
Join us as we explore the logistical challenges impacting all our lives and where we go from here!
Guest speaker:
John Hark
Bertling Logistics – Regional Director, North America
Texas A&M – Adjunct Professor
John Hark has been in the Houston maritime industry for 30+ years and holds a Bachelor of Science in Maritime Administration from Texas A&M.
He started with Bertling in 2002 as Director of North America Vessel Operations. After moving to Bertling's logistics division, he held various management roles within North and South America. He is currently the North America Regional Director.
He has also been an Adjunct Professor with Texas A&M University since 2002.
Active in various industry and education initiatives, John is the current President of the Houston Maritime Arbitrators Association, sits on advisory councils for Lone Star College, Houston Community College, TSU and San Jacinto College and is a board member of the Port Houston Partners in Maritime Education nonprofit organization.
In April 2020, he founded the Houston Supply Chain/Logistics Education Collective to proactively minimize the logistics industry talent gap and foster industry relationships with educators and students in the Greater Houston region.
About Our Media Partner:

Providing Quality Ensured Products
SCD is the premier PVFF distributor of special alloys supplying carbon steel, stainless steel and special alloy materials such as chrome, stainless and nickel. Providing industry leading manufacturers to meet your Approved Manufacturers List (AML) combined with complete documentation packages and product support, we help get your projects off the launch pad on time and within budget.
VALVES, INSTRUMENTATION, PUMPS, MOTORS & ALL YOUR MRO NEEDS
From MRO, Electrical and Instrumentation to Tooling, Fasteners, Auto, Plumbing supplies and more, Space City Distribution has access to industrial basics and equipment spares required for any build or maintenance project. We also provide top safety and uniform brands to have your team looking good and doing it safely, every time.