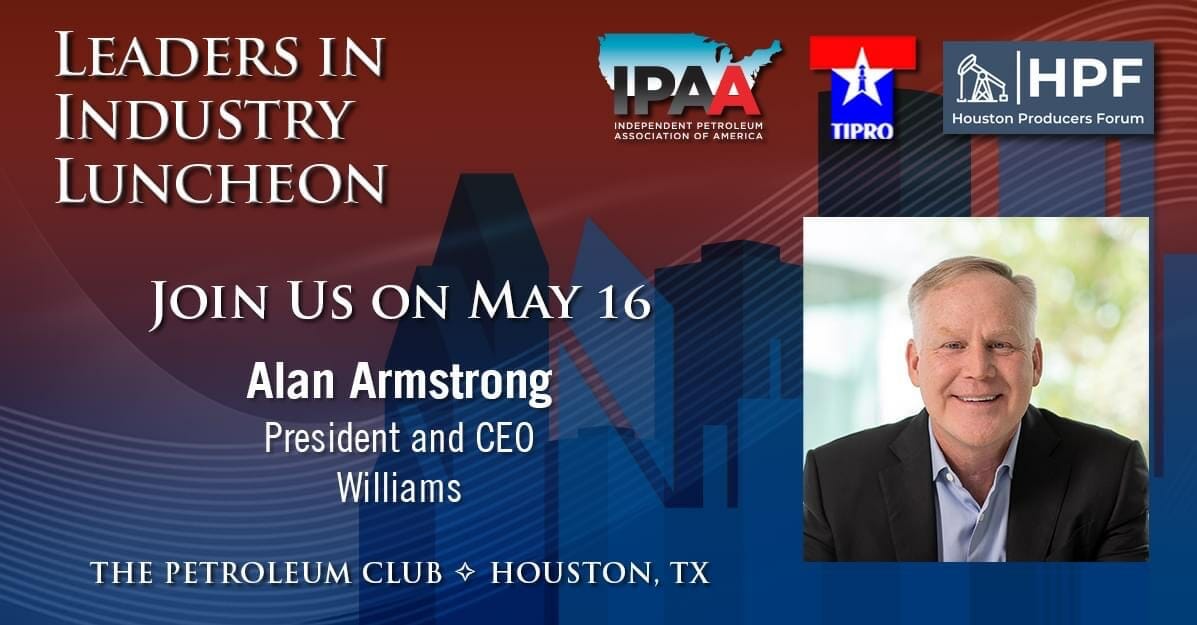 Register now for the Leaders in Industry Luncheon by IPAA, TIPRO, & Houston Producers Forum May 16, 2023 – Houston
This Event Reminder is Sponsored by: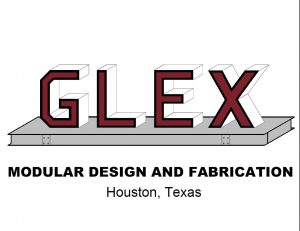 About the Event
Professional ExperienceAlan Armstrong became President and Chief Executive Officer of Williams in January 2011. During his tenure, Williams has expanded its reach, currently handling about 30 percent of all U.S. natural gas volumes, through gathering, processing, transportation, and storage services.
Prior to being named CEO, Armstrong led the company's North American midstream and olefins businesses through a period of growth and expansion as Senior Vice President – Midstream. Previously, Mr. Armstrong served as Vice President of Gathering and Processing from 1999 to 2002; Vice President of Commercial Development from 1998 to 1999; Vice President of Retail Energy Services from 1997 to 1998 and Director of Commercial Operations for the company's midstream business in the Gulf Coast region from 1995 to 1997. He joined Williams in 1986 as an engineer.
Education
Armstrong graduated from the University of Oklahoma in 1985 with a bachelor's degree in civil engineering.
Industry/Community Leadership
Armstrong serves on the boards of the American Petroleum Institute and the Energy Infrastructure Council, where he co-chaired a working group to develop the first-ever Midstream Company ESG Reporting Template. He serves as Vice Chair of the National Petroleum Council and in 2019 chaired the Council's Energy Infrastructure Study on Changing Dynamics of Oil & Gas Infrastructure. Armstrong is a member of the Business Roundtable and serves on the Board of Directors of BOK Financial Corporation.
Additionally, Armstrong serves on the boards of several education-focused organizations including Chair of the Board for Junior Achievement, USA, 3DE, and the Board of Trustees for The University of Oklahoma Foundation. Armstrong is also a member of the boards of The Williams Foundation and Gilcrease Museum. He is a member of the Distinguished Graduates Society of the Gallogly College of Engineering, University of Oklahoma.
Speaking Experience
Armstrong has spoken at numerous energy conferences and seminars, including CERA Week, Chemical Manufacturers Association International, Platts Energy Conference, Gas Processors Association, Pipe Liner Clubs, National Petroleum Council, and the National Energy Association.
In addition to speaking at corporate and philanthropic events, Armstrong has presented at the Canada Energy Symposium and has been a Federal Energy Regulatory Commission panel speaker on gathering deregulation.
Follow MidstreamCalendar.com for upcoming industry events. Midstream Calendar was created to help synchronize the industry by providing a free lookahead for key industry events across the country. We focus on non-profit support, community, and industry specific trade shows and 2022 midstream & pipeline conferences for gathering and gas processing, transmission, compression, refining plants, chemical plants, fertilizer plants, terminals, storage facilities, LNG plants, syngas, and bio mass. The original energy calendar featuring all streams of energy with renewables. More 2022 Oil and Gas Events added every day. So follow us for upcoming oil and gas events for 2022 and 2023
Email Ops@MidstreamCalendar.com to get involved.
2023 Oil and Gas Events Houston
2023 Oil and Gas Events Texas