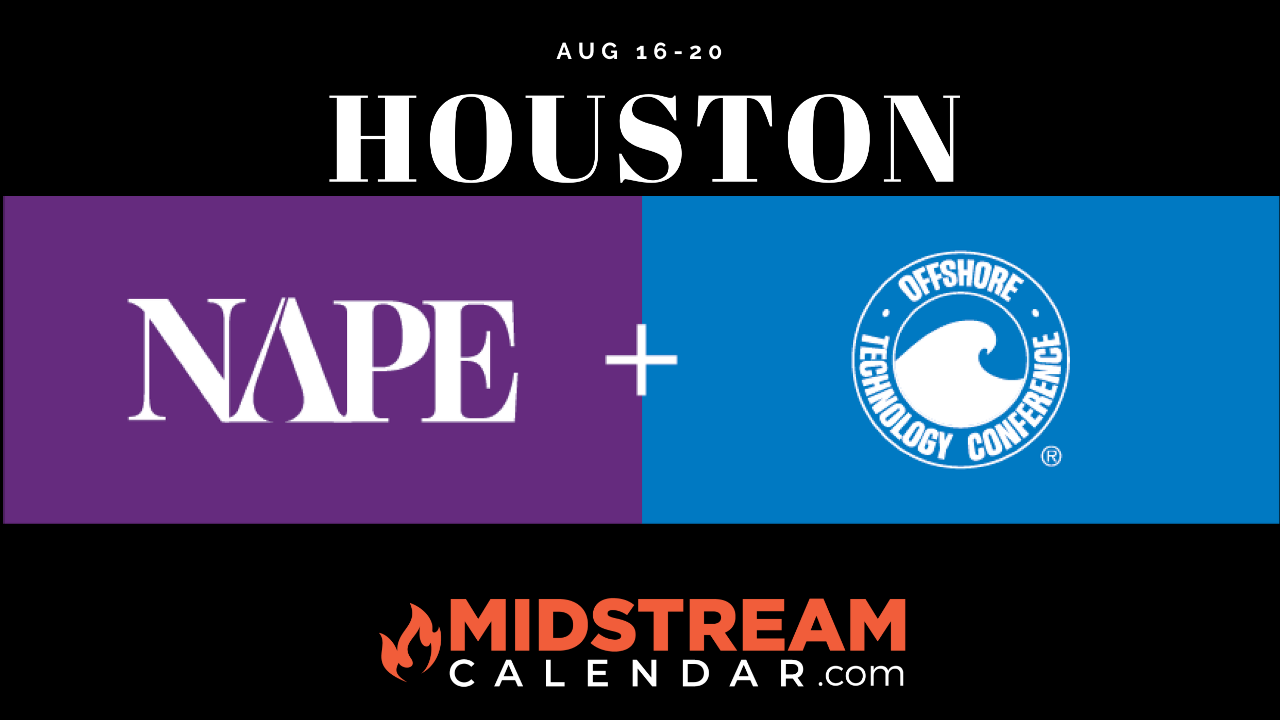 NAPE & OTC Houston
This Event Reminder Sponsored By:

This is for planning: NAPE and OTC support our Upstream Part of the business.
NAPE AND OTC ANNOUNCE HISTORIC 'SYNERGY IN ENERGY' PARTNERSHIP
04.27.2021

Two of the most prominent energy conferences in the world – the Offshore Technology Conference (OTC) and NAPE Summit – announced a first-of-its-kind "Synergy in Energy" partnership. Both events will be held in Houston between 16–20 August 2021, and guests will have the option to purchase a combo pass allowing full access to both conferences.
The "Synergy in Energy" collaboration will also feature a "fireside chat" with top industry executives discussing the energy transition while corresponding between the two events.
During the conferences, energy professionals from around the world will have an opportunity to connect with key decisionmakers buying, selling, and trading prospects and world-renowned innovators advancing scientific and technological expertise in offshore resources.
This year, OTC and NAPE will serve as a critical forum for industry leaders to discuss, debate, and build consensus around the most important issues facing the global energy industry, such as the impact of the pandemic on industry business models, emerging markets and new frontiers in offshore wind, digitization of the energy industry, and the energy transition.
Both events will follow the latest local COVID-19 safety guidelines and allow participants to attend in person or virtually.
"Globally, the energy industry has been called upon to meet the dual challenges of addressing climate change and meeting growing energy demand," said Cindy Yeilding, Chair, OTC Board of Directors. "The 'Synergy in Energy' partnership represents a significant opportunity for policymakers, business leaders, and industry experts to come together to address these challenges and find solutions to continue safely and efficiently powering the world."
"The energy business is a global 24/7 endeavor that millions of people depend on for their everyday lives," said Ron Munn, Chairman, NAPE Operators Committee, and General Manager, Land, Chevron. "That's why it is exciting to see NAPE and the OTC teaming up this August to showcase the industry that keeps global supply chains moving, enables manufacturing, supplies basic human needs and powers transportation systems."
"As the energy capital of the world, Houston continues to be a central hub convening the best and brightest minds to solve some of the most complex energy issues facing our generation," said Sylvester Turner, Mayor of Houston. "Houston is proud to safely and responsibly host OTC and NAPE and demonstrate our city's continued leadership in energy and the energy transition. From oil and gas to wind, solar and hydrogen, Houston is world-renowned for its talented workforce and technological innovations in the energy industry."
OTC will be held at the NRG Park 16–19 August 2021 and NAPE Summit will be held at the George R. Brown Convention Center 18–20 August 2021.
Combo passes can be purchased by visiting both the OTC website at https://2021.otcnet.org/register and the NAPE website at http://napeexpo.com/summit/attend/registration-information.
—
About OTC
The Offshore Technology Conference (OTC) is where energy professionals meet to exchange ideas and opinions to advance scientific and technical knowledge for offshore resources and environmental matters. Founded in 1969, OTC's flagship conference is held annually in Houston. OTC has expanded technically and globally with the Arctic Technology Conference, OTC Brasil, and OTC Asia. For more information, visit www.otcnet.org.
About NAPE
NAPE is the largest exhibition of its kind in the world, providing unmatched venues for energy professionals to meet, network, connect and do business. It was founded in 1993 by the American Association of Professional Landmen and now also includes the Independent Petroleum Association of America, Society of Exploration Geophysicists and American Association of Petroleum Geologists as partner hosts. NAPE hosts NAPE Summit annually — bringing together prospects and all the key players needed to evaluate, facilitate and execute deals. For more information on NAPE, please visit www.NAPEexpo.com.
2022 OTC FREE Passes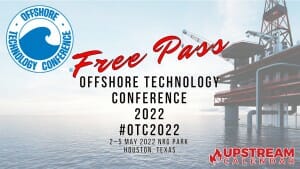 https://upstreamcalendar.com/events/offshore-technology-conference-houston-may-2022/