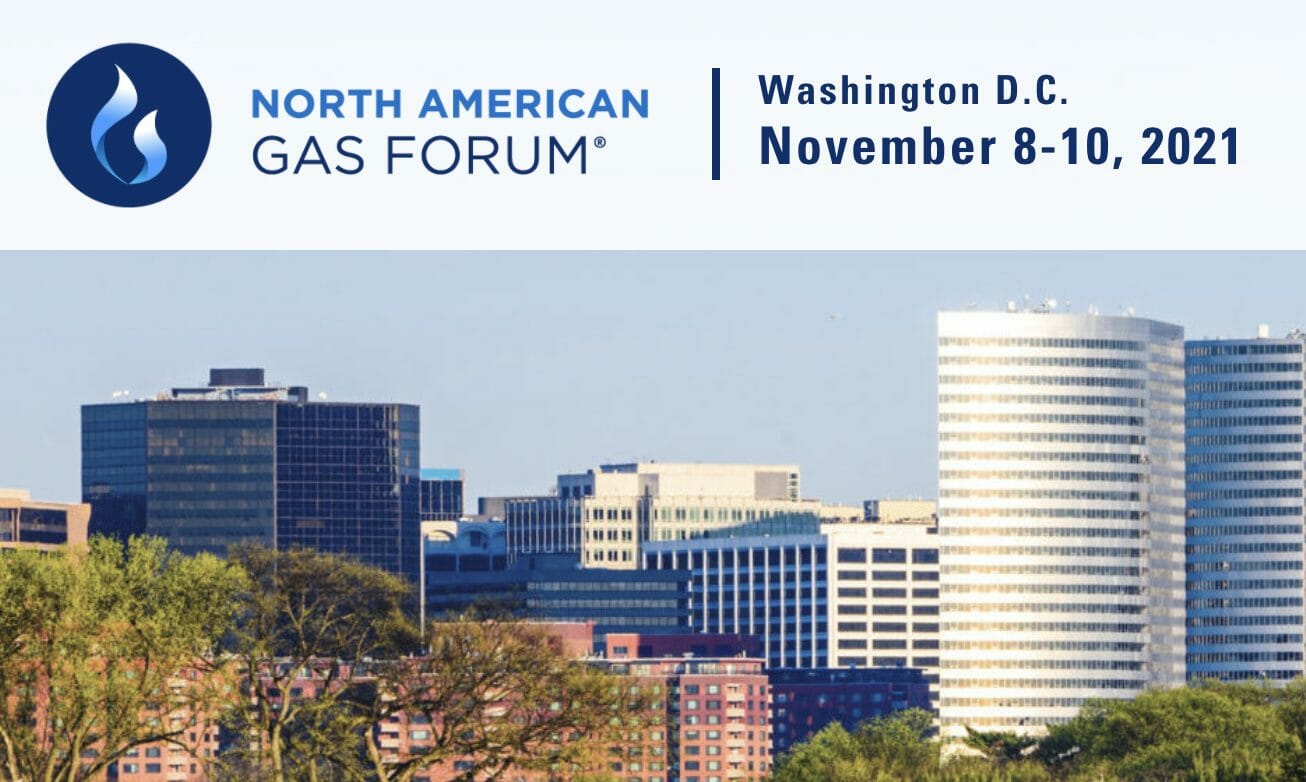 North American Gas Forum
This Event Reminder is Sponsored By:

Confirmed Speakers:
Natural Gas Redefined in The Age of Energy Transition. Can natural gas deliver low-carbon solutions and universal energy access in a timely manner? 
Natural Gas and Its Role In Decarbonization 
Getting definitions right: what are we referring to with net-zero, carbon-neutral and low-carbon within the energy transition context? Where do CH4 molecules fit in the picture, independent of provenance, i.e. shale, landfill or other?
How do different types of gas fit into the goal of decarbonization?
What role will natural gas play vis-a-vis other energy sources in the decarbonization of global energy?
What Framework Needs To Be In Place For A Carbon Price To Make The Desired Impact?
What framework needs to be in place for a carbon price to make the desired impact?
How will carbon price dynamics impact decisions around supply, exports and demand? 
Specifically, what are the impacts of a carbon price on natural gas and LNG? What are opportunities and demands for gas regionally? How does the US compete on a global scale?
Natural Gas And Washington DC – Certainty And Reliability Of Decisions To Enable Infrastructure Investments
How are pathways changing through the Biden administration and the American Jobs Plan?
How can regulations and policies help enable lower-carbon impact natural gas?
What will be the role of policy makers to enable and facilitate investments in future energy infrastructure? How can we address the importance of certainty and sanctity of contracts and permits to ensure continued investment in the industry?
The Interplay of Natural Gas and a Future Hydrogen Economy
How can safety and cost economics be addressed for hydrogen to reach its potential?
Are natural gas and hydrogen competitors or collaborators? What is the future of hydrogen blending in natural gas pipelines? What are limitations, if any? 
What are constructive ways of addressing efficiency losses of hydrogen and the difference in source of production, ie. grey versus blue versus green?
What is the timing and scale for the hydrogen contribution to decarbonization and a lower carbon energy future? How can we look at timing, scheduling and limits in a pragmatic way in order to fully capitalize on the opportunity?
Natural Gas Through The ESG Lense And A Closer Look At The "E"
Under the ESG concerns, what are impacts to social, governance, environment and within environment decarbonization, air pollution and accessibility? 
How do priorities shift regionally and why is it important to look at solutions holistically? What is the role of natural gas in the "E", in reducing health concerns associated with other energy sources and in reducing carbon? What are globally solutions to cleaning up the "E" in ESG? 
Will ESG excellence be the decisive factor for future investments and project go-aheads? How can companies ensure robustness of investments against broader environmental, social and governance requirements? How can greenwashing be avoided? Will "clean fracs" and "zero routine flaring" be the enablers of future production?
The Role of Natural Gas for Electrification Goals
What role can gas play in achieving future electrification goals? What are baseload alternatives to allow for the biggest percentage of renewable energy sources in the electricity mix? How will availability, affordability and reliability of natural gas determine the role it will play?
What role does natural gas have to play in providing a resilient grid infrastructure?
How will advances in storage technologies impact the electricity value chain and the potential to decarbonize? What will be the role, opportunities, environmental impacts and limitations of battery storage?
Natural Gas in the Transportation Sector
What are the opportunities and limitations of electrifying the transportation sector?
How can an efficient infrastructure enable a clean transportation future?
Where do opportunities lie for low-carbon shipping? Can hydrogen be efficiently and safely used in shipping?
Natural Gas and its Role in Hard-To-Abate Sectors
How can natural gas, renewable energy, hydrogen and CCUS work together in hard-to-decarbonize sectors, including production of steel and cement, industrial processes, fertilizers and heavy-duty transport?
Examining life cycle emissions and CO2 capture opportunities to assess climate impact
What are feasible technologies and applications on the horizon?
Innovation and Investment in the Natural Gas Sector
Which technologies have the potential to disrupt the sector? Which are at the cusp of commercialization and technical readiness? Can any technologies solve challenges of fundamentals around energy density?
How much CO2 can each of these technologies remove?
How can we ensure capital will flow into what can improve the world's energy systems, energy access and a sustainable energy future?
Energy Poverty, Global Energy Access and the Role of Natural Gas
Energy poverty as a global, but also national priority; how can outcomes of energy poverty be mitigated, including air pollution, migration, lack of economic development? Are our current solutions timely and well positioned to avoid disasters and create adverse effects, including growing coal plant capacity?
Do blanket bans hurt the balance of global CO2 emissions? Perspectives from different parts of the world
Can a global carbon budget be the way forward when regional realities differ widely?
Follow MidstreamCalendar.com for upcoming industry events. Midstream Calendar was created to help synchronize the industry by providing a free lookahead for key industry events across the country. We focus on non-profit support, community, and industry specific trade shows and conferences for gathering, gas processing, transmission, compression, refining plants, chemical plants, fertilizer plants, terminals, storage facilities, LNG plants, syngas, and bio mass.