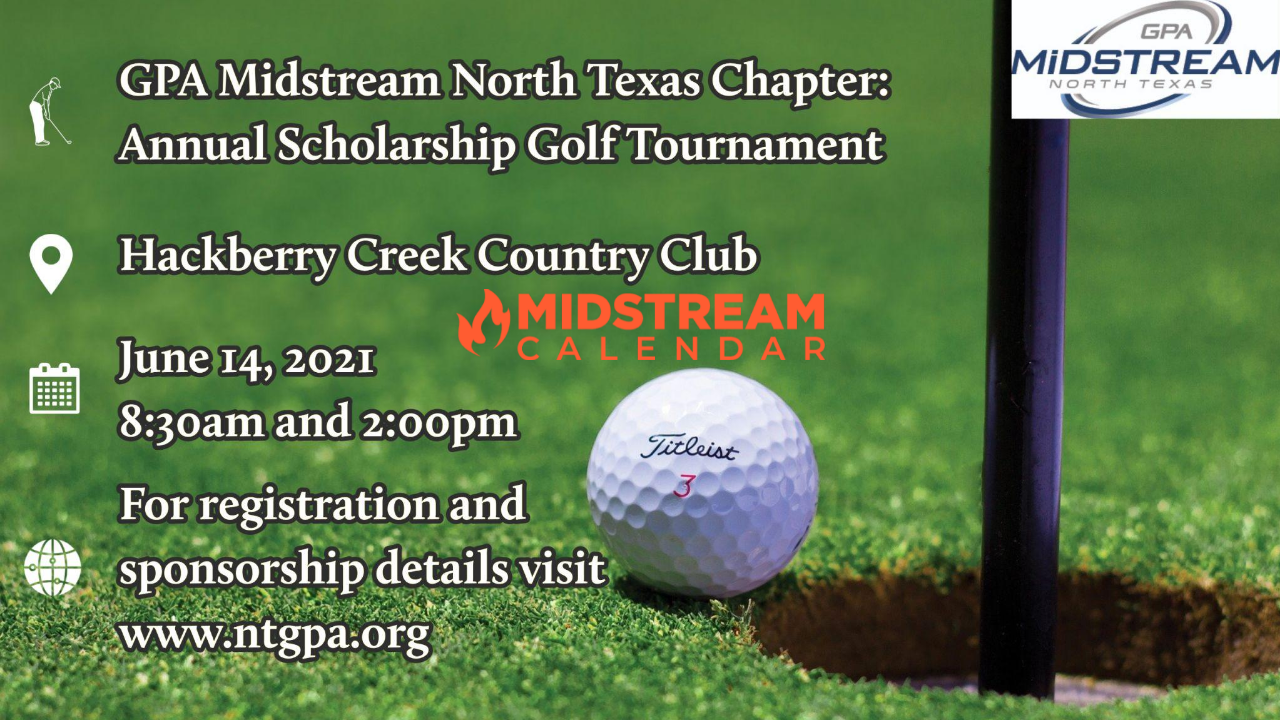 North Texas GPA Midstream Golf Tournament
Event Reminder Provided By: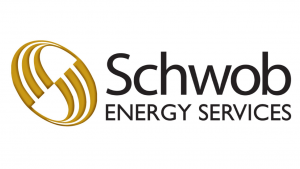 "Bridging the Gap one Stroke at a Time"
NTGPA Midstream Summer Golf Tournament is now open for registration! This summer's tournament will be held at the world-class Hackberry Creek Country Club.
By participating you contribute to our Scholarship fund while enjoying good food, fun, prizes, and networking with other Midstream professionals.
You can also participate as a company by being a Corporate Sponsor which includes numerous sponsor recognition opportunities at the event. Several sponsorship levels are available based on event and location, but space is limited so don't wait to register! Midstream Calendar provides a free service to non profits and helps coordinate events across the country. Support by following the LinkedIn and subscribe to the website.
All proceeds will go to the NTGPA Midstream Foundation (501C3) Scholarship Program.
Any questions contact Steve Scribner at: 432-559-1191 or sscribner@resetenergy.com
Date:  Monday, June 14, 2021
Time: Morning flight 8:30am, Afternoon flight 2:00pm
Cost: Regular Ticket – $200 per player
***Price of ticket includes:
Green Fees
Cart
Breakfast Bar/ Lunch
Lunch/ Dinner
All Non- Alcoholic Drinks
Course Snacks
Door Prize Ticket
Cannon Shot Drive
Mulligans (2 each)
SPONSORSHIPS
Sponsorship options this year! There are limited sponsorships available so don't wait, register your company today!
$4,500.00 Title Sponsor
$3,000.00 Dinner Sponsor (2 Available)
One complimentary foursome​
​Logo on Banner at Clubhouse
Full page ad in program
Name in Thank You Correspondence
Recognition in all tournament promotions/media
Recognition on Website (with link)
First right of refusal for 2022 golf tournament
​$2,000.00 Lunch Sponsor (1 Available)
One complimentary foursome
​Logo on Banner at Clubhouse
Half page ad in program
Name in Thank You Correspondence
Recognition in all tournament promotions/media
First right of refusal for 2022 golf tournament
$1,600.00 Trophy Sponsor (1 Available)
Company name and logo etched into the winner's trophies
Logo on Banner at Clubhouse
Company name in program
Company name and logo Recognition on Website (with link)
$1,500.00 Closest to the Pin, Longest Drive & Golf Cannon Sponsor (Only 3 Available – 1 of Each)
One complimentary foursome
Opportunity table at one hole (handouts or meet and greet)
Signage at one hole
Name in Thank You Correspondence
Company name and logo Recognition on Website (with link)
$1,400.00 Drink Sponsor (1 Available)
Signage displayed on the beverage cart
Logo on Banner at Clubhouse
Company name in program
Company name and logo Recognition on Website (with link)
$1,200.00 Photo Sponsor (1 Available)
Logo on tournament photo folder handed to each golfer at conclusion of tournament
Logo on Banner at Clubhouse
Logo in tournament program
Company name and logo Recognition on Website (with link)
$1,000.00 Breakfast Sponsor (1 Available)
Logo on Banner at Clubhouse
Half page ad in program
Company name and logo Recognition on Website (with link)
First right of refusal for 2022 golf tournament
$750.00 Golf Cart Sponsor (1 Still Available)
Signage displayed on all golf carts
Logo on Banner at Clubhouse
Company name in program
Company name and logo Recognition on Website (with link)
$750.00 Hole Sponsor (12 Still Available)
Opportunity table at one hole (handouts or meet and greet)
Signage at one hole
Name in Thank You Correspondence
Company name and logo Recognition on Website (with link)
​
$500.00 Putting Contest  (Unlimited)
*Includes: Signage at the Practice Green, Logo on Banner at Clubhouse, Company name in program, Company name and logo Recognition on Website (with link)
$500.00 Gold Prize / $250.00 Silver Sponsor (Unlimited)
*Includes: Company name and logo card attached to the door prize, Logo on Banner at Clubhouse, Company name in program, Company name and logo Recognition on Website (with link)
THANK YOU AGAIN FOR YOUR SUPPORT AND WE'LL SEE YOU THERE!!! MidstreamCalendar.com 
June 14th, 2021 8:30 AM
Location
Hackberry Creek Country Club
1901 Royal Lane
Irving, TX 75063
United States