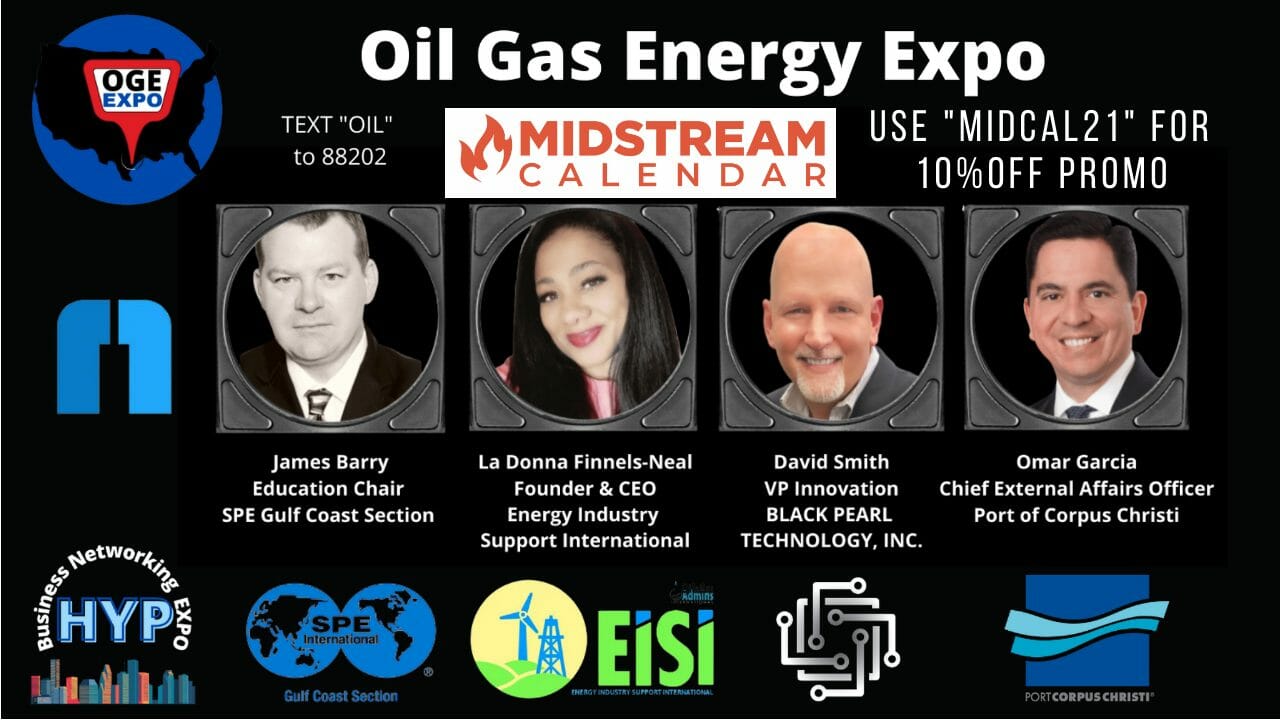 Oil Gas Energy Expo – The Ballroom at Bayou Place PROMO 10% Off – Use "MIDCAL21"
About this event
November 5, 2021
11:00 am – 9:00 pm
"Luncheon & Breakaway Session starts at 12:00 pm"
$10 General Admission
$55 Luncheon & Breakaway Session
Open 11:00 am
Speakers Luncheon 12:00pm – 1:00 pm
Breakaway Session 1:00pm – 2:00 pm
Networking Expo 2:00 pm – 5:00 pm
Industry Happy Hour 5:00 pm – 9:00 pm
Exhibitor & Sponsorship Opportunities!
Gold Sponsor $20,000 will have 30 minute speaking time
Silver Sponsor $15,000 will have 20 minute speaking time
Bronze Sponsor $7,000 will have 15 minute speaking time
After Party Networking Sponsor $10,000
Photo Booth Sponsor $5,000
10 x 10 Exhibitor Booth = $1,000
6′ Exhibitor Table $500
INVITED ORGANIZATIONS & SPEAKERS:
Energy Industry Support International
American Association of Drilling Engineers (AADE), Houston
Association of Petroleum Negotiators (AIPN)
Houston Association of Professional Landmen
Marine Technology Society, Houston
Society of Petroleum Engineers, Gulf Coast Section
Society of Petroleum Evaluation Engineers, Houston
Society of Professional Women in Petroleum
Women's Energy Network
Industry Speakers:

Download the NCrowd App and Start Networking Now!
As the Energy Capital of the World, Houston is the headquarters and the intellectual capital for virtually every segment of the energy industry including exploration, production, transmission, marketing, supply, and technology. Houston employs nearly a third of the nation's jobs in oil and gas extraction.
Houston's high concentration of energy expertise and experience has meant a large number of relocations to the Houston region in recent decades.
The region offers access to 3million workers and more engineers than any other U.S. metro. With more than 600 exploration and production firms, 1,100 oilfield service companies, and more than 180 pipeline transportation establishments, Houston is truly the Energy Capital of the World.
Point of Contact: Houston@OGEExpo.com
Freddy Goerges 713-409-6127
Sylvia "Celeste" Cardenas 832-289-4633 sylviaceleste333@gmail.com
Roland Martinez 361-739-9326 rmartinez@ncrowdme.com
TEXT "oil" to 88202
Follow MidstreamCalendar.com for upcoming industry events. Midstream Calendar was created to help synchronize the industry by providing a free lookahead for key industry events across the country. We focus on non-profit support, community, and industry specific trade shows and conferences for gathering, gas processing, transmission, compression, refining plants, chemical plants, fertilizer plants, terminals, storage facilities, LNG plants, syngas, and bio mass.