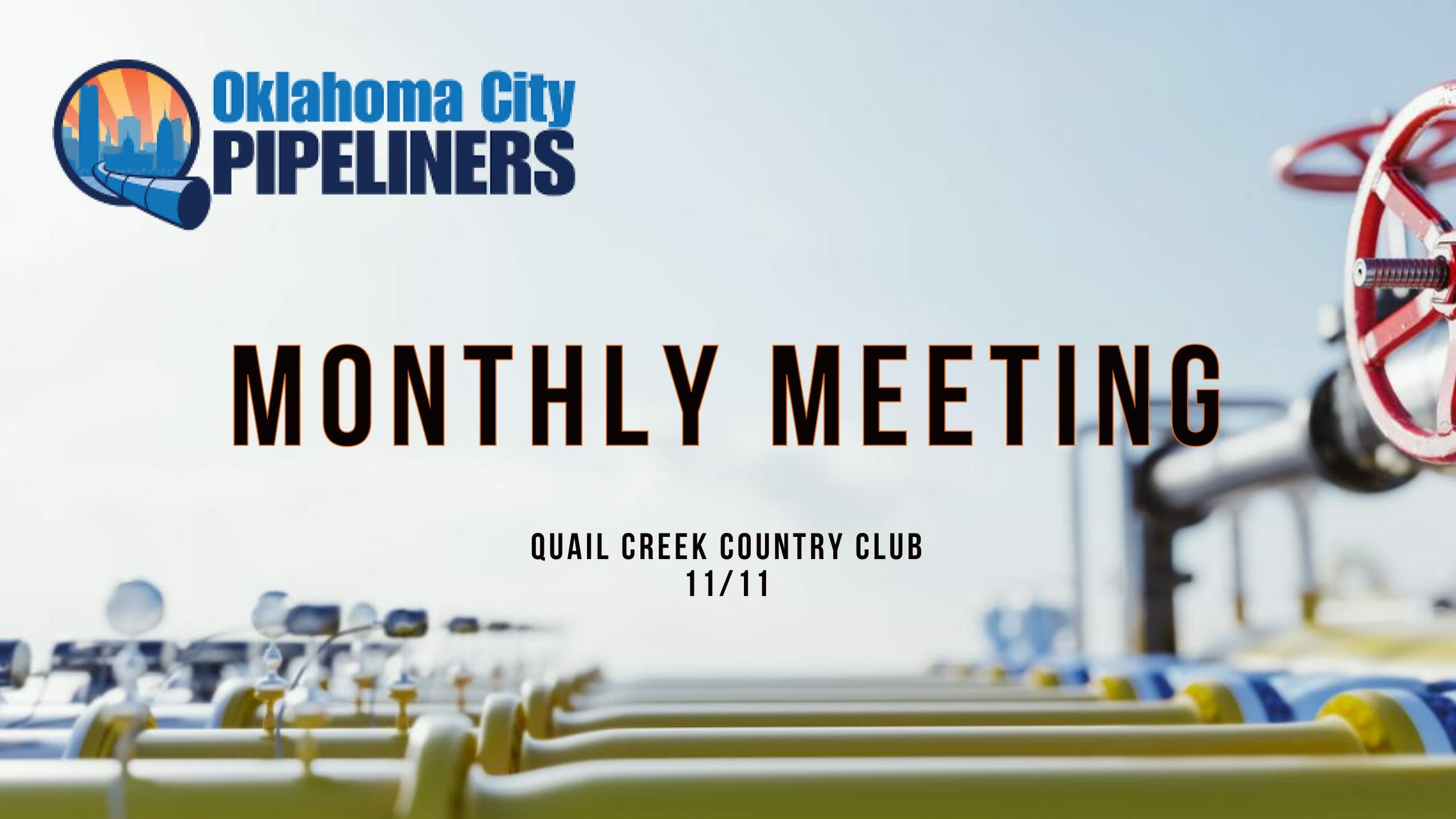 Register Now for the OKC Pipeliners Monthly Meeting 11/11
This Event Reminder is Sponsored by:

2021 ELITE SPONSOR

Register Now!
Every day, we are thankful for our military service personnel, past and present, and the families who serve alongside them.Let's celebrate Veteran's Day together.
Join us in person at Quail Creek Country Club on Thursday, November 11, 2021.
Members – $35 until 5:00PM 11/7/21
Non-Members – $45 until 5:00PM 11/7/21
Students – Free w/$20 Membership
*Registration increases after the deadline and at the door.
(Be sure to login when registering to access member rate.)
November Speaker
Joe Frankie III, Founder & President
JFIII Associates, LLC
In honor of Veteran's Day, the Pipeliners Club of Oklahoma City is excited to host Colonel Joe Frankie, USA, Retired. Joe Frankie III is a West Point graduate, combat veteran, award-winning author and he knows the power of a team.
As CEO at JFIII Associates, he helps companies build better teams. Joe brings 40 years of leading and untangling multiple business projects up to $8 billion worldwide and as many as 53,000 associates where he has a track record of building teams, deploying technology and mitigating risk. These include technology integrations, software, start-ups and heavy logistics moves in the private and public sectors – Asia, China, South Korea, Mideast, Germany, Spain, Portugal, Egypt, Israel, Saudi Arabia, and Iraq.
Joe Frankie III provides insights on career advancement. Joe is a retired career military veteran, US Army officer with many years of experience and provides expert guidance through his dynamic leadership abilities and global awareness and expertise. Joe is available for speaking in board, class, training, conferences and more.
He is an expert in supply chain management, logistics and risk management. Joe delivers helpful insight to unlock your full potential to brand yourself. Through Joe's guidance you will be able to document and present yourself as a successful achiever. Joe is passionate, participates and interacts with other visionaries to provide you with the tools and network to obtain your full market potential.
Mr. Frankie holds a B.S. in Engineering from The U.S. Military Academy at West Point, an M.B.A. and a Master of Arts in Spanish from the University of Arkansas. Joe and his family live in the Houston, Texas area.
Message from the President
Friends and Colleagues,
I hope you're excelling in all that you're doing. With Oil and Gas prices back, activity is picking up. Can you feel the energy?
Once again, we are meeting in person and our speaker is someone you won't want to miss. Col. (ret.) Joe Frankie III mc will be our speaker on Veteran's Day. I've personally known Joe for several years and he's a dynamic speaker with a lot to share.
Come join us as we bring our attendance numbers back into triple-digits. Ask a friend, supplier, customer or even a relative to join you! Sponsor a table (or two). Get the word out #WeAreBack!
I'm looking forward to see YOU!
Serving You,
Clay Scott
President
Pipeliners Club of Oklahoma City
Meeting Details
Who should attend?
You and your industry colleagues!
When does the meeting occur?
Networking Social Hour 5:15-6:15 PM
Dinner & Program 6:15-7:45 PM
Where is the meeting?
Quail Creek Golf and Country Club
3501 Quail Creek Road
Oklahoma City, OK  73120
(Directions & Map)
Follow MidstreamCalendar.com for upcoming industry events. Midstream Calendar was created to help synchronize the industry by providing a free lookahead for key industry events across the country. We focus on non-profit support, community, and industry specific trade shows and conferences for gathering, gas processing, transmission, compression, refining plants, chemical plants, fertilizer plants, terminals, storage facilities, LNG plants, syngas, and bio mass.