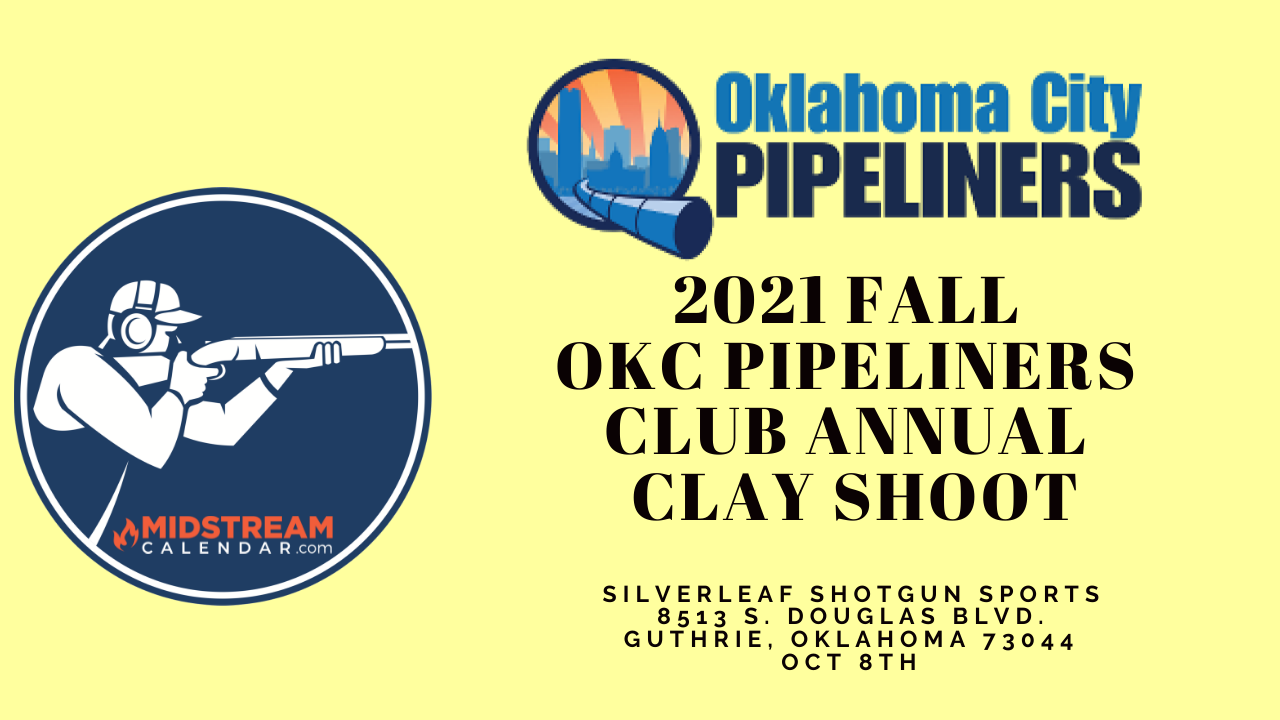 Pipeliners Club of OKC Fall Sporting Clays 2021
This Event Reminder is Sponsored By:

PULL! – BOOM!!! 💥
It's that time of year when you grab your gun and head to Guthrie to participate in the OKC Pipeliners Club annual clay shoot on October 8th!  We hope you can join us!
The Pipeliners Club of Oklahoma City is proud to announce and invite you to our 2021 Fall Sporting Clays Shoot. This is one of our premier events for the year as we conduct business in a casual setting and raise money in support of our scholarship program.
We have the best sponsors on earth and there's no reason you should be hungry or thirsty throughout the day. If you'd like to join this elite group of sponsors, please contact:
Tournament Organizers:
Frank Hensley – frank@qisinspection.com
Garrett Campbell – garrett.campbell@insurica.com
Tournament Information
Includes:
100 Targets per Shooter
100 Shells (1 oz.) per Shooter
Golf Cart
Breakfast and Lunch
1 Raffle Ticket
(Extra tickets only $10/ticket or 15 tickets for $100)
Awards
Agenda

Cost

Competitions

7:30 am REGISTRATION
8:30 am SAFETY BRIEF
9:00 am EVENT STARTLUNCH, RAFFLES AND AWARDS AT CONCLUSION OF SHOOTING

4 Person Teams

Individual – $250
Team (of 4) – $900

Prizes for 1st, 2nd and 3rd Place Teams
Sponsorship
There are a host of sponsorship opportunities. Please see the Sponsorship Registration page for details.
General Notes
EVENT will be held RAIN or SHINE
No trailer parking available (noting cart is provided, if you bring a trailer parking may be off site)
NO ALCOHOL allowed on premises
Safety gear is mandatory (Glasses and hearing protection)
Clubhouse will be open during event
Multiple food and beverage sponsors onsite, so bring an appetite
25 stations, 4 birds per station
Liability Waiver
By registering for and/or attending this event, you, the participant assume all risks involved in participating in the Pipeliners Club of Oklahoma City Golf Tournament and do for yourself, your heirs, executors, administrators, and assignees waive, release, and forever discharge any and all rights and claims which may have or which hereafter accrue to me against the Pipeliners Club of Oklahoma City and Silverleaf Shotgun Sports, including its officers or members along with any sponsors and their representatives and successors.
All participants required to sign the liability waiver at the event check-in.
Volunteers
Those volunteering on behalf of the Pipeliners Club of Oklahoma City are required to sign a Volunteer Liability Waiver and Agreement, which is part of the Club's Governance Policies, Exhibit B.
Photo/Video Release
By registering for and/or attending our events, you agree that the Pipeliners Club of Oklahoma City ("the Pipeliners Club") and its representatives may take photographs, videos, and other images or audio recordings of you, and you consent to the Pipeliners Club's use of the photographs, videos, and other images or audio recordings taken or produced. The Pipeliners Club may use those items in fundraising, for marketing and promotional purposes, and in electronic media for an unlimited time period, and you will not be entitled to receive any compensation, payment, royalty or other remuneration from the Pipeliners Club. If you would like to "opt out" of this release, please contact secretary@okcpipeliners.com.
For more information, please contact the tournament organizers.
Notes:
Your credit card statement will show a charge from "Pipeliners Club of OKC" or "OKCPL Club".
Stripe is our new credit card processing service.
Midstream Calendar Supports all Midstream Events across the country.
Silverleaf Shotgun Sports
8513 S. Douglas Blvd.




Guthrie

,

 Oklahoma 

73044