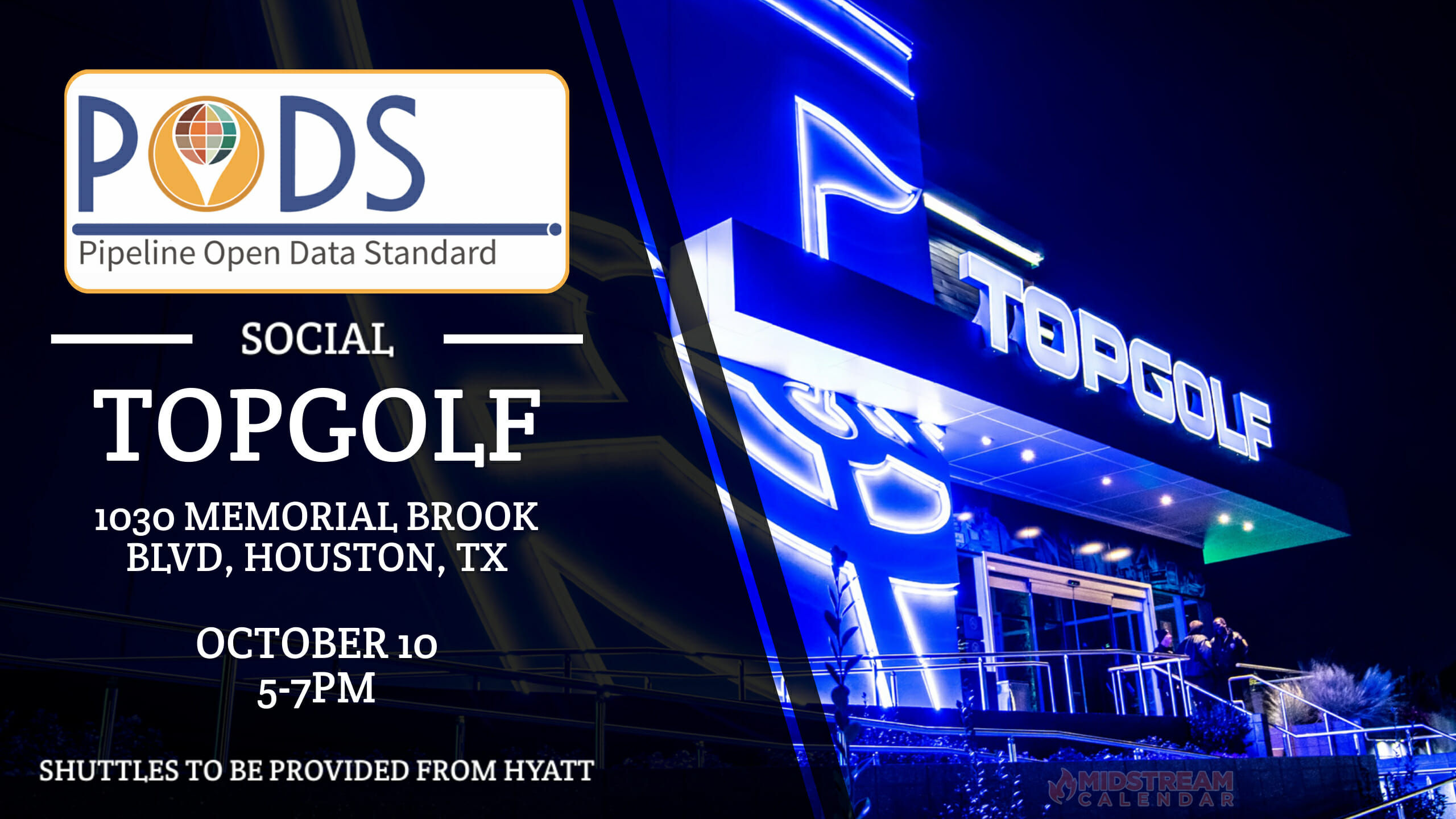 PODS 2023 Fall Forum Topgolf Social – October 10, 2023 5PM-7PM – Houston
This Event Reminder is Sponsored by:

PODS FALL FORUM AGENDA – TOPGOLF Event to Follow Forum – PODS to provide Shuttles to Topgolf from Hyatt after the Forum
About the Forum / Agenda
Hyatt West Houston
13210 Katy Fwy, Houston, TX 77079, United States
2 pm – Welcome from Board President Todd Patterson & 25th Anniversary updates from Monique Roberts
2:20 pm – Committee Updates:
Monique Roberts – Executive Director for PODS
Deborah Matthews / Jeff Allen – TCG: Active modules review, ILI Module, Utility Network + APR for PODS, BP's Golden Build
Kirk Cameron / Marissa Mijal / Joann Ren / Cody Wood / Andy Bonin – TCDM and Working Groups: Integrity Task Module, Water Model, CP Module, TVC Module
Natalie Fisher / Jackie Smith – Training, Education & Events Committee – LMS Demo
Deb Colitas – Marketing and PODS Groups – YPP (Young Pipeline Professionals)
3:10 pm – Break
3:20 pm – Speakers & Presentations:

Joann Wren, Xylem ‒ Water Model MVP

Clark Wiley, SSP ‒ Implementation Demo of PODS7 for Utility Network + APR

Keynote Speaker – Shannon Katcher is GTI Energy's Vice President of Digital Innovation. Shannon develops a strategic approach to digital transformation and directs research efforts, product and service developments, and investment initiatives in the data services and analytics space related to energy systems. She manages a team of GIS experts, software developers, and data analysts. Her team has deep knowledge of connecting the industry's operational experiences and needs with research programs. Her background is in utilities, energy, GIS, and data management.
4:45 pm – Shuttles leave for TopGolf
5:00 pm – PODS Social at TopGolf
7 :00 pm – END