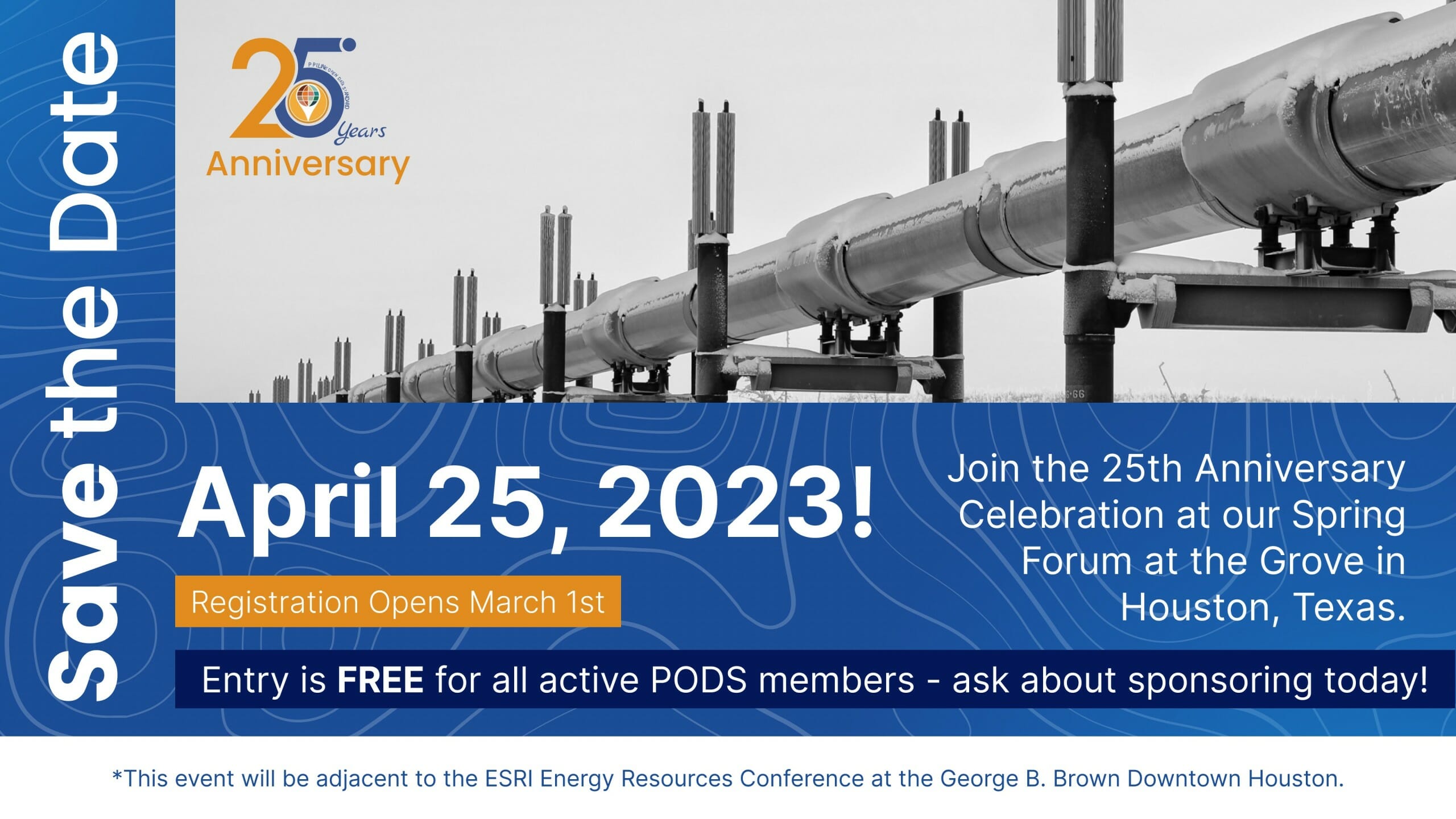 PODS 25th Anniversary and Spring Forum April 25, 2023 – Houston
This Event Reminder is Sponsored by:

Save-The-Date for the 2023 Pipeline Open Data Standard (PODS) Forum April 25, 2023 – Houston
About PODS:
Since 1998, the PODS Data Model has been increasing the safety and integrity of pipelines worldwide by providing pipeline operators with an enterprise database architecture that is comprehensive, open, vendor-neutral, highly-scalable, and proven. Our passion is pipeline safety and bringing value to our members and community. PODS supports the growing and changing needs of the pipeline industry through ongoing development and maintenance of the Data Model and Standards. This is led by the Technical Committee on Governance, responsible for the strategic technical direction of the PODS Association. The work, including debate, deliberation, and resulting recommendations, is conducted through the assigned Project Teams and Work Groups. Beyond our community and sharing innovation, the PODS Standard is an effective starting point for implementing a GIS and data management program and it's scalable, supporting the entire asset lifecycle for established programs.
Now more than ever, visibility and optimization of in-ground assets are vital to our industry. The rising cost of failure, the public's focus on pipelines and the energy future, the need for data transparency and accuracy to meet new regulations, ESG initiatives, and methane reduction…everything is changing, so PODS will too!
We plan to engage more, be faster, more relevant, and bring value to operators and the service companies that support them. We invite you to join our community even if your company is not an active member to get information on user group meetings, PUG Chapter meetings, networking events, or one of our PODSCasts.
Follow MidstreamCalendar.com for upcoming industry events. Midstream Calendar was created to help synchronize the industry by providing a free lookahead for key industry events across the country. We focus on non-profit support, community, and industry specific trade shows and 2023 midstream & pipeline conferences for gathering and gas processing, transmission, compression, refining plants, chemical plants, fertilizer plants, terminals, storage facilities, LNG plants, syngas, and bio mass. The original energy calendar featuring all streams of energy with renewables. More 2022 Oil and Gas Events added every day.
Email Efrain@AllstreamEP.com to get involved.
2023 Pipeline Events in GIS
2023 Oil and Gas Events Houston
2023 Oil and Gas Executive Conferences

About Our Media Sponsor:
Founded in 2012, Vintri Technologies specializes in providing advanced data management solutions with an emphasis on material traceability.
As costs and regulations increase in the Energy industry, the accuracy, accessibility, and traceability of asset data have become focal points of utmost concern. Vintri specializes in partnering with operators to ensure they have a reliable, comprehensive, and organization-wide solution to manage data integrity, proactively identify issues, and make informed decisions.
Our people, processes, and technologies enable our clients to establish a flexible and cost-effective Verified Single Source of Truth (SSoT) across their respective supply chains. A Verified SSoT mitigates risk and avoids costly material delays for all associated projects.
Vintri's proprietary platform, vintriCORE, facilitates the consolidation and verification of asset data, and empowers organizations via data accessibility and insight. This greatly assists with asset acquisition due diligence and midstream regulatory compliance support.
Our solutions have been proven on more than 70 projects worldwide, with over 175 million asset attributes verified.
Learn more about Vintri Technologies and discover the evaluative options we provide for our solutions—visit www.vintritech.com/demo.