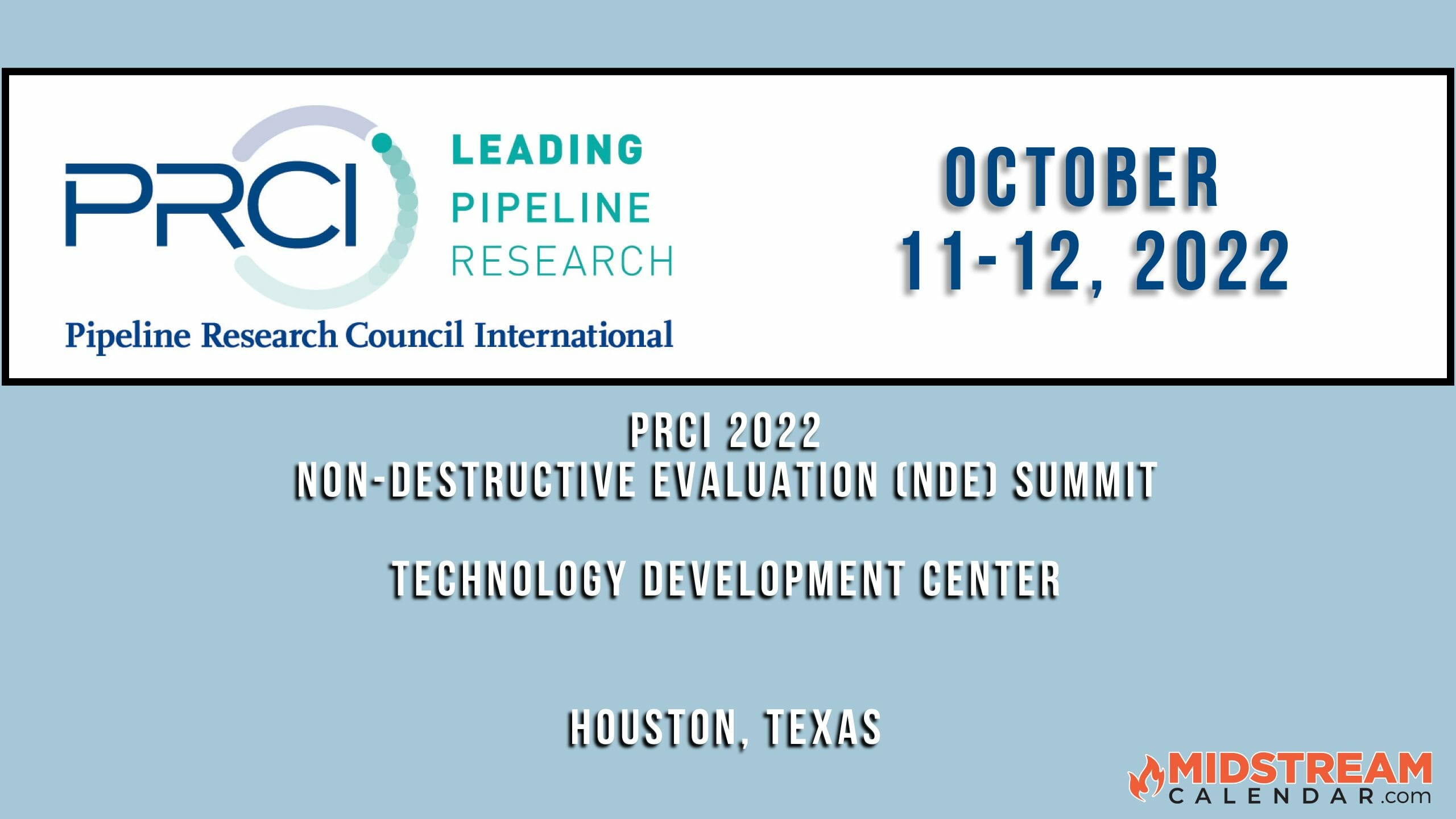 PRCI 2022 Non-Destructive Evaluation (NDE) Summit Oct 11, 12 – Houston
This Event Reminder is Sponsored by:

JOIN PRCI AT THE NDE SUMMIT THIS FALL
PRCI will host a Non-Destructive Evaluation (NDE) Summit on Tuesday and Wednesday, October 11-12, 2022 at the Technology Development Center (TDC) in Houston, TX.
This two day event will build upon the 2019 PRCI NDE Day, which allowed PRCI to perform benchmarking with different technologies and their applications for different threats. We expect to further increase our competencies in:
how we procure NDE services,
how NDT devices are manufactured to serve pipeline-specific needs,
how NDT equipment is calibrated to the pipe and anomalies of interest,
how we communicate between ILI vendors and NDE service providers,
how we record and communicate NDE data from the ditch to the desk, and
how we go about training and qualification of our service providers.
Continued collaboration will lead to increasingly relevant and innovative solutions for continuous improvement to the safety and integrity of pipelines.
Join representatives from the American Society for Non-Destructive Testing and the American Petroleum Institute as well as knowledge transfer experts performing assessments of knowledge transfer within the industry.
Agenda topics include:
Keys for successful NDE of hook cracks: PRCI Project NDE-4-12 project review
Operator/Original Equipment Manufacturer collaboration for field success – eddy current
Operator/Original Equipment Manufacturer collaboration for field success – phased array ultrasonics
Updates on X-ray computed tomography development
Human factors component to NDE
Teaching, training, and certification
Demonstrations of current technology
Follow MidstreamCalendar.com for upcoming industry events. Midstream Calendar was created to help synchronize the industry by providing a free lookahead for key industry events across the country. We focus on non-profit support, community, and industry specific trade shows and 2022 midstream & pipeline conferences for gathering and gas processing, transmission, compression, refining plants, chemical plants, fertilizer plants, terminals, storage facilities, LNG plants, syngas, and bio mass. The original energy calendar featuring all streams of energy with renewables.
2022 Oil and Gas Events added every day.
2022 Oil and Gas Events Houston