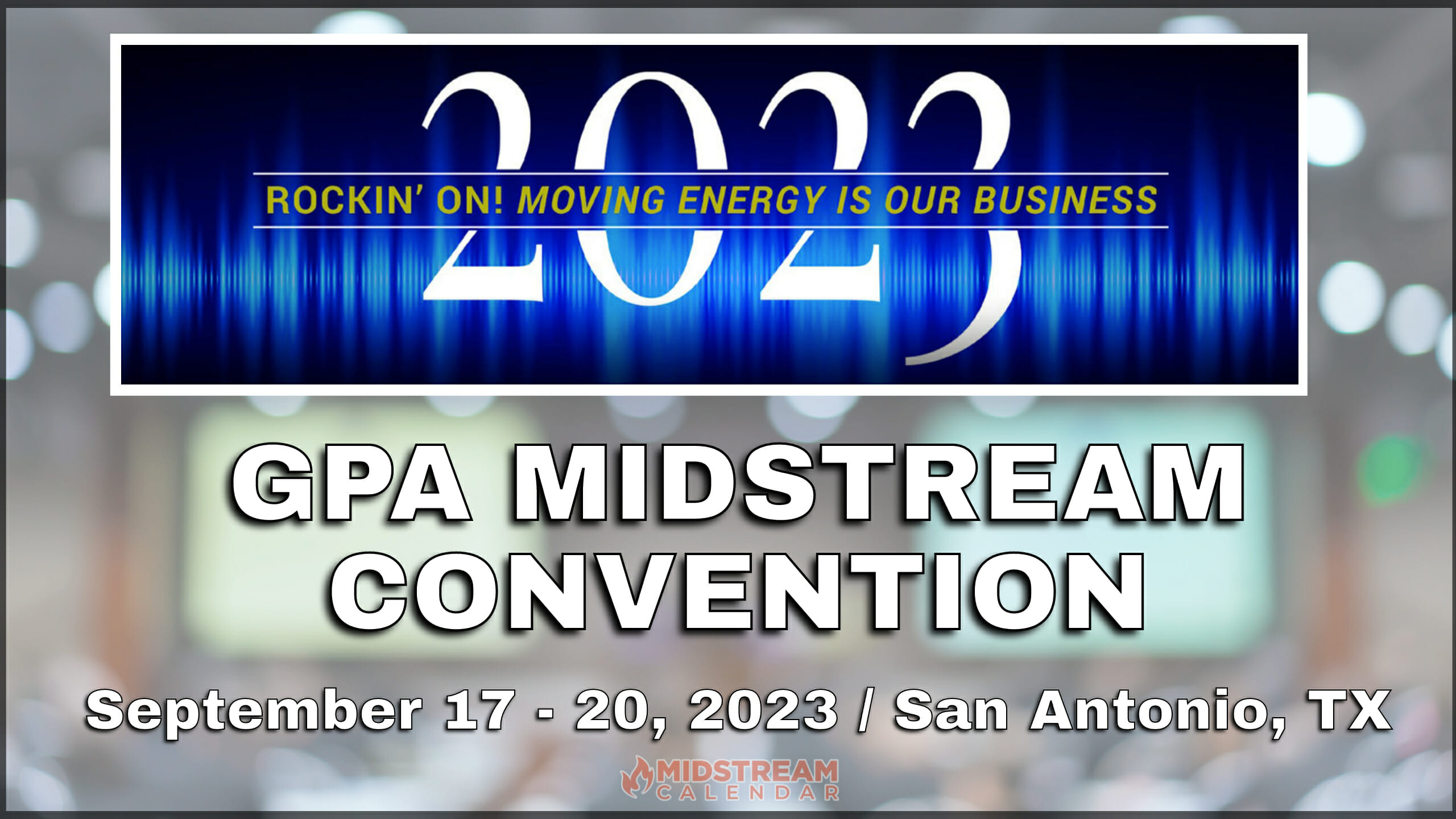 Register Now for the 2023 GPA Midstream Convention "Where Midstream Meets" Sept 17-20 – San Antonio
This Event Reminder is Sponsored by:

•Scroll Down for VIP Perks•
Annual Midstream Convention
The GPA Midstream Convention is an annual midstream–focused event bringing together more than 1,500 professionals from around the globe, providing them with the opportunity to meet, share and learn about topics impacting the industry. This convention touches all professional levels, from entry–level engineers, to technical experts, to CEOs, and attendees come from both operating and supplier companies.
A large percentage of GPA Midstream Convention attendees are decision-makers within their companies, with nearly 20% holding an executive title (chief executive officer, chief operating officer, president, director, senior vice president and vice president). A large percentage of attendees at the executive level have an engineering degree and background, as do the more than 30% holding a manager title.
More than 20% of our attendees hold engineering titles, including but not limited to the following: applications engineer, automation engineer, consulting engineer, controls engineer, environmental engineer, facility engineer, field engineer, gas processing engineer, mechanical engineer, operating engineer, plant engineer, process engineer and project engineer.
About the Program
Presentation topics are selected through a traditional call for papers process, and all papers submitted for consideration are vetted through our Program Committee. The Program Committee is an appointed group representing more than 40 midstream operating companies of all sizes to ensure that topics are relevant to companies large and small. This process brings top subject matter experts to the conference, many of which are well-known and respected in the industry, to share their knowledge and experiences with other attendees. Many who attend the GPA Midstream Convention are repeat attendees because it covers the latest information in research and development, safe operations, environmental performance, legislative and regulatory issues, and other key industry issues, year after year.
Schedule: Sunday
8:30am – GPA Midstream Sporting Clays
3:00 pm – 8:00 pm Registration/Badge pick-up sponsored by Ariel Corporation
5:00 pm – 8:00 pm Opening Reception & Vendor Night
Monday 7:30am-5Pm
Tuesday 7:30am-5pm
Wed 7:30am-12pm
VIP Perks : Mention "Allstream" or "GPA Midstream" for FREE Appetizer and Priority Seating
VIP PERK – GPA Midstream : FREE Appetizer & Priority Seating – Morton's The Steakhouse – 5 Min Walk
VIP Perks : Mention "Allstream" or "GPA Midstream" for FREE Appetizer and Priority Seating
VIP PERK – GPA Midstream : FREE Appetizer & Priority Seating – Brenner's on The Riverwalk – 7min Walk