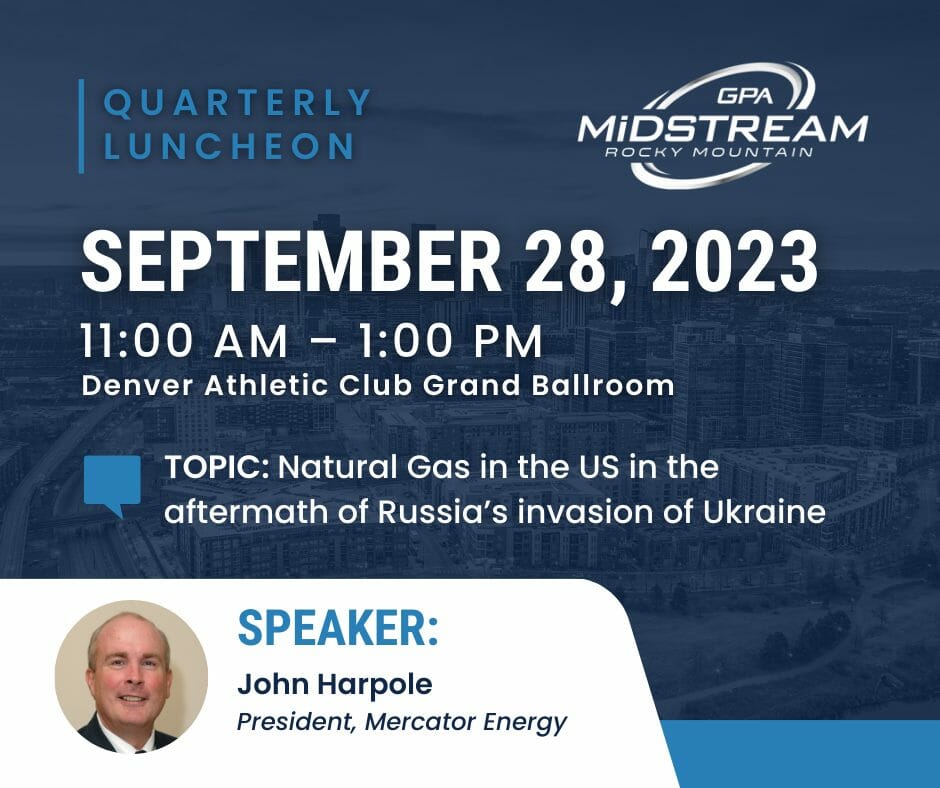 Register Now for the GPA Midstream Rocky Mountain Chapter Quarterly Luncheon 9/28 – Denver – TOPIC: "Natural Gas in the US in the aftermath of Russia's invasion of Ukraine"
This Event Reminder is Sponsored by:

Natural Gas in the US in the aftermath of Russia's invasion of Ukraine
ABOUT
John is founder and president of Mercator Energy LLC, a natural gas services, brokerage and energy market analysis company. Mercator assists both producers and end users throughout the United States in selling and sourcing natural gas supplies. Mercator manages more than 2 BCF per day of natural gas in seven states. Mercator also conducts specific research projects for client groups exploring the impact of industry trends on various regional markets. Mercator's analysis on "Poverty and Fracking" was featured in a Wall Street Journal editorial and on Fox News.
During his career, Harpole has provided strategic advice and counseling to independent oil and gas producers, power producers, major gas and electric utilities, hedge funds and energy traders, retail and wholesale energy marketers, equipment vendors and large energy users typically at the CEO level. Harpole has travelled to China on two occasions to instruct employees of PetroChina and members of the Central Parties Pricing Committee on the regulatory and marketing history of natural gas in the United States.
Harpole is a Board Member of the Colorado Oil and Gas Association, the Leadership Program of the Rockies, University of Colorado's Global Energy Management Program (GEM), the Global Institute of Church Management Pontifical University of the Holy Cross in Rome, Italy and the Unreported Story Society. John currently serves on the Board of Directors of Benedictine College. John is a former 15-year Board Member of Energy Outreach Colorado.
PRICING
Members – $65
Non-Members – $75
On-site Registration on September 28th is available for $85 to everyone (members and non-members). On-site registrations are space dependent and are not guaranteed a seat or a meal.
ADDITIONAL DETAILS
PLEASE NOTE: Attendees can park in the DAC garage for $10.
Lunch will be plated (Gluten-free or vegetarian options are available by pre-request. Contact support@gparmcmidstream.org for questions or concerns). Please make sure to register in advance, as the venue will bill us for every meal we ask them to prepare, so all luncheon tickets are non-refundable, even if you do not attend.