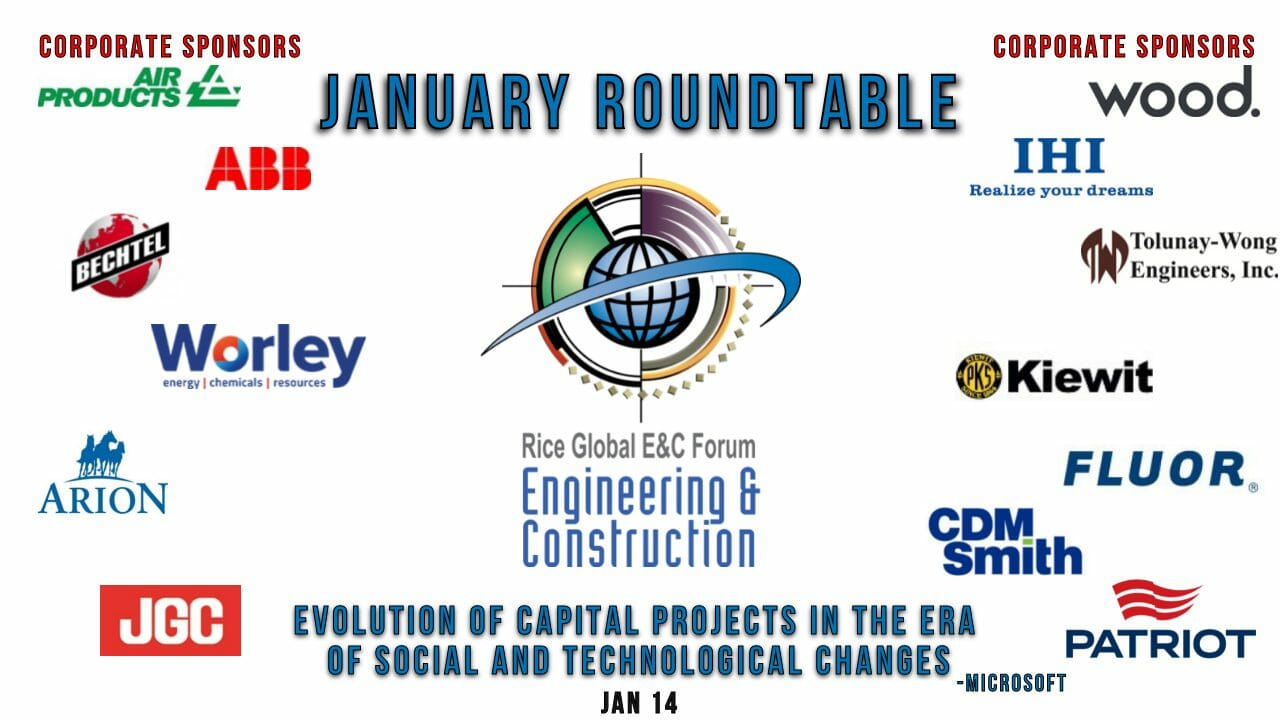 Register Now for Rice Global E&C Forum Evolution of Capital Projects in the Era of Social and Technological Changes" Monthly Meeting 1/14
This Event Reminder is Sponsored by:

A DOWNSTREAM & MIDSTREAM – EPC Organization 
11:15 am – 12:00 pm Registration & Networking
12:00 pm – 1:00 pm Lunch & Program (live and streamed via Zoom)
1:00 pm – 1:45 pm Networking
If you are attending this meeting virtually, the program will be streamed via Zoom from 12:00 – 1:00 pm. A link will be sent to you 24 hours prior to the meeting.
Topic:
"Evolution of Capital Projects in the Era of Social and Technological Changes"

Our Industry is experiencing considerable change due to various social and technological changes, such as decarbonization and digitalization. This requires organizations and individuals to be forward looking, and constantly reinventing themselves. Jim will share with us his perspective on the evolution of capital projects (including lessons learned and trends) and strategies in capital project execution between the traditional heavy chemical Industry and High Tech Industry.
Speaker:
Jim Ellis, Microsoft Corporate VP Global Construction
Jim Ellis recently joined Microsoft as Corporate Vice President of the Data Center Construction to support the rapid growth of Microsoft Data Centers across the globe. With a significant shift in Microsoft strategy from lease to Build and Own, Jim will focus on the development and implementation of key strategies that ensure safe and efficient Construction delivery of Data Centers worldwide that meet customer expectations and deliver sustainable shareholder value.
Prior to joining Microsoft, Jim had 40+ years in global leadership roles with experience in engineering, operations, manufacturing, technology, JV Operations, supply chain and project management. He most recently served as Vice President and Global General Manager of Engineering and Project Management for Saudi Arabia Basic Industries Corporation (SABIC), one of the world's leading chemical and materials companies. In 2013, Jim retired from Dupont after 35 years of extensive global experience and assignments in Asia, Middle East, Africa, Americas and Europe.
Jim earned a bachelor's degree in Mechanical Engineering from Stony Brook University with post graduate work in Electrical Engineering at New York University and an Executive Business Management – Texas A&M University.
Registration:
$30 for general admission
$15 for Rice Faculty (registration required in advance)
Free for Rice Students (registration required in advance)
$20 webinar – online only
In person registration will be limited so please register early; we will NOT accept on-site / walk-in registrations. Registration will close at Noon on Thursday, January 13, 2022. A boxed lunch will be served to those guests attending in person.
Follow MidstreamCalendar.com for upcoming industry events. Midstream Calendar was created to help synchronize the industry by providing a free lookahead for key industry events across the country. We focus on non-profit support, community, and industry specific trade shows and conferences for gathering, gas processing, transmission, compression, refining plants, chemical plants, fertilizer plants, terminals, storage facilities, LNG plants, syngas, and bio mass.
Email Ops@MidstreamCalendar.com to get involved.
About our Media Partner Spectrum Camera Solutions:
Spectrum Camera Solutions manufactures a full range of globally certified Explosion Proof camera systems to monitor any hazardous area. Founded in 2012, Spectrum Camera Solutions has an unparalleled background as a world leader in hazardous area vision systems for process, security, and safety, creating a new range of Explosion Proof cameras based on durable materials, innovative engineering, and operational excellence.
Designed and Manufactured in USA
NDAA Compliant & FM Approved
Spectrum Camera Solutions Explosion Proof Camera products are designed and manufactured in the USA. As a leader with a reputation for creating exciting and reliable hazardous area products, we pride ourselves in delivering outstanding execution from R&D to production as an ISO9001 & ISO14001 certified company.
Award Winning Manufacturer
As a committed leader to excellence and quality, Corporate Vision and Corporate Energy has recognized Spectrum Camera Solutions for our class-leading hazardous area products.