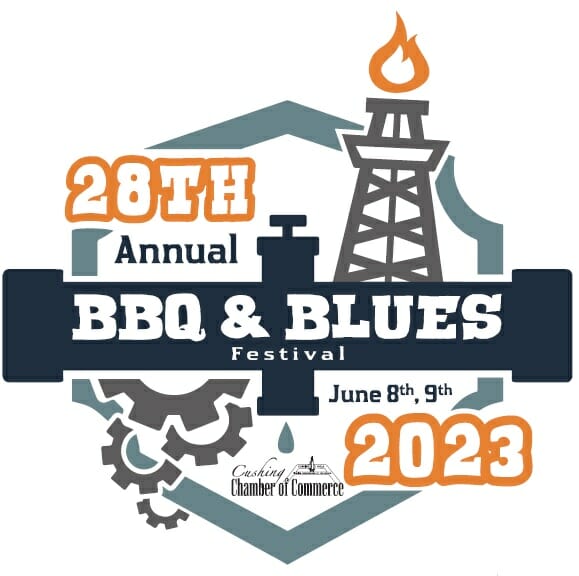 Register now for the 28th Annual BBQ & Blues Festival June 8-9 – Cushing, OK
This Event Reminder is Sponsored by:
BBQ N Blues Pipeline Appreciation/ Oil & Gas Trade Show Private Event Festival 
For 27 years, the Cushing Chamber has been celebrating our local Pipeline Companies, with our BBQ N Blues Festival. In the beginning, we hosted a Private Party on Friday Night for participating Pipeline Companies, where their employees and their families came together for food, fun, and music; kind of like a Company Picnic. Throughout Friday night, the Pipeline Companies were also busy smoking brisket to serve to the public during the main portion of the Festival on Saturday. This is done on the World's Largest Permanent Smoker, and each Company attaches a custom smoker box to one of the Fifteen arms that extend from the Permanent Smoker. Saturday was a fun day of learning more about our local Pipeline Companies, full of Blues music, food, rides and Attractions. The Participating Pipeline Companies' Corporates fly in from all over the World to participate and get to know our community a bit better. However, since 2020 due to Covid, the Saturday Public Portion has been discontinued. The participating Pipeline companies now have their BBQ Cook-off during the Friday Night Private Party Trade Show as well as a Taste Test contest where the Oil and Gas sponsors can purchase a taster kit and vote for their favorite pipeline company BBQ. Kansas City Barbecue Society Judges are invited to make the competition steep and serious amongst the pipeline companies, and they give it their all for this competition! Bragging rights for the year rule the roost, that's for sure!
Over the years, this Festival has evolved from a 3 day festival into a 2-day Festival for the participating Pipeline Companies, with a Golf Tournament on Thursday & Friday, Clay Shoot Tournament on Thursday, the VANCO BBQ N Blues After Hours on Thursday night, and a much larger Friday Night Private Party Trade Show.
In the last 15 or so years, Oil and Gas supplier businesses have been invited to join in on the Thursday & Friday events and make some business happen while doing it. Suppliers sponsor different events of the 2-day Festival, whether in the Golf Tournament, Clay Shoot Tournament, and/or Friday Night Private Party Trade Show. There are also extra Marketing opportunities for sponsors during any of the events.
From some of the supplier sponsorships, the profits after all Festival bills are paid, are split 50/50 with the Cushing Chamber, and the other half is placed into scholarships. Every year we award 14 – $2,500 scholarships to participating Pipeline Company employee children that are Seniors in High School. This includes their region. Any profit left over is put into a CD for future scholarships. The Chamber puts theirs back into the business Community and our economy, which in turn makes our community of Cushing, OK a better place to Live, Work, and Play.
bbq
Smokers
Golf Tournament
The Golf Tournament has grown into the largest Golf Tournament in Oklahoma per player, unofficially, because it is not a "sanctioned" Golf Tournament. But, it has been verified by Golfer Oklahoma Today Magazine. There are 100 teams spread over two rounds on Thursday, and one morning round on Friday. Over the years, Suppliers were allowed to be Hole Sponsors, setting up at each of the 18 Holes with beverages, food, swag, and fun. The Tournament is another way we celebrate and thank our local participating Pipeline Companies, with the majority of the teams composed of Pipeline Employees, from the local terminals to the Corporate Execs, as well as their customers, that have flown in just for this 2 day Festival.
After the participating Pipelines have entered their teams in the tournaments for 2 weeks, our Chamber member Oil & Gas supplier sponsors have a chance to place teams into the Tournament for two weeks. If there are any team slots available after their team placements, then it is opened up to non-member sponsors. Oil and Gas Supplier Sponsors must be a sponsor in either the Friday Night Private Party Trade Show; Golf Tournament; and/or Clay Shoot Tournament in order to place team(s) in the tournaments.
CLAY SHOOT TOURNAMENT
The Clay Shoot Tournament has 72 teams in three rounds on Thursday. Safety Trainings for the rounds start at 7 am, 10 am, and 1 pm. The Tournament is set-up at Snake Creek Sporting Clay Course, North of Cushing, OK. There are over $30,000 worth of raffles, from guns, custom-made knives, and other hunting equipment. Raffle tickets are purchased at the tournament. Clay Shoot Tent Sponsors can have tents, to cook breakfast and/or lunch; talk to the shooters; and pass out swag. The shooters consist of the same line-up as the Golf Tournament: local employees from our participating Pipeline terminals, their corporate execs and their customers, and other Oil & Gas supplier sponsors. This is a fantastic opportunity to get in front of 148 of the participants, and tell them more about your business. Oil & Gas Suppliers must be a sponsor in either the Friday Night Private Party Trade Show; Golf Tournament; and/or Clay Shoot tournament in order to place team(s) in the tournaments.
FRIDAY NIGHT PRIVATE PARTY
TRADE SHOW
The Friday Night has always been a type of "Company Picnic" for the participating Pipeline Companies, inviting their customers; corporates; employees and their families to. They start smoking their brisket for a KCBS Competition for that night. Over the years, Oil and Gas Suppliers have been invited to join in on the event and make those valuable connections that are always needed to make business happen. This is where the "Trade Show" portion comes in. The Friday Night Private Party Trade Show (FNPP) has grown quite large over the last 8 – 10 years. It has morphed into a very outside-the-box, informal and laid back Trade Show/Expo, if you will, due to all of the supplier sponsors that have joined in on the FNPP. However, we have kept the tradition of the participating Pipeline Companies having their Company family picnics under their tents, as well as the Red Dirt Music Concert and a few rides and attractions; adding the supplier sponsor 10 x 10 tents adds another dimension of fun, laid-back networking with food, drink, great prizes and promotional swag from the Oil & Gas Supplier Sponsors. It adds another level of networking, where sponsors are also given the opportunity to meet some of your contacts in the participating Pipeline Industry families, making your connection even stronger.
The Economic impact that Friday Night has on our community is immeasurable: It is off the charts. Cushing has grown by leaps and bounds by Oil & Gas supplier sponsors who have been involved with our BBQ n Blues Pipeline Appreciation/Oil & Gas Industry Trade Show Festival, making the right contacts during the festival, enough to open a brick and mortar office here in Cushing, OK. They get more contacts; and they get more contracts. Involvement is a great impact for the participating Pipeline Companies, as well. With their Corporate Office Execs in attendance, it gives them a chance to meet and sometimes, catch up with their clients, customers, and suppliers, as well as make new contacts with those they meet at the Festival. This helps make great bonds and relationships in the Pipeline and Oil & Gas Industries, which we all know can be a tough environment for any type of business. It is a volatile and unsteady Industry, with highs and lows. But, with our Festival we try to help keep these business relationships strong between our Pipeline Companies and Oil and Gas suppliers.
For FNPP Trade Show, wristbands required for entry. Wristbands are a part of the different level sponsorship benefits and are outlined on the sponsorship forms.
VANCO BBQ N BLUES AFTER HOURS
The Vanco, Inc. BBQ N Blues After Hours started in 2018, after several requests for something to do during Thursday Night, for all of the BBQ N Blues Festival Sponsors and participating Pipeline Companies and in particular from those that traveled to be a part of the Festival.
It is held on Thursday night, as a way for everyone involved in our BBQ n Blues Festival to be able to have something to do on Thursday night. We had tons of requests to host something on Thursday night, something that brought together everyone that is involved in the festival, and we came up with a BBQ N Blues After Hours. This is modeled after our Chamber's Business After Hours, and it is a great night of business networking. Usually they are held from 5:30 pm – 7 pm or 9 pm, whichever the networking attendees prefer to "call it a night". You never know what new business deal is going down during an After Hours event, and nobody wants to rush that!
Make sure to tell all of your employees AND customers/clients about the Vanco BBQ N Blues After Hours on Thursday night! Free heavy hor'dorves; full cash bar; and live music (background music). Thank you to Vanco, Inc. for being the Presenting Sponsor every year!
So, whichever part of the Festival you participate in, know that you are doing something great for your business by participating in one of the best "Outside-The-Box" Trade Show around, built for your business to have fun, while making lasting business relationships with our local Pipeline Companies and other Oil and Gas Suppliers. In the Chamber World, we say to our Member businesses, based and proven by many Scientific Studies: "People do business with those that they KNOW, LIKE, & TRUST." This Pipeline Appreciation/Oil & Gas Industry Trade Show Festival is built around that saying.
This is a private event for the Pipeline Industry & their guests and Oil & Gas Supplier Industry ONLY. For more information and/or to participate in the 2023 28th Annual BBQ N Blues Pipeline Appreciation/Oil & Gas Industry Trade Show Festival, please call the Cushing Chamber office at 918-225-2400 or email Tracy@Cushingchamber.org.
Sponsorships open in March 2023. All Communications are done through mass email Blasts. Sponsorship deadline to be involved for the 2023 Festival is April 21 to guarantee marketing/advertising portions that come with sponsorships; hard deadline is May 19 with no guarantee of marketing/advertising opportunities that are associated with sponsorships. KCBS Cook-off is for the participating Pipeline Companies ONLY and is classified as a "Private Backyard Event" per KCBS; it is not open to public entry.
Follow MidstreamCalendar.com for upcoming industry events. Midstream Calendar was created to help synchronize the industry by providing a free lookahead for key industry events across the country. We focus on non-profit support, community, and industry specific trade shows and 2022 midstream & pipeline conferences for gathering and gas processing, transmission, compression, refining plants, chemical plants, fertilizer plants, terminals, storage facilities, LNG plants, syngas, and bio mass. The original energy calendar featuring all streams of energy with renewables. More 2022 Oil and Gas Events added every day. So follow us for upcoming oil and gas events for 2022 and 2023
Email Ops@MidstreamCalendar.com to get involved.
2023 Oil and Gas Events Houston
2023 Oil and Gas Events Texas