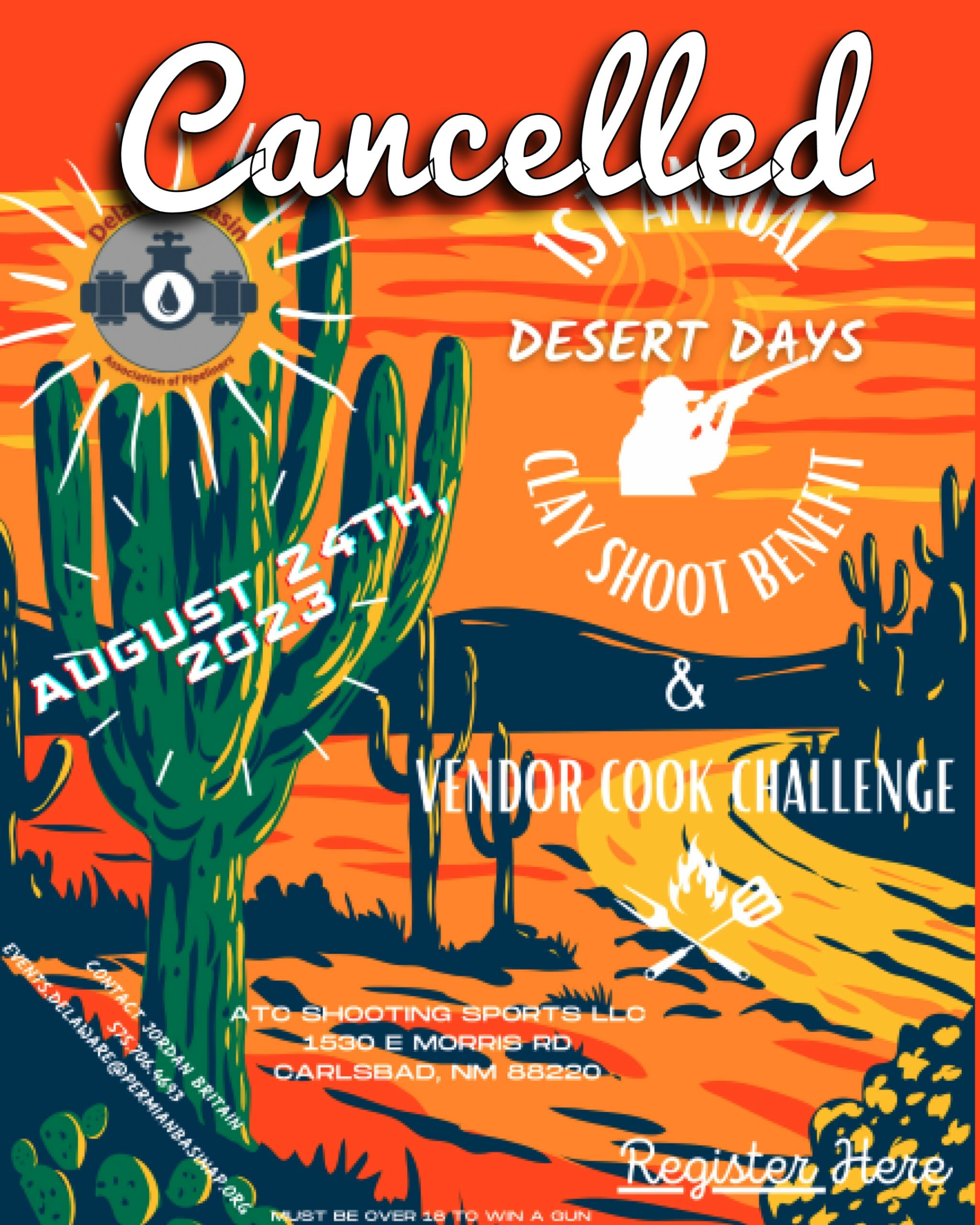 CANCELLED: Delaware Basin Association of Pipeliners Clay Shoot Aug 24
This Event Reminder is Sponsored by:

THIS EVENT HAS BEEN CANCELLED
ATC Shooting Sports LLC
1530 E Morris Rd., Carlsbad, NM 88220
AM rotation: Registration at 7AM, shoot at 8AM.
PM rotation: Registration at 12PM, shoot at 1PM.
4-man team registration includes: clays, AMMO, and lunch. 1 in 4 will win a gun (or like-valued item).
*Teams do not include carts; each team must bring ATV/vehicle (or walk).
Cook Challenge:
$1,500 Vendor cook challenge entry.
Vendors will compete for "fan favorite" breakfast and lunch meals depending on their registered time slot. Spots are LIMITED!
AM set up time 7-8, first served dish at 8AM. Break down 12-12:30PM.
PM set up time 12-1PM, first dish served at 1PM. Break down from 4-4:30PM.
Vendors to provide food, drinks, and utensils needed to enjoy their meal and set them apart for food challenge. Challenge will be judged by teams and DBAP Team. Award for winner will be given at 12PM for morning and 4PM for afternoon challenges. We encourage ALL types of food. Each participant will be given a vote, most votes win! *A sold-out event would expect to serve up to 150 people per AM/PM cook challenge.
ADDITIONAL EVENT DETAILS:
Shot guns, on a first come first served basis, are available to rent by ATC.
There will be a gun cleaning booth, provided by ION Pro. These services will be available via donation and the proceeds benefit DBAP/PBAP!