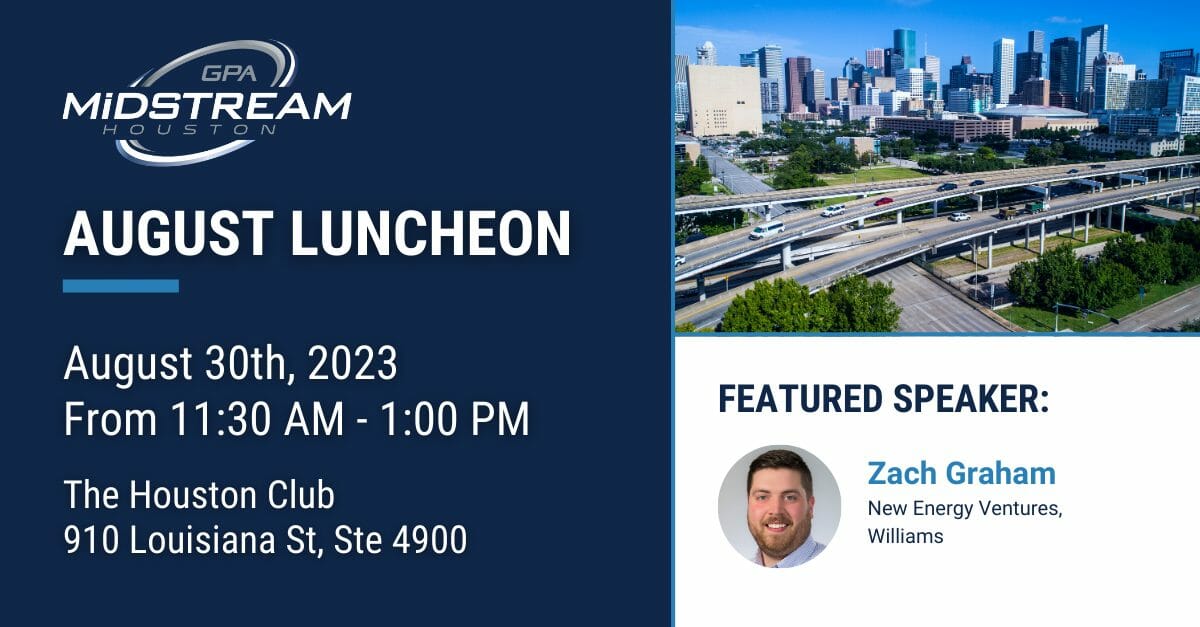 Register Now for the Houston GPA Midstream August Luncheon Aug 30 – Topic: "NextGen Gas: Strengthening American Gas for the Future"
This Event Reminder is Sponsored by:

TOPIC
NextGen Gas: Strengthening American Gas for the Future
SPEAKERS
Zach Graham, New Energy Ventures, Williams
ABOUT
An accomplished Midstream Business and Commercial Development professional with more than half a decade of experience, Zach Graham is the Gulf Coast Business Development Representative for New Energy Ventures at Williams, a low-carbon and renewable business development group focused on generating innovative and sustainable clean energy solutions. Zach drives the development of low-carbon solutions and is accountable for Williams' NextGen Gas program in the Gulf Coast, deploying state-of-the-art technology to provide end-users with the cleanest low-emission natural gas available. Zach's experience spans the midstream segment, holding various roles in natural gas gathering and processing, commodities marketing risk and analytics, and business development.
Prior to his role in New Energy Ventures, Zach was responsible for various assets in Williams' Gulf of Mexico Commercial Development team, including Williams' Mobile Bay gas processing plant, offshore floating production systems, and oil and gas pipelines.
Zach received his Master of Science in Quantitative Financial Economics from Oklahoma State University and his Bachelor of Business Administration in Finance from Texas Tech University.
An active leader in the community, Zach serves on the Williams United Way Board and has previously served as the Scholarship Chair and Treasurer of the Houston Gas Processors Association.
PRICING
Members – $75
Owner/Operator Members – $0
BECOME A MEMBER OF HGPA TODAY
Benefits of membership ($150) include:
Company recognition on website
Discounted training (10%)
Access to member-only events