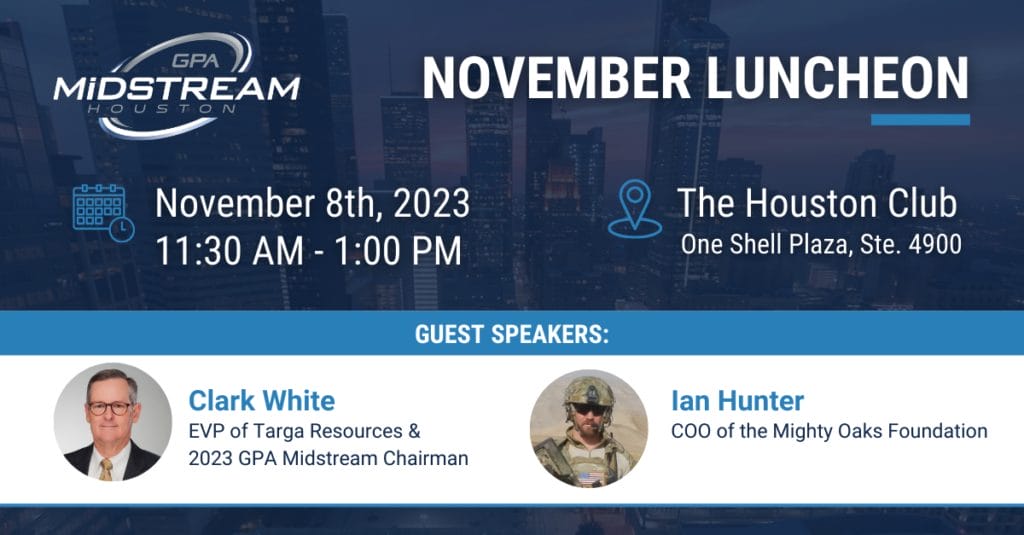 Register now for the Houston GPA Midstream November Luncheon 11/8 – Houston – Guest Speakers from Targa Resources & Mighty Oaks Foundation
This Event Reminder is Sponsored by:

TOPIC
Energy Addition Not Just Transition
SPEAKERS
Clark White, EVP of Targa Resources & 2023 GPA Midstream Chairman
Ian Hunter, COO of the Mighty Oaks Foundation
DATE: Wednesday, November 8, 2023
LOCATION: The Houston Club, 910 Louisiana St., Ste. 4900, Houston, TX 77002
ABOUT CLARK WHITE
Clark White is currently the Executive Vice President of Operations at Targa Resources in Houston Texas. He also is currently serving as the 2023 GPA Midstream Chairman.
Clark White has served as Executive Vice President in Operations of Targa Resources and the General Partner since September 2020 and served as Executive Vice President of Engineering and Operations and General Partner between November 2015 and September 2020. Mr. White previously served as Senior Vice President of Field Gathering and Processing of Targa Operating and various other subsidiaries of the Partnership between June 2014 and November 2015. He also served as Vice President of Targa Operating between July 2011 and May 2014 and has held officer positions with other Partnership subsidiaries since 2003 for Targa.
Clark graduated from the University of Texas in Austin in 1981 with a BS in Chemical Engineering. Clark is married to Margaret and they four grown children and three grandchildren. He enjoys golfing, hunting and hosting family and grandkids at his river house on the Guadalupe River in the Texas Hill Country.
ABOUT IAN HUNTER
Sergeant Major (Ret) Ian Hunter, enlisted in the U.S. Army in 2002. A seasoned Infantryman, he completed rigorous training including Jumpmaster Airborne, Military Freefall Jumpmaster, and Ranger courses. SGM (Ret) Ian Hunter served in various leadership roles in the 3/75th Ranger Regiment and held positions in Special Mission Units. His deployments spanned Iraq, Afghanistan, Turkey, and Syria. He earned accolades such as multiple Bronze Star Medals with Valor, Master Parachutist badge, and Combat Infantryman badge. Hunter is also versed in civilian education, specializing in Behavioral Psychology and Leadership. He resides in The Woodlands, TX with his wife Abby and their children. Together, they are dedicated to the Mighty Oaks Foundation, where Ian serves as Chief Operations Officer, focused on aiding Military and 1st Responders through faith-based Recovery programs, Resiliency events, International missions, and Advocacy efforts.
PRICING
Members – $75
Owner/Operator Members – $0