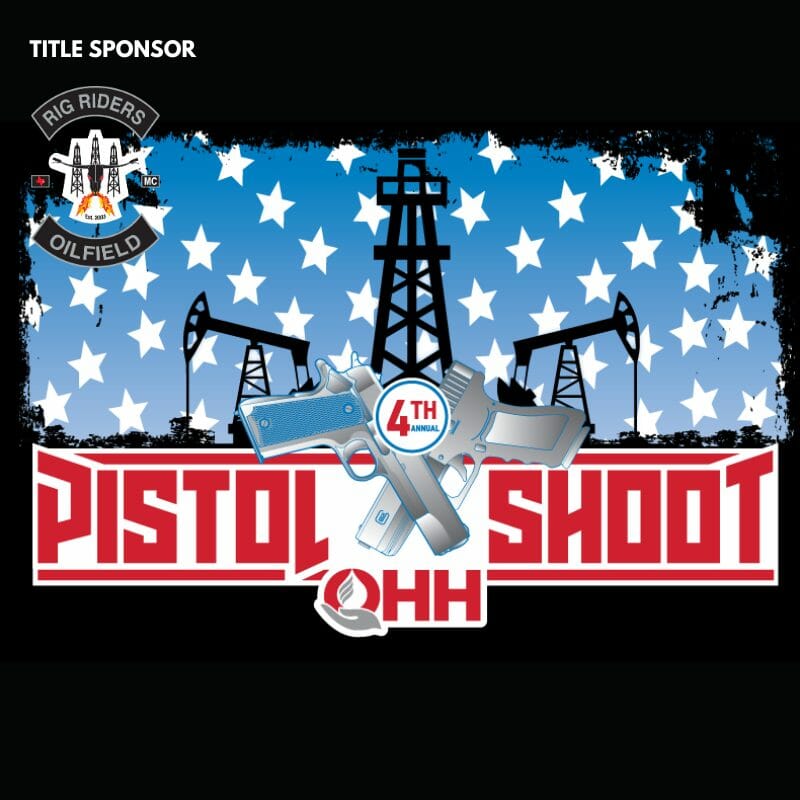 Register now for the Oilfield Helping Hands Houston Summer Fun Charity Pistol Shoot August 25 – Houston
This Event Reminder is Sponsored by:

Houston Summer Fun Pistol Shoot
Join us for the OHH 4th Annual Summer Fun Pistol Shoot on August 25, 2023, at the Texas Gun Club.
Enjoy a beautiful day of competition, fun and camaraderie, all benefiting the Houston oilfield community.
As a sponsor, your company will help offset event expenses to allow maximum proceeds to be used to benefit oilfield families in financial crisis. Your company will be recognized in several ways during the event and online. At certain sponsorship levels, you can register a specified number of teams to participate in the tournament at no additional cost. A wide variety of sponsorship levels are available. Please see the sponsorship page for full details.
Deadline for team entry is August 21, 2023.
Sponsorships and logos submitted after July 28, 2023, will not be included in all promotional efforts.
SCHEDULE
Volunteer Check-in                                  7:00am
Team Check-in at Texas Gun Club           7:30-8:30 am
Coffee and Breakfast                               7:30-9:30
Safety Briefing                                         9:00 am
Match Start                                              9:30 am
Lunch (Participants Eat During Match)   11:30am-1:30pm
Match Conclusion                                   12:30 PM
Awards for Event and Guns                     1:00pm
Range Clean-up (All Help Appreciated)   12:30-2:00pm
KNOW BEFORE YOU GO
Location: Texas Gun Club Indoor Range, 206 Brand Lane, Stafford, TX 77477
Each team will consist of four (4) shooters.
Cost per four (4) man team: $600.
Open to all levels, from beginner to the more experienced shooter.
Pistol caliber only, with minimum caliber .380 and up (no rifle caliber pistols allowed).
Eye and ear protection required for all shooters and volunteers inside shooting ranges.
Revolvers or auto loaders of shooter's choice may be used.
Only one gun per shooter is to be used at the firing line.
No optic sights, open sights only.
Match will be shot in one (1) flight (OHH reserves the right to expand to additional flights depending on number of teams entered).
Match is estimated to take approximately three (3) hours to shoot/complete.
Projected Match time (subject to change) will be 9:00 a.m. –12:00 p.m.
Recommend each shooter have a minimum 4-6 magazines or 6 speed loaders for revolvers.
Loading at shooting lines with magazines or speed clips only — no loose ammo will be loaded on the shooting line.
Pistol bags or boxes required and must be used. No firearms in holsters may be worn inside the range. No handling of guns inside of range except when instructed to do so by range officer.
Course of fire for three stages will require approximately 100 rounds per shooter. We recommend that each shooter bring a minimum of 100 rounds of ammo for the shoot. If shooting in more than one team, then bring ammo accordingly. The Stump Shoot stage can require 50 rounds or more depending on how fast the shooter can load and shoot and the effectiveness of all team shooters.
Food will be provided for all participants and volunteers.
Drinks will be provided by Texas Gun Club for all participants and volunteers.
No alcoholic beverages allowed on Texas Gun Club property at any time. Please observe this rule.
Safety and safe firearms practice and handling are essential to the safety of all. Each participant is a Safety Officer.
All shooters must attend a safety briefing before the match and turn in release forms/waivers before shooting begins.
SAFETY RULES
TO ENSURE THE SAFETY TO ALL PARTICIPANTS AND VOLUNTEERS, RANGE PERSONNEL AND ATTENDEES, THE FOLLOWING SAFETY RULES ARE TO BE OBSERVED AND ENFORCED AT ALL TIMES
No firearm is to be carried on the person of a participant, volunteer or visitor; in a holster or carried in any other exposed or unexposed manner, at any time inside the range facility/property.  This applies to everyone including license to carry individuals.
All firearms must be unloaded and have their magazine (clip) removed and separate from the firearm and must have their slide locked back or cylinder open as applicable.
All participants and others entering the range will be advised of these requirements and have their bags and firearms checked before entering the range facility for compliance.
Pistol bags or boxes are required and must be used by all participants.
All firearms must be retained in a gun bag or pistol box at all times and not removed until the participant is inside the firing range and instructed by the range officer to remove the firearm and place it on the firing line bench.
There will not be any handling, "showing" or examining of a firearm in the range facility except while at the sales counter or inside of a range under the supervision of a range employee or at the onsite gunsmith repair shop.
If a firearm is being loaned to another participant of the event, then transfer of that firearm is to be safely completed outside of the range facility and all Match and Safety rules followed.
Loading of firearms will only occur on the firing line inside of each range at the command of the range office and will be with magazines or speed clips only. No loose ammo will be loaded on the firing line.
In preparation for a shooting a scenario, only magazines or speed loaders, ammunition and loading devices are to be removed from shooters gun bag for the loading process. Once loading has been completed, loaded magazines or speed loaders will then be returned to gun bag.  In no case is a magazine to be place inside of your weapon or a round inserted in the chamber.
All shooters and volunteers must attend a safety briefing before the match and turn in their signed release forms/waivers before shooting begins.
Failure to comply to any event rules and especially the safety rules listed above will result in immediate disqualification and elimination from the pistol shoot. Any accidental discharge of a firearm will result in immediate disqualification from match participation.
ALL PARTICIPANTS ARE SAFETY OFFI­CERS TO ENCOURAGE SAFE FIREARM HANDLING. PLEASE REPORT ANY POTENTIAL VIOLATIONS TO THE RANGE OFFICERS AND/OR THE PISTOL SHOOT COMMITTEE PERSONNEL.
THESE RULES ARE INTENDED TO ASSURE THAT EVERYONE ATTENDING THE PISTOL SHOOT HAS A GOOD AND SAFE TIME.  EACH PARTICIPANT WILL BE GIVEN A COPY OF THESE RULES BY HIS TEAM CAPTAIN AND WILL BE EXPECTED TO COMPLY.  OUR GOAL IS 100% COMPLIANCE AND "0" INCIDENTS.  THANKS, FOR YOUR COOPERATION.