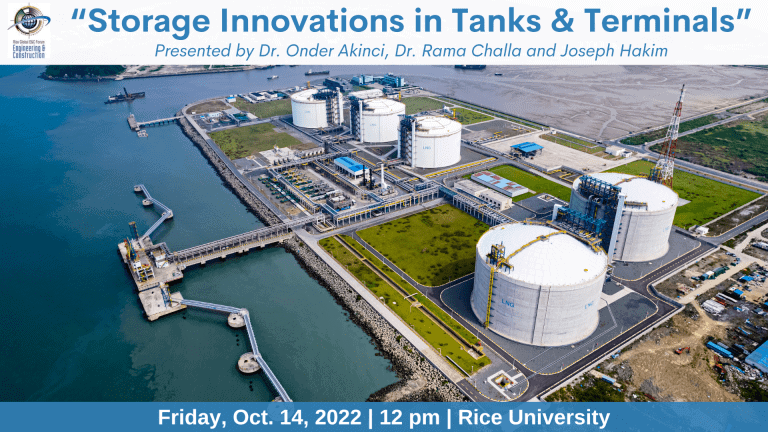 Register Now for the Rice Global Forum October Luncheon Oct 14 – Topic "Storage Innovations in Tanks & Terminals" -Houston
This event reminder is Sponsored by:

Date / Time:
Friday, October 14, 2022
11:15 am – 12:00 pm Registration & Networking
12:00 pm – 1:00 pm Lunch & Program
Topic:
"Storage Innovations in Tanks & Terminals"
Location & Parking:
Farnsworth Pavilion in the Rice Ley Student Center
6100 Main Street, Houston, TX 77005
The continuing growth in demand for LNG, Ammonia and Hydrogen, driven by the need for rapid decarbonization on a global basis, is resulting in a growth of storage requirements for these energy sources. The scale of future storage and transportation requirements for these energy sources is at times exponentially higher than the current infrastructure requiring innovative solutions by Industry Leaders. Dr. Onder Akinci and Dr. Rama Challa are industry leaders in developing and implementing storage solutions.
Dr. Onder Akinci will be speaking about Steel LNG tanks. His presentation will contain results from their assessment of external steel shell LNG tanks in comparison to concrete LNG tanks as part of a research project funded by PHMSA.
Dr. Rama Challa has developed and implemented world-class storage solutions for Ammonia and Hydrogen. He will be speaking on innovative developments around ammonia and hydrogen storage.
Joseph Hakim, Director of Projects & Engineering for Vopak Americas, a global leader in Terminals, will provide his perspective on the impact of future changes to the Terminal markets.
Speakers:
Dr. Onder Akinci, Project Director and Vice President, Simpson Gumpertz & Heger
Dr. Onder Akinci is a Project Director and Vice President with Simpson Gumpertz & Heger in Houston. He has a Ph.D. degree in civil engineering from Purdue University and is a registered professional engineer in the state of Maryland. He has experience in analysis of structures, tanks, and piping systems subject to extreme loads due to fire and blast. Dr. Akinci has published research and presented papers on a range of topics including resilient design of LNG facilities, blast and fire design of plant structures and piping systems, and passive fire protection (PFP) optimization. He performed plant walkdowns and inspections at major Oil&Gas facilities, led R&D activities for development of PFP and cryogenic spill protection systems, and worked as owner's engineer for LNG companies. Dr. Akinci is the chair of ASCE Energy Division Structural Fire Engineering Task Committee.
Dr. Rama Challa, Project Director – Storage Solutions, Matrix PDM Engineering, Inc.
Rama Challa is a registered professional engineer in The United States and Canada. Rama is experienced in engineering and management related to design and construction of facilities in greenfield and brownfield construction for hydrocarbon, chemical, LNG, Industrial and nuclear facilities. Rama is also a subject matter expert in design and detailing, estimating, planning, and scheduling of turnkey industrial facilities and steel plate structures.
Joseph Hakim, Director of Projects & Engineering, Vopak Americas
Joseph Hakim is a Civil Engineer educated at Oklahoma State University with over 40 years of experience in projects management and execution. Hakim spent his first 18 years experience in the civil construction world of transportation & infrastructure such as highways, airports, pipelines, etc. and the last 20 plus years on the Owner side of the oil and gas industry overseeing growth projects development & execution in many countries in the Americas.
Registration:
$30 for general admission
$15 for Rice Faculty (registration required in advance)
Free for Rice Students (registration required in advance)
Seating will be limited so please register early. Note, this program will not be offered virtually. Registration will close at Noon on Thursday, October 13, 2022. A boxed lunch will be served to those guests attending in person.
Follow MidstreamCalendar.com for upcoming industry events. Midstream Calendar was created to help synchronize the industry by providing a free lookahead for key industry events across the country. We focus on non-profit support, community, and industry specific trade shows and 2022 midstream & pipeline conferences for gathering and gas processing, transmission, compression, refining plants, chemical plants, fertilizer plants, terminals, storage facilities, LNG plants, syngas, and bio mass. The original energy calendar featuring all streams of energy with renewables.
2022 Oil and Gas Events added every day.
2022 Oil and Gas Events Houston