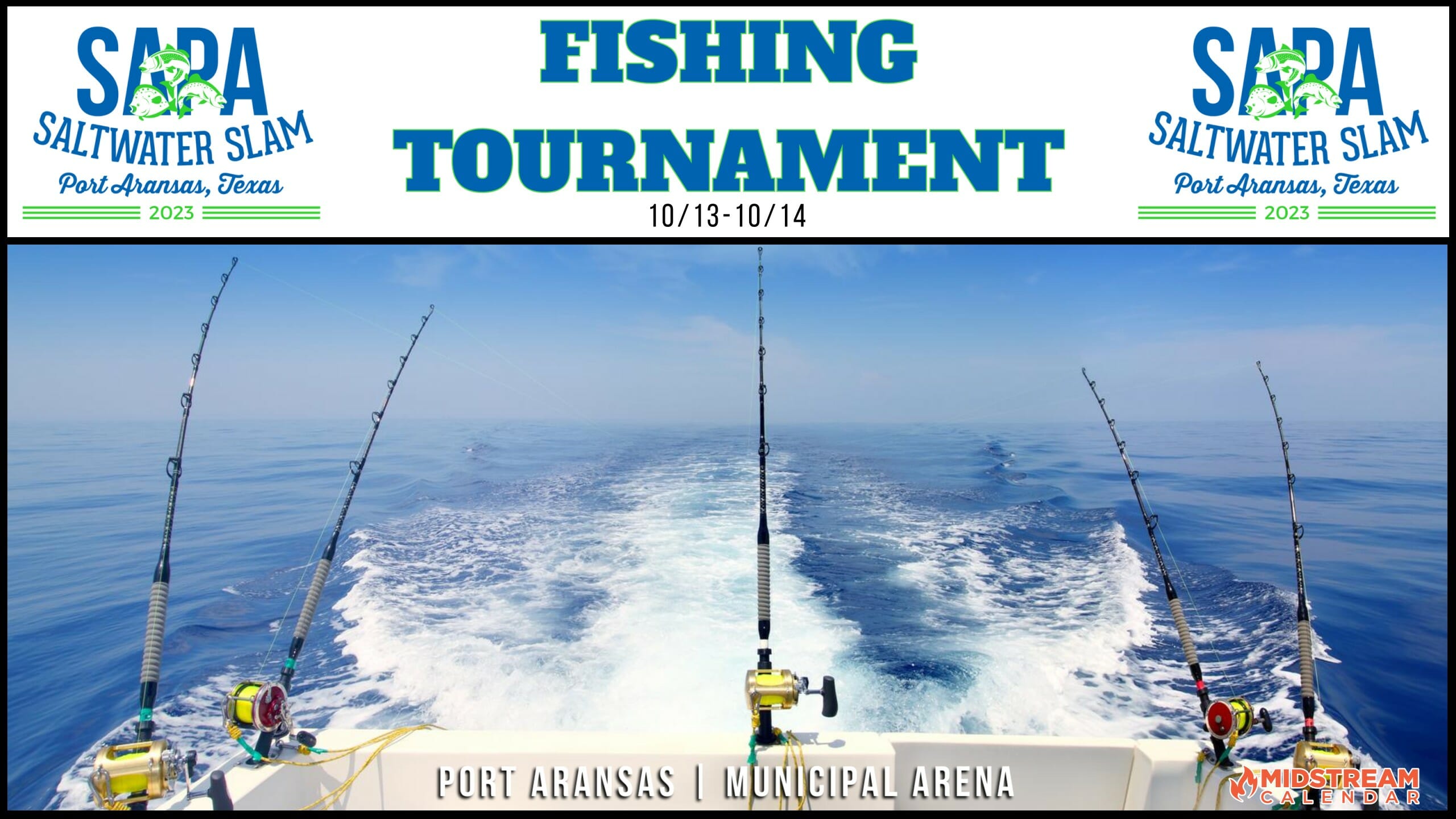 Register for the San Antonio Pipeliners Saltwater Slam Fishing Tournament 10/13-10/14 – Port Aransas
This Event Reminder is Sponsored by: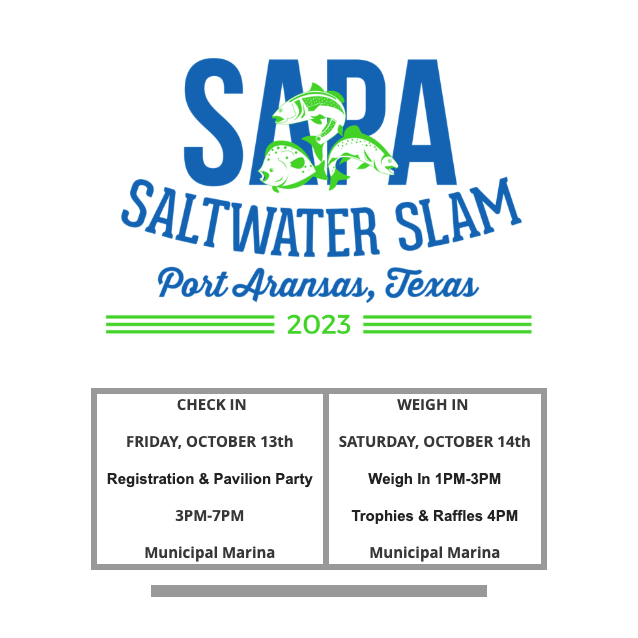 Start
October 13, 2023
3:00 PM
End
October 14, 2023
6:00 PM
Location
Municipal Marina in Port Aransas
OFFICIAL RULES
October 14th, 2023
1. WAIVER: All entrants must read and sign a waiver form to confirm their understanding and following of all rules
and stipulations of this tournament & the tournament venue.
2. All fishing areas must be available to the general public
3. All Texas Parks & Wildlife laws apply
4. Any entrant cited for a TPWD infraction will be automatically disqualified
5. All fish must be taken by rod and reel only
6. BAIT: all live, dead, & artificial allowed
7. LAND BASED FISHING: not allowed
8. WADE FISHING: allowed ONLY if area fishing was accessed by boat
9. JETTIES: No fishing outside of the jetties or past the end of the jetties
10. All fish weighed in must have been caught by team members fishing from the same boat. No borrowed fish.
11. No holding or blocking off any fishing areas by any individuals
12. 1 pole per angler allowed in the water at a time.
13. THIS IS A POKER TOURNAMENT: Each team may enter only 1 category. Choose which category your Team Chip
will be entered at time of weigh in. Once chip is entered it CANNOT BE CHANGED/NO CATEGORY CHANGES.
14. TIES: Ties will be broken by length of fish first; if a tie remains still, then a coin toss will determine the winner.
This same method applies to the Stringer Category. Sum of all fish for Stringer.
15. WEIGH IN TIME: Team chips MUST be placed in chosen categories by a team member NO EARLIER than 1PM
and NO LATER than 3PM at Weigh in location. NO EXCEPTIONS.
16. Tournament will proceed rain or shine!
17. No scales or means of measuring will be available by weigh master or tournament members prior to official
weigh in. The fish that you put on the scale is the fish you enter, no changes.
18. GUIDE SERVICE: permitted only in the Guided division. Guide may not be one of your anglers & in not counted
as one of your team
19. Fish not meeting TPWD rules in measurements will be disqualified and cannot be replaced with another fish.
20. PROTESTS: All protests must be submitted in writing prior to the end of the official weigh in. This must be done
before the last fish is officially weighed in and recorded. Protests will be given to the Tournament Director. Pen
and paper will be available at the weigh in.
21. Weigh Master has final ruling on all fish related matters.
CATEGORIES
GUIDED & UNGUIDED **NO TAGGED OR OVERSIZED FISH IN ANY CATEGORY**
HEAVIEST TROUT: Withing slot limit 17" – 23"
HEAVIEST REDFISH: Within slot limit 20" – 28"
HEAVIEST SLAM STRINGER: 1 Red, 1 Trout, 1 Flounder *MUST HAVE COMPLETE STRINGER TO ENTER THIS CATEGORY
MOST SPOTS: Redfish caught with the most tail spots. If # of spots area tie, then weight will determine the winner.
SHOULDA BEEN HERE YESTERDAY: Enter your chip in this category if you caught nothing or nothing to brag about, but still want a chance to walk away with a cool prize. Must be present at weight-in to win.