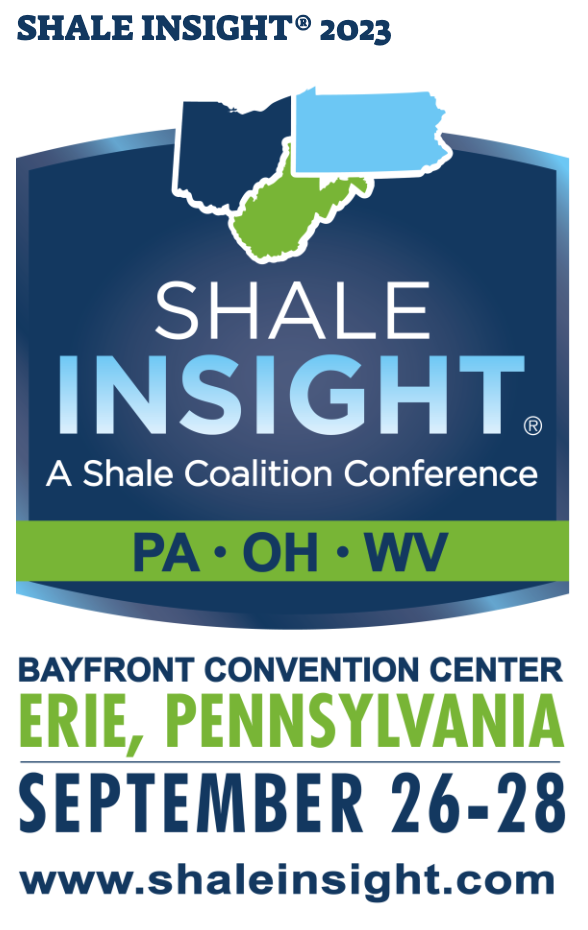 Shale Insight Conference 2023 September 26-28 – Erie, PA
This Event Reminder is Sponsored by:

Attend SHALE INSIGHT® 2023 on September 26-28 at the Bayfront Convention Center in Erie, PA and enjoy a front row seat at the leading conference on American shale energy, manufacturing and jobs! Get an insider's view from the nation's foremost energy leaders and experts on shale development, environmental protection, pipeline investment, energy driven manufacturing and jobs in demand. Engage in a dynamic exhibit hall comprised of industry and supply chain companies showcasing innovative products and services, and earn Professional Development and Continuing Legal Education credits.
SHALE INSIGHT® 2023 offers participants unprecedented interaction with industry-leading CEOs, elected officials and thought leaders, all of whom play a critical role in crafting the public policy and technical landscape that defines shale gas development around the world. Insightful technical and public affairs sessions, national keynote addresses, and networking receptions will provide attendees, sponsors, and exhibitors unique access to the industry's most influential leaders and innovators.
CONFERENCE PROGRAM AND CONTINUING EDUCATION CREDITS
To learn more about the Conference program and opportunities for earning Professional Development Hours and Continuing Legal Education Credits in the states of Pennsylvania, Ohio and West Virginia, please view the Conference Schedule.
UNIVERSITY RESEARCH SHOWCASE
The University Research Showcase will allow students and faculty to showcase their groundbreaking studies, projects and research while networking with the nation's foremost leaders on shale development.
EXHIBIT HALL
Networking opportunities may be found around every corner. Stroll through the exhibit hall to build or renew business relationships with industry professionals, purchase products and services, or discover innovations from students at the University Research Showcase. Attend the Networking Reception including drinks and hors d'oeuvres prior to an open evening of company-hosted receptions throughout Erie.
TECHNOLOGY SHOWCASE
Attend the Technology Showcase to learn about emerging technologies that will create value, reduce costs and/or generate competitive advantage to address Appalachian Basin shale industry challenges and support science-based technologies and decisions for the benefit of all stakeholders.