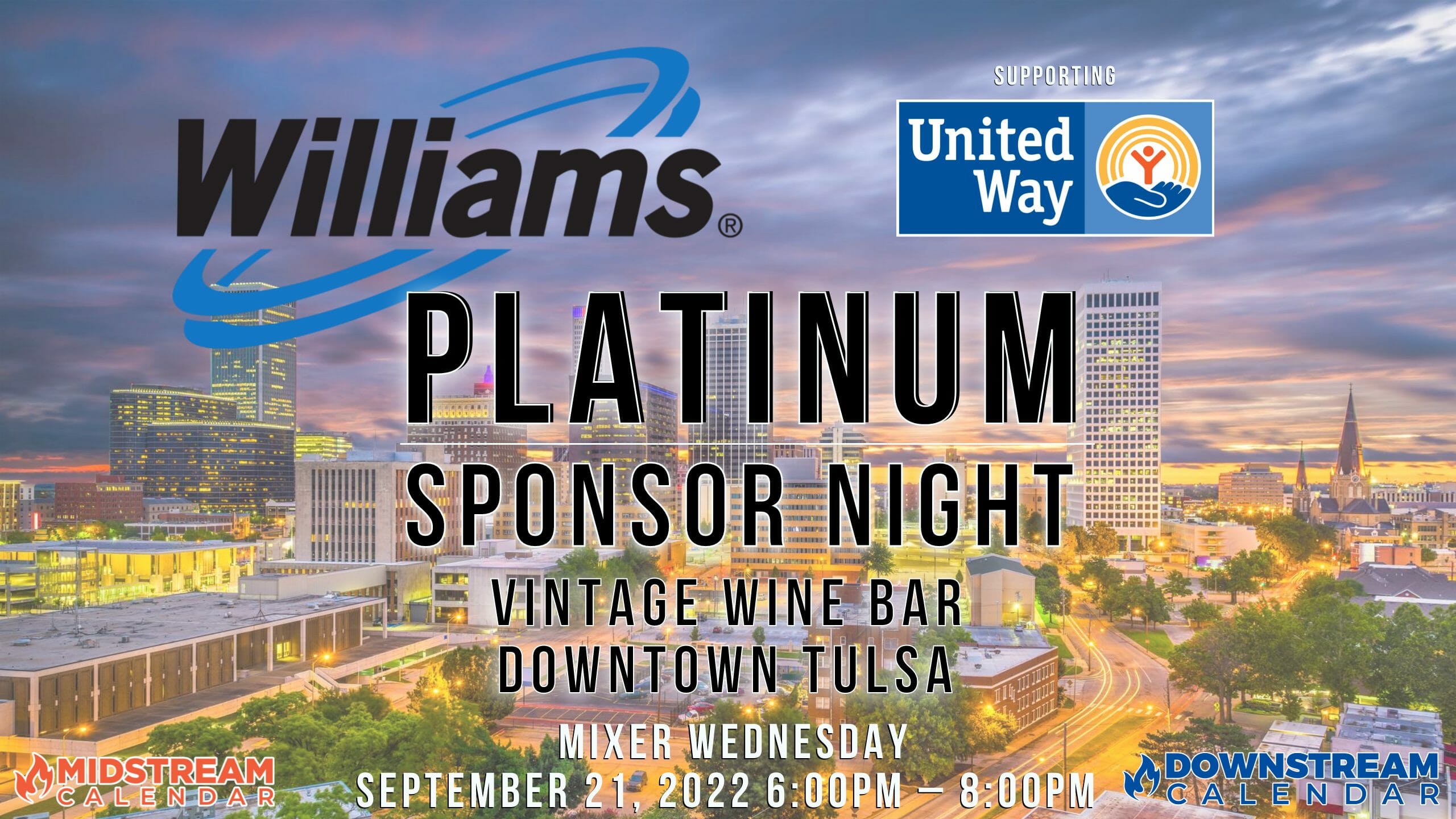 Platinum Sponsor Night for 2022 Williams Tulsa United Way Sept 21
This Event Reminder and Save The Date is Sponsored by:

Save The Date Sept 21, 2022 for Sponsor Night
Williams United Way of Tulsa – Fund raising for the community. Giving Back.
United Way 2022 Clay Shoot – Tulsa May 24th, 2022
Williams United Way 2022 Tulsa Clay Shoot will be held during September 2022. They have planned three separate events this year so we can engage with our awesome attendees. The three events will also provide Williams and our Sponsors with additional networking opportunities. The fundraising goal for the Clay Shoot is $100,000. With your help we know we can achieve or surpass our goal. We have made the event timing so that you can travel to Tulsa, network with us or other companies, attend our events and be able to fly back Thursday evening or Friday.
This will be our premier United Way Shooting Event. The following opportunities are available for Williams employees and our Sponsors to participate in.
CLAY SHOOTING 101 Wednesday, September 21, 2022 12:00pm – 5:00pm CDT Location: Tulsa Gun Club Program: Sponsored professional instruction, PPE, Shotgun Safety and Sporting clay basics
PLATINUM SPONSOR MIXER Wednesday, September 21, 2022 6:00pm – 8:00pm Location: Vintage Wine Bar – Downtown Tulsa
CLAY SHOOT Thursday, September 22, 2022 8:00am – 3:00pm CDT Location: Tulsa Gun Club
If someone is unable to attend the Clay Shoot, then the Clay Shooting 101 and or the Platinum Sponsor Mixer would be great opportunities to interact with other sponsors and Williams leadership who are supporting the Williams United Way campaign. Due to ammo shortages, we will have a hard close to our registration 2 weeks prior to the event. You will see the registration in the next month. Please stay tuned and once you see registration open, please register early. The Platinum Sponsor mixer and Clay Shooting 101 is extremely limited for space.
Follow MidstreamCalendar.com for upcoming industry events. Midstream Calendar was created to help synchronize the industry by providing a free lookahead for key industry events across the country. We focus on non-profit support, community, and industry specific trade shows and 2022 midstream & pipeline conferences for gathering and gas processing, transmission, compression, refining plants, chemical plants, fertilizer plants, terminals, storage facilities, LNG plants, syngas, and bio mass. The original energy calendar featuring all streams of energy with renewables. More 2022 Oil and Gas Events added every day.
Email Ops@MidstreamCalendar.com to get involved.
2022 Oil and Gas Events Oklahoma
2022 Midstream Clay Shoot Tulsa
2022 Energy fund raising events United Way