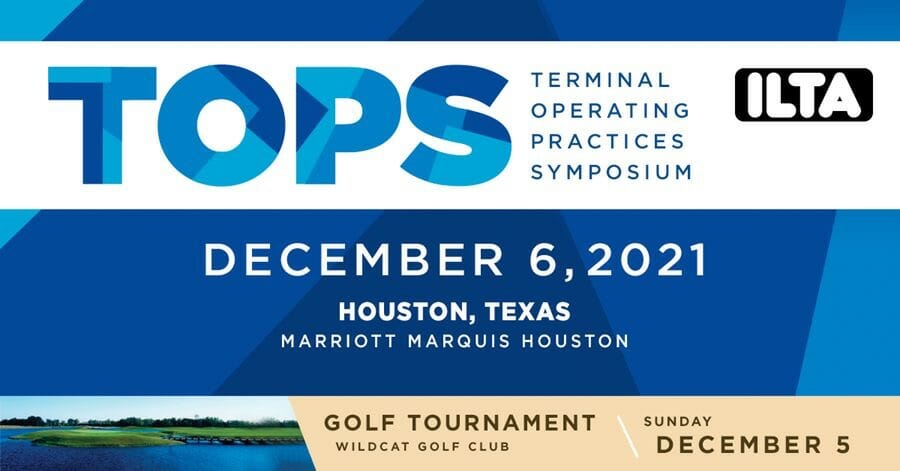 ILTA Golf and TOPS – Terminal Operating Practices Symposium 12/5 & 12/6 (owner only event)
This Event Reminder is Sponsored by: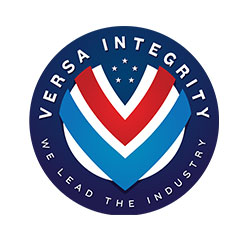 IMPORTANT NOTE:**The symposium is for terminal operating company personnel ONLY. No service providers, vendors, consultants, members of the press, regulators or the public will be allowed to participate in the event.**
December 6, 2021 – Marriott Marquis, Houston, TX 
ILTA's Terminal Operating Practices Symposium (TOPS) is an educational series designed to provide terminal operators a forum to exchange lessons learned from facility incidents and near hits and discuss effective operating practices with their peers.
Presentations are provided by terminal operator employees who will share their experiences in addressing natural disasters, environmental releases, malfunctions, worker injuries and illnesses, near misses/hits and other abnormal operating events at their facilities. They will discuss the causes of these events and what was changed to mitigate or eliminate future occurrences. Each presentation is approximately 30 minutes, including 10 minutes for Q&A.
Please click here to view the agenda.

Industry Event for Industry
The symposium is for terminal operating company personnel ONLY. No service providers, vendors, consultants, members of the press, regulators or the public will be allowed to participate in the event. There may be times when an outside party has significant information to share with the industry (e.g., U.S. CSB), in which case that party may be allowed to attend only to make a presentation. Consultants representing Terminal Members may be allowed to attend so long as an officer of a terminal company (e.g., President, CEO, Vice President, General Manager) makes a request in writing to ILTA requesting an exception.
AGENDA:
8:00 a.m. Breakfast Available
8:30 a.m. Introduction
8:45 a.m. LOPC from the Surge Tank
Munir Shahani, Saudi Aramco
• This session will discuss temporary preventative measures
developed and deployed in response to a critical surge causing an
overflow of a surge tank.
9:15 a.m. Buckled Crane Incident
Cassandra Alexander, Plains All American
• A contractor improperly operated a crane by exceeding its lifting
capacity, buckling the crane and dropping its load.
9:45 a.m. Nashville – Bordeaux Distillate Pump Mechanical Seal Failure
Timothy Brown, Marathon Petroleum
• A 70-gallon leak out of a 2-years old pump due to a mechanical
seal failure led to a subsequent investigation into the event.
10:15 a.m. Break
10:45 a.m. Acetic Anhydride Splash to Eyes
Mitchell Garner, Gary Cotie & Jeremy Alberty, LBC Tank Terminals
• A shift trainer was working with a trainee loading rail cars of
acetic anhydride when the loading arm swivel failed to raise high
enough to clear the handrail, causing the trainer to be splashed
with the chemical.
11:15 a.m. Mitigating the Unexpected Discovery of Product in Tanks
Melvin Cross, Enterprise Products
• In response to several discoveries of the remaining product after a
tank was isolated, cleaned and degassed, a checklist was
developed to ensure that 100% of product is removed when
preparing tanks for maintenance.
11:45 a.m. Truck Load Arm Breakaway Couplers – Design & Inadvertent Failure
Amanda Bordovsky, Marathon Petroleum
• Breakaway couplers are designed to break when subjected to
tension during a truck pull-away event, thus protecting load rack
piping. A loading arm failed at the breakaway point, causing a
release at the load rack and product downtime.
12:15 p.m. Lunch
1:15 p.m. Tubing System – Compression Fitting Awareness
Javier Becerra, Phillips 66
• A tubing failure on a pump seal tubing system during a routine
sample procedure originated from manufacturer miss-matched
tube fittings and incorrect installation. The event was captured
with the local Hazardous Atmosphere Monitor and Alarm system.
1:45 p.m. Vapor Locked Gauge Pole and Inaccurate Transmitter Reading
Trey Surmon, Flint Hills Resources
• An identified gauge pole in an Internal Floating Roof Tank did not
have slots for the radar gauge, causing the pole to become vapor
locked above the last slot and the transmitter to not continue
reading level increases until the redundant High-High Tank Level
Switch activated.
2:15 p.m. Third-Party Meter Proving Oversight
Matthew Jambor, Marathon Petroleum
• MPC's internal measurements group began oversight reviews of
meter proving at newly acquired terminal facilities. These
locations shared both best practices and teaching expectations for
identifying a measurement issue and taking the appropriate
corrective action.
2:45 p.m. Break
(Invited)
3:15 p.m. Changing a Culture – The Bayonne Story
Byrne Evans & Sunny Risler, IMTT
• IMTT's Bayonne, NJ terminal went from averaging 9 injuries and
10 reportable spills per year to a terminal with over a year
without a LTI, 7 months without a recordable injury and fewer
reportable spills over the prior years. The session will focus on a
pivotal incident that served as an accelerant for change.
3:45 p.m. The Importance of Audit and Inspection
Jason Alvarez, Howard Midstream
• This presentation will cover the importance of frequent
inspections by looking at a minor spill caused by a defective
gasket and discovered through daily rounds, ultimately preventing
serious injury, damage to equipment and major environmental
impact.
4:15 p.m. Rail Off Loading
Greg Johnston, LHT
• This presentation will discuss operational items built to combat
fall risk, fatigue, weather, fire safety and spill containment in LHT's
5 rail off-loading facilities. mc
4:45 p.m. Wrap Up
5:15 p.m. Reception
Follow 
MidstreamCalendar.com
 for upcoming industry events. Midstream Calendar was created to help synchronize the industry by providing a free lookahead for key industry events across the country. We focus on non-profit support, community, and industry specific trade shows and conferences for gathering, gas processing, transmission, compression, refining plants, chemical plants, fertilizer plants, terminals, storage facilities, LNG plants, syngas, and bio mass.