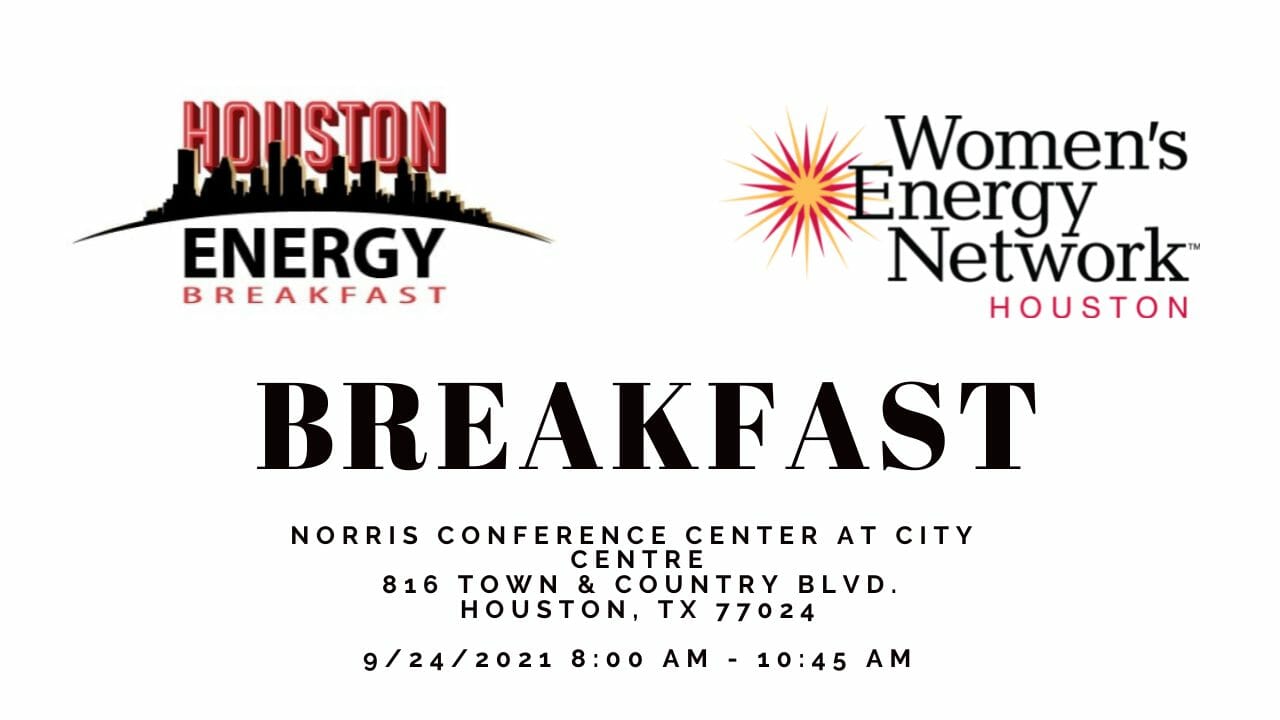 Women's Energy Network Houston in Partnership with Houston Energy Breakfast
In-person events have not been part of our culture for quite a while. Hopefully as people feel it is safe enough to return to what will be the new normal of life, there will be a real enthusiasm for getting back to the things that brought them the opportunity for networking and learning from industry colleagues, like the Houston Energy Breakfast.

We are excited to announce WENH's partnership with the Houston Energy Breakfast is once again happening, with its first session on Friday, Sept 24, 2021. We can't wait to bring the Energy Community together once again to meet and share ideas. We look forward to keeping this 25-year-old tradition going!

The theme for this breakfast is "Re-Inventing the Energy in H-Town." Keeping with tradition, four industry experts will deliver a 12-minute talk and then take questions from the audience. Hosted by KCA, the Houston Energy Breakfast was developed by a few industry professionals as a platform for the energy community to exchange ideas, network and provide an informative outlook on the industry's opportunities and challenges through the eyes of an accomplished senior level panel.

Each of the Houston Energy Breakfasts draws hundreds of attendees from leading operator and service companies in the oil and gas industry. Delegates represent a diverse crowd of industry professionals, including CEOs, CFOs, Business Development Managers, Directors, Engineers, Executive Directors, Financial Analysts, General Managers, Geologists, HR Managers, Managers, Marketing Professionals, Operations Managers, Presidents, Research Engineers, Senior Counsel, Senior Managers, SVPs, VPs and more. Registration and "extreme networking" begins at 8:00 a.m. Breakfast will be served at 9:00 a.m., with the speaker panel beginning at 9:30 a.m. The event will conclude at 10:45 a.m. More details about the event and registration can be found at www.houstonenergybreakfast.com. WEN members will receive at $20.00 savings by using the discount code "WEN" at the end of the registration page.

For registration assistance or questions, contact Diana Swift at dswift@kca-us.com.

Pricing:
WEN members receive at $20.00 savings by using the discount code "WEN" at the end of the registration page.

Registration Deadline:

July  24
Walk-in Policy:

Walk-in registration is available on a first come – first served basis.
Parking Details:
There is plenty of parking in the garage closest to Beltway 8 (third floor garage parking is located on the same level as the Norris Conference Center).
Recordings Prohibited:
WEN is an organization that provides educational opportunities to members and nonmembers; however, recording of the presentation, speaker, and / or content is prohibited. The presentation is property of the speaker and/or their organization and is not to be removed from the event without prior written consent. Midcal21. The Board may and will take remedial action against any individual, member, or any program participant in the event of non-adherence to this policy. Such action may range from a private or company-led warning, to suspension of WEN membership for a stated term or a prohibition on attending future WEN events.
Problems?
If you are experiencing problems registering, we recommend that you try another browser, such as Chrome. We also recommend that you register from your phone or personal computer as some companies have security settings that do not allow access to our site or some of our registration functions. If you continue to have problems or have questions, please email us at eventregistration@womensenergynetwork.org.

This event will take place from 8:00 AM -10:45 PM Central Time. The time zone shown on your confirmation may be in Eastern Time. Please convert to your local time when adding to your calendar.
Please Register Directly at www.houstonenergybreakfast.com.

9/24/2021 8:00 AM – 10:45 AM
Norris Conference Center at City Centre 816 Town & Country Blvd. Houston, TX 77024 UNITED STATES
Follow MidstreamCalendar.com for upcoming industry events. Midstream Calendar was created to help synchronize the industry by providing a free lookahead for key industry events across the country. We focus on non-profit support, community, and industry specific trade shows and conferences for gathering, gas processing, transmission, compression, refining plants, chemical plants, fertilizer plants, terminals, storage facilities, LNG plants, syngas, and bio mass.
About Lion: "Lion Industrial Resources specializes in industrial waste management. Our reliable and effective waste solutions enhance the environment and communities in which our customers live and operate."