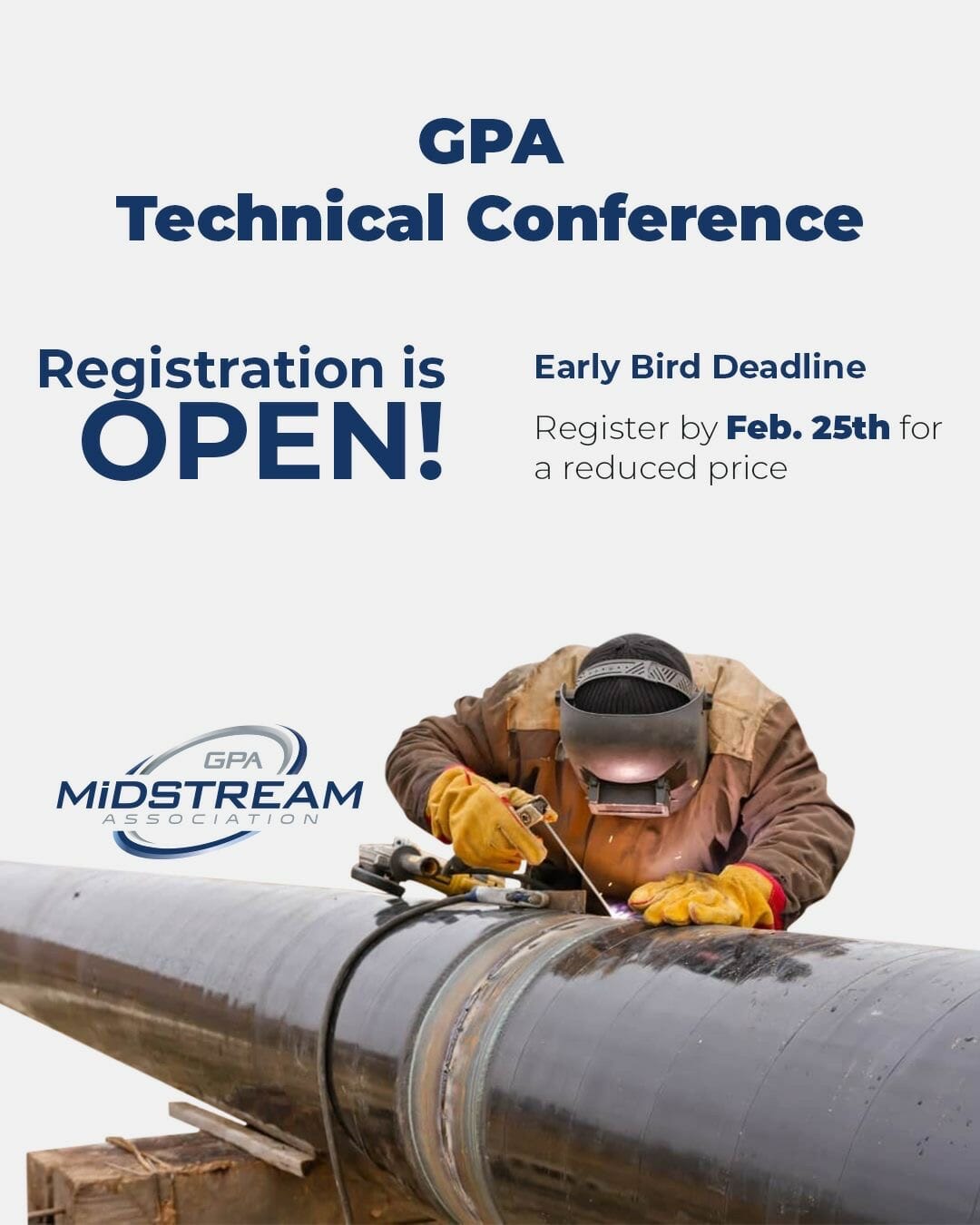 Registration is Now Open for the 2023 GPA Midstream Technical Conference April 3-6th – Plano, TX
This Event Reminder and Save The Date is Sponsored by: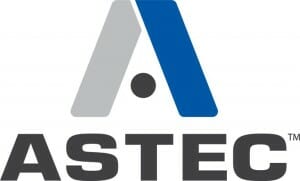 2023 GPA MIDSTREAM TECHNICAL CONFERENCE
Monday, Apr 3, 2023 – Thursday, Apr 6, 2023
Plano, Texas
-Call for Papers: Oct. 1 – Dec. 2, 2022
-Sponsorships Open: Week of Jan. 9
Monday, April 3
10 a.m. – 7 p.m.
Registration
12:30 – 2 p.m.
Emerging Professionals Orientation
2:30 – 4:30 p.m.
Facility Committee Meeting
2:30 – 4:30 p.m.
Pipeline Forum
‍
Geohazard and Pipeline Integrity Management: A Primer
Jen Holmstadt and Brandi Wolfe, WSB
‍
Material Verification Program Best Practices
Meghan Schleicher and Jo Ellen Scott, ENTRUST Solutions Group
Understanding TVC Data Management
Brendan Boyle, Vintri Technologies
Pressure Testing of SCC Colonies on 24-inch 00 x 0.334-inch WT Grade X60 Pipe
Sudhakar Mahajanam and Colton Sheets, Stress Engineering Services
5 – 6 p.m.
Opening General Session
6 – 7 p.m.
Welcome Reception
Tuesday, April 4
8 – 9 a.m.
Sponsored Breakfast Briefing
8 a.m. – 5 p.m.
Registration
9 – 10:45 a.m.
Emissions Committee Meeting
9:30 – 11:30 a.m.
Analysis Forum
See What  is Happening in Your Pipeline: The Future of Gas Plant Management
Paul Stockwell, Process Vision Ltd.
Compositional Analysis by Optical Spectroscopy vs. Traditional Technologies
Nathanial Watson, Jie Zhu, Todd Rataczak and Paul Little, JP3 Measurement
Why Diversity, Equity, and Inclusion Are Important to Corporate Social Responsibility and Sustainability
Jennifer Hagerman, MPLX
11 a.m. – 12 p.m.
Pipeline Committee Meeting
12 -1 p.m.
Sponsored Lunch & Learn 1
12 – 1 p.m.
Sponsored Lunch & Learn 2
1:15 – 3:15 p.m.
Measurement Forum
Overview of AGA 5/GPA 2172 Merge
Matt Holmes, Quorum Software
Pipeline Fill Pack and Determination Methodology
Trevor Morrison, Western Midstream
Transmitter Verification
Matt Holmes, Quorum Software
1:30 – 3:30 p.m.
Integrity Committee Meeting
3:30 -5:30 p.m.
Emissions Forum
Measurement vs. Abatement – Where Should I Spend My Capital?
James Havlock, Validere
Fast Detection and Mitigation of Methane Super-Emitter Events
Stefan Bokaemper, Kuva Systems
Improve Sustainability by Reducing Emissions on Your Gas-Powered Actuators
John Carroll, Emerson
6 – 9 p.m.
Networking Event: Saloon Night
Wednesday, April 5
8 – 9 a.m.
Sponsored Breakfast Briefing
8 a.m. – 5 p.m.
Registration
9 – 10 a.m.
Chromatography School Instructors Meeting
9:45 – 11:45 a.m.
Integrity  Forum
Mechanical  Integrity's Sleeping Giant -Corrosion of Process Piping
‍Dwayne Lum, Carboline, and Michael Pardo, S&B Engineers & Constructors
‍Development  and Implementation of a Facilities Integrity Management Program
‍Hamood Rehman, Altamira-US, LLC
‍Guided  Wave Enhanced Corrosion Monitoring and Regulatory Compliance
‍Rhett OBriant, Guided Ultrasonics Limited
10 a.m. -12 p.m.
Analysis Committee Meeting
12- 1 p.m.
Sponsored Lunch & Learn 1
12- 1 p.m.
Sponsored Lunch & Learn 2
1:15 -3:15 p.m.
Measurement Committee Meeting
1:15 – 3:15 p.m.
Facility  Forum
‍Net  Zero Carbon Considerations for NGL Fractionation
‍Dominic Varraveto, Burns & McDonnell
‍Achieving  Additional Throughput from Existing Liquefaction Trains Rapidly via  Model-Based Solutions
‍Dr. Udit Gupta, Siemens
‍High  Speed Gases Producing Unexpected Cold Temperatures
‍Eric Parvin, Parv Consulting
3:30 – 5:30 p.m.
Technical Community Meeting
Thursday, April 6
8:30 – 9:30 a.m.
Technical Conference Planning Committee Debrief
9:30- 10:30 a.m.
Technical Executive Committee Meeting (closed meeting)
Technical Conference: April 3-6, 2023, Plano, Texas
GPA Midstream was founded in 1921 because the industry was in dire need of technical standards. Since then, our technical committees have developed, and we maintain, industry standards and reference bulletins, and we have also published more than 200 Research Reports. Our technical committees and workgroups are actively engaged year-round to ensure the technical information that companies use to make important operating decisions remains accurate. GPA Midstream's Technical Conference brings together the industry's technical community and offers educational sessions plus networking opportunities. We expect more than 300 attendees at the 2023 conference, which is set within a 4-star Hilton property with waterfront dining and entertainment only steps away.
Venue & Lodging
The 2023 conference will be held at the Hilton Dallas/Plano Granite Park, 5805 Granite Pkwy, Plano, TX 75024
GPA Midstream has a block of rooms reserved for this event with a group rate of $199/night. We require anyone using our block to be registered for the event.
Follow MidstreamCalendar.com for upcoming industry events. Midstream Calendar was created to help synchronize the industry by providing a free lookahead for key industry events across the country. We focus on non-profit support, community, and industry specific trade shows and 2023 midstream & pipeline conferences for gathering and gas processing, transmission, compression, refining plants, chemical plants, fertilizer plants, terminals, storage facilities, LNG plants, syngas, and bio mass. The original energy calendar featuring all streams of energy with renewables. More 2022 Oil and Gas Events added every day. So follow us for upcoming oil and gas events for 2022 and 2023
Email Ops@MidstreamCalendar.com to get involved
2023 Oil and Gas Charity Golf Tournaments
2023 Oil and Gas Conferences
2023 Oil and Gas Events in Midstream and Pipelines