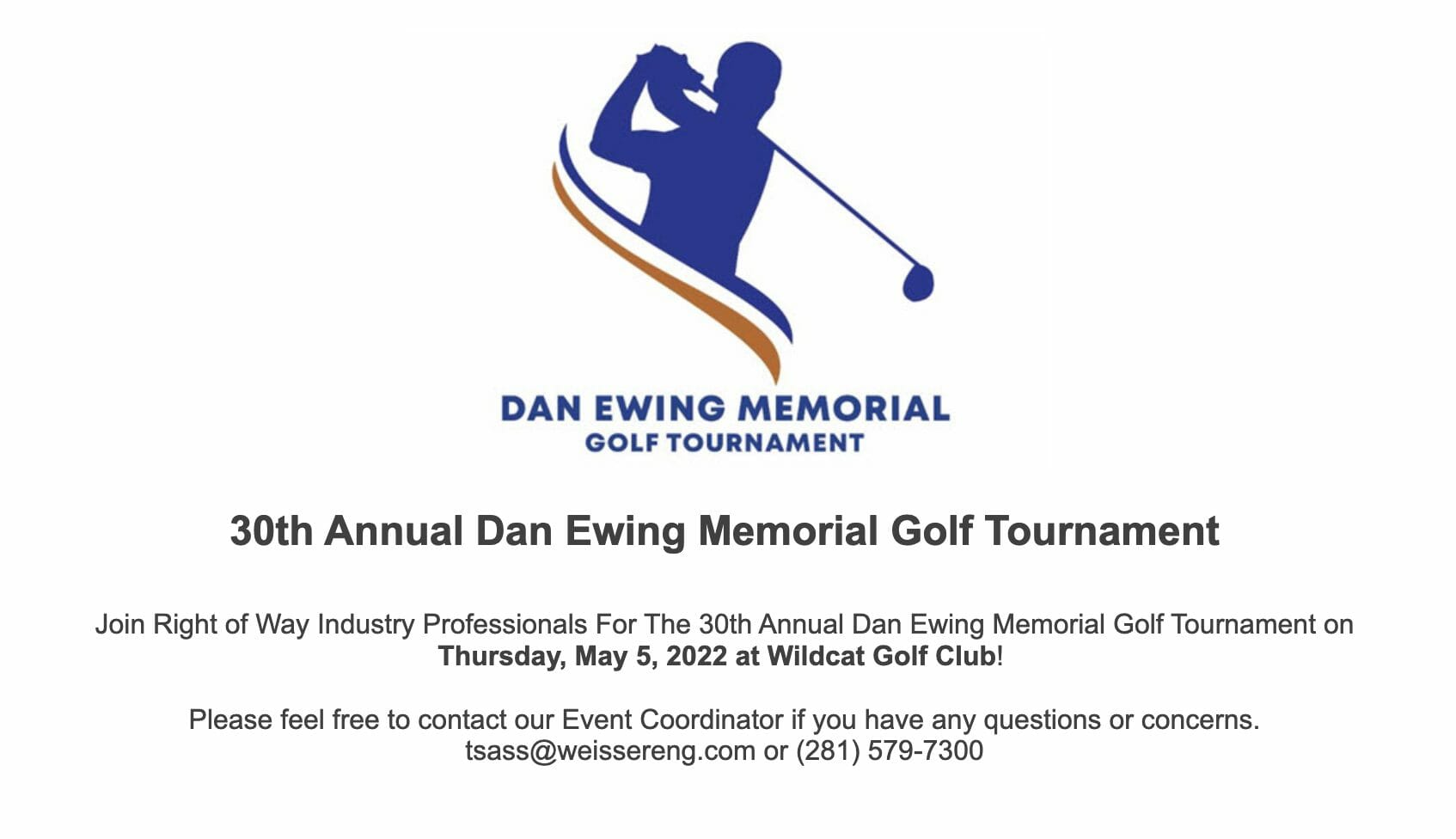 30th Annual Dan Ewing Memorial Golf Tournament May 5- Houston
This Event Reminder is Sponsored by:


30th Annual Dan Ewing Memorial Golf Tournament
Join Right of Way Industry Professionals For The 30th Annual Dan Ewing Memorial Golf Tournament on Thursday, May 5, 2022 at Wildcat Golf Club!
Please feel free to contact our Event Coordinator if you have any questions or concerns.
tsass@weissereng.com or (281) 579-7300
2022 DEM GT Committee
Mark Bardwell, DEM GT Co-Chair
Vice President | Norfleet Land Services
Charles Ryan, DEM GT Co-Chair
Senior Land Representative | Williams
Carter Byroad, Phillips 66
Callie Howard, CBRE
Craig Young, CBRE
Kasy Baldauf, Air Liquide
Kelly Patton, Spirit Environmental
Kirby Ewing, Contract Land Staff
Kirsten White, Enterprise Products
Mike Lusk, Boardwalk Pipeline
Mercedes Osbern, Flint Hills Resources
Taylor Sass, Weisser Engineering & Surveying
Milena Valdes, Weisser Engineering & Surveying
William "Bill" Phelps, Grid United
'Fiesta Fore Charity' as you swing your clubs in the 30th Annual Dan Ewing Memorial Golf Tournament. If you're in the Right of Way Industry, this is the RIGHT Tournament for you!
Event Times
Thursday, May 5, 2022
08:30 AM – Registration Start Time
10:30 AM – Shotgun Start
03:00 PM – Cocktails Start Time
03:30 PM – Dinner Start Time
Follow MidstreamCalendar.com for upcoming industry events. Midstream Calendar was created to help synchronize the industry by providing a free lookahead for key industry events across the country. We focus on non-profit support, community, and industry specific trade shows and 2022 midstream & pipeline conferences for gathering and gas processing, transmission, compression, refining plants, chemical plants, fertilizer plants, terminals, storage facilities, LNG plants, syngas, and bio mass. More 2022 Oil and Gas Events added every day.Email Ops@MidstreamCalendar.com to get involved. Follow our sister page at www.UpstreamCalendar.com for upcoming 2022 Oil and Gas Events
2022 Oil and Gas Events Houston2022 Oil and Gas Conference Houston2022 Pipeline Events Houston2022 Golf TournamentsAbout out Media Sponsor:

Petroquip is the most responsive provider of pipeline repair, maintenance, and new construction products to the Upstream, Midstream and Downstream markets.Since 1997, Petroquip has partnered with trusted manufacturers to deliver quality pipeline products at the right time, for the right price. Our strategically located, fully-stocked distribution centers allow us to ship products to the job site within hours of receiving an order. We are known for exceptional customer service, a quality that has earned the loyalty of our customer base across the US and the Gulf of Mexico.
PRODUCTS
Petroquip is the largest stocking distributor of PLIDCO® fittings and pipeline repair products. We also represent great manufacturers such as Advance Products & Systems (APS), Cameron, Fisher, Bettis, Argus, and more. We stock and distribute products with proven quality and aim to exceed our customers' expectations in delivery, accuracy, and service.
SERVICES