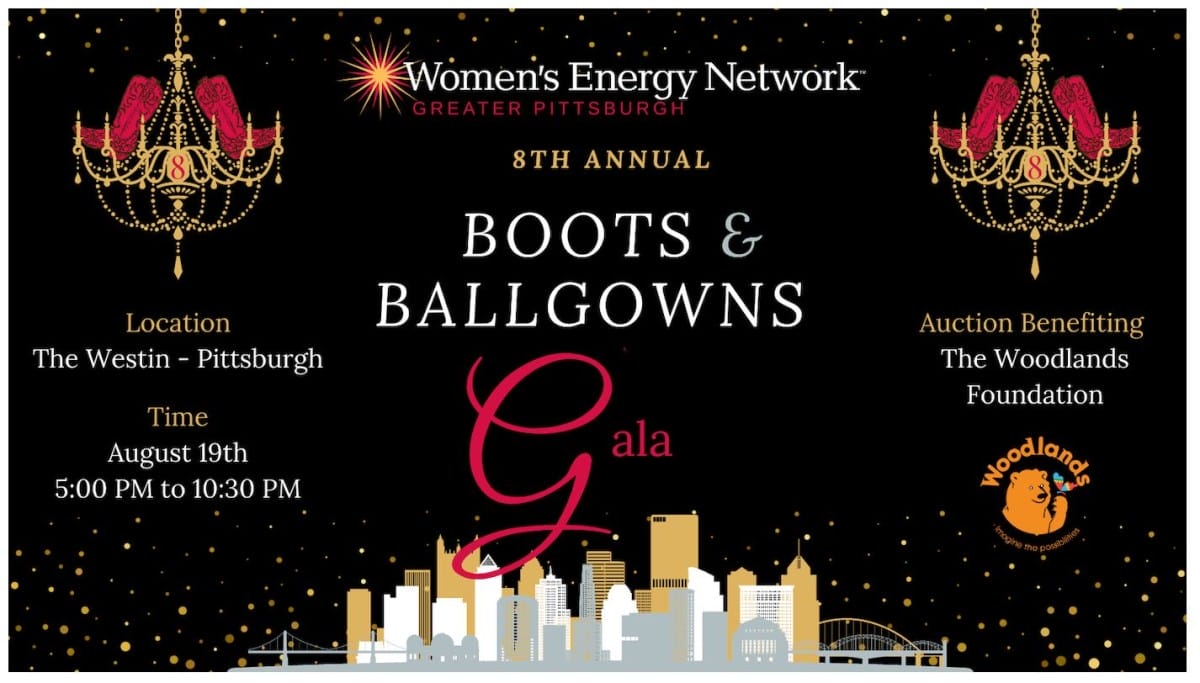 Greater Pittsburgh Chapter:8th Annual Boots & Ballgowns Gala Aug 19th – Pittsburgh
This Event Reminder is Sponsored by:

The Greater Pittsburgh Chapter of the Women's Energy Network is pleased to announce our 8th Annual Boots & Ballgowns Gala to be held on Friday, August 19th at the Westin Hotel, located in downtown Pittsburgh.
The Gala is a celebration of our truly outstanding members and a wonderful way to recognize them for all their accomplishments. Additionally, we're pleased to recognize the wonderful companies who uplift and encourage their female employees as they strive to achieve their goals.
This year, the proceeds from our auction during the event will benefit The Woodlands in their mission to enrich the lives of children and adults with disability and chronic illnesses. The Woodlands' fully accessible and barrier-free facilities open new doors to safe, inclusive, and engaging participant opportunities. To learn more about The Woodlands click here.
For sponsorship opportunities, please see here.
A limited number of guest rooms are available at a discounted rate of $159.00/night by calling the Westin directly at 412-281-3700 prior to July 21, 2022.
Thanks to our Platinum Sponsors, Dickie, McCamey & Chilcote, P.C. and Axis Energy Services.
Thanks to our Silver Sponsor Gailey Environmental.
Pricing:
Early bird registration is available for members through June 15th at a cost of $125.00 per person and will increase on June 16th, 2022 to $150.00 per person.
Early bird registration is available for non-members through June 15th at a cost of $150.00 per person and will increase after June 16th, 2022 to $175.00 per person.
In addition to individual tickets, tables of 8 are available for purchase. For table sales, please contact Bridget at bsasson@dmclaw.com.
Registration Deadline:
August 12th, 2022
Walk-In Policy:
Walk-in registration is not available for this event.
Parking Details:
Parking is available on-site for a fee.
Waiver and Release of Liability:
By completing the registration for this event, attendee and any guests agree that they have read and agree to the WEN Waiver and Release of Liability and Indemnity attached here. WEN Greater Pittsburgh reserves the right to deny entry to this event if attendee does not agree to the WEN Waiver and Release of Liability and Indemnity.
Cancelation Policy:
WEN Greater Pittsburgh is unable to provide any refunds for this event unless the event is canceled and not rescheduled. Please contact wengreaterpittsburgh@gmail.com if you have any questions about cancelations.
Recordings Prohibited:
WEN is an organization that provides educational opportunities to members and nonmembers; however, recording of the presentation, speaker, and / or content is prohibited. The presentation is property of the speaker and/or their organization and is not to be removed from the event without prior written consent. The Board may and will take remedial action against any individual, member, or any program participant in the event of non-adherence to this policy. Such action may range from a private or company-led warning, to suspension of WEN membership for a stated term or a prohibition on attending future WEN events.
Event Questions? Please contact: Tiffany Culp
Technical Questions?:
If you are experiencing problems registering, we recommend that you try another browser, such as Chrome and/or clearing the cache memory on the browser. We also recommend that you register from your phone or personal computer as some companies have security settings that do not allow access to our site or some of our registration functions. If you continue to have technical problems, please email eventregistration@womensenergynetwork.org. If you need to reset your password, or are locked out of your account, please contact membership@womensenergynetwork.com.
Members – To register for this event, please sign-in first.
Non-members – If you have not previously created an account, click Create Account, otherwise sign-in to register.
Note: Your registration is not complete until you click the "submit order" button on the next page.
The Westin Pittsburgh 1000 Penn Ave. Pittsburgh, PA 15222