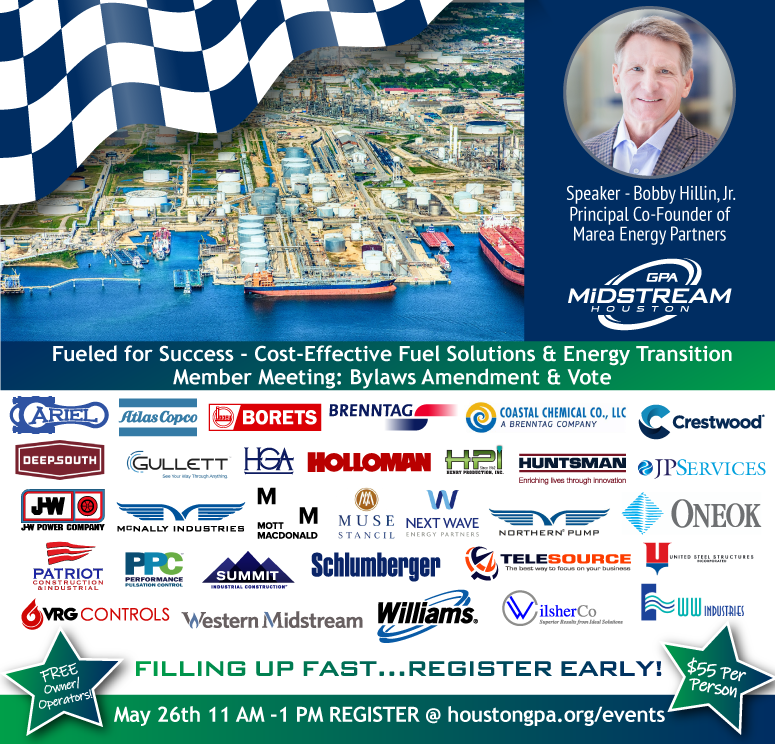 Houston GPA Midstream Luncheon (IN PERSON)
Reminder Brought to You By:

WHAT DO: Driving 200+ MPH, NASCAR Victories, & Excellence in Low-Sulfur Fuel Solutions have in common? Bobby Hillin Jr.
Hillin Jr., a former NASCAR top-level series winner, has spent more than 2 decades using skills he honed in professional motorsports to build one winning organization after another. Join us Wednesday, May 26th, 11 am-1 pm for a can't miss talk with Bobby Hillin Jr.! Please note LUNCHEON space is LIMITED and expected to sell out quickly, so make sure to register EARLY!
(***The HGPA Midstream 2021 Member Meeting/Bylaw Amendment & Vote will be held in conjunction with the luncheon. Members can register for a "Vote Only" ticket if they plan to vote in person.  View the member meeting notice, bylaw changes, agenda and additional details HERE***).
Topic: Fueled for Success – Cost-Effective Fuel Solutions & Energy Transition
Summary: As the world navigates toward a cleaner future, companies committed to raising the bar on fuel compliance standards will lead the way.  Bobby Hillin Jr., CEO, Principal Co-Founder & Professional Race Car Driver offers a unique perspective on racing, life, and our industry, with an emphasis on the growing need for delivering cost-effective fuel solutions that create a positive impact on global human health.
Tentative Agenda:
Registration/Social Time/Networking
Meeting Called to Order
Chef's Introduction of Menu
Safety Moment
Bylaw Change Explanation followed by Member Vote
Recognition of 2020-2021 Outgoing Board Members
2021-2022 Nominating Committee Report
Vote/Motion to Approve the New 2021-2022 Board
Announcements
Speaker: Bobby Hillin Jr.
Adjourn
DATE:  May 26th, 2021
TIME: 11:00 am – 1:00 pm
COST: $55 for Members & Guests / FREE for Owner/Operators (Must Register to Attend – *PP)
(***Please feel free to contact Doug Ashley directly at:  DougAshley@hollomancorp.com, a minimum of 3 days in advance of the event, with any special dietary concerns and we will do our best to accomodate).
*Owner/Operators can take advantage of the following 2021 Perk Program (*PP) benefits at the May Luncheon:
FREE Attendance ($55/person fee waived)
FREE Gourmet Eats (Full Lunch Buffet of Specialty Chef Selections)
FREE Bonus Treats (Each Owner/Operator will walk away with a bonus giveaway from the 2021 Perk Program (*PP) PrizePool. It's as easy as 1…2…3! 1) Register, 2) Attend, 3) Win!).
For additional questions or concerns please contact:
Doug Ashley|DougAshley@hollomancorp.com
When
May 26th, 2021 11:00 AM   through   1:00 PM
Location
910 Louisiana Street
One Shell Plaza Suite 4900
Houston, 77002
United States
Event Fee(s)
Luncheon Ticket Options
Member – Meeting/Bylaw VOTE ONLY (Meal & Speaker Not Included)
$0.00
Member – Luncheon & Bylaw Vote 1-Ticket
$55.00
Non-Member Luncheon ONLY 1-Ticket
$55.00
Member/Non-Member 2-Pack
$100.00
Member/Non-Member 4-Pack
$190.00
Owner/Operators – FREE (For verification, please register w/ company email)
$0.00
Sign our company up to contribute a prize to the Owner/Operator Prize Pool!
Prize/Value