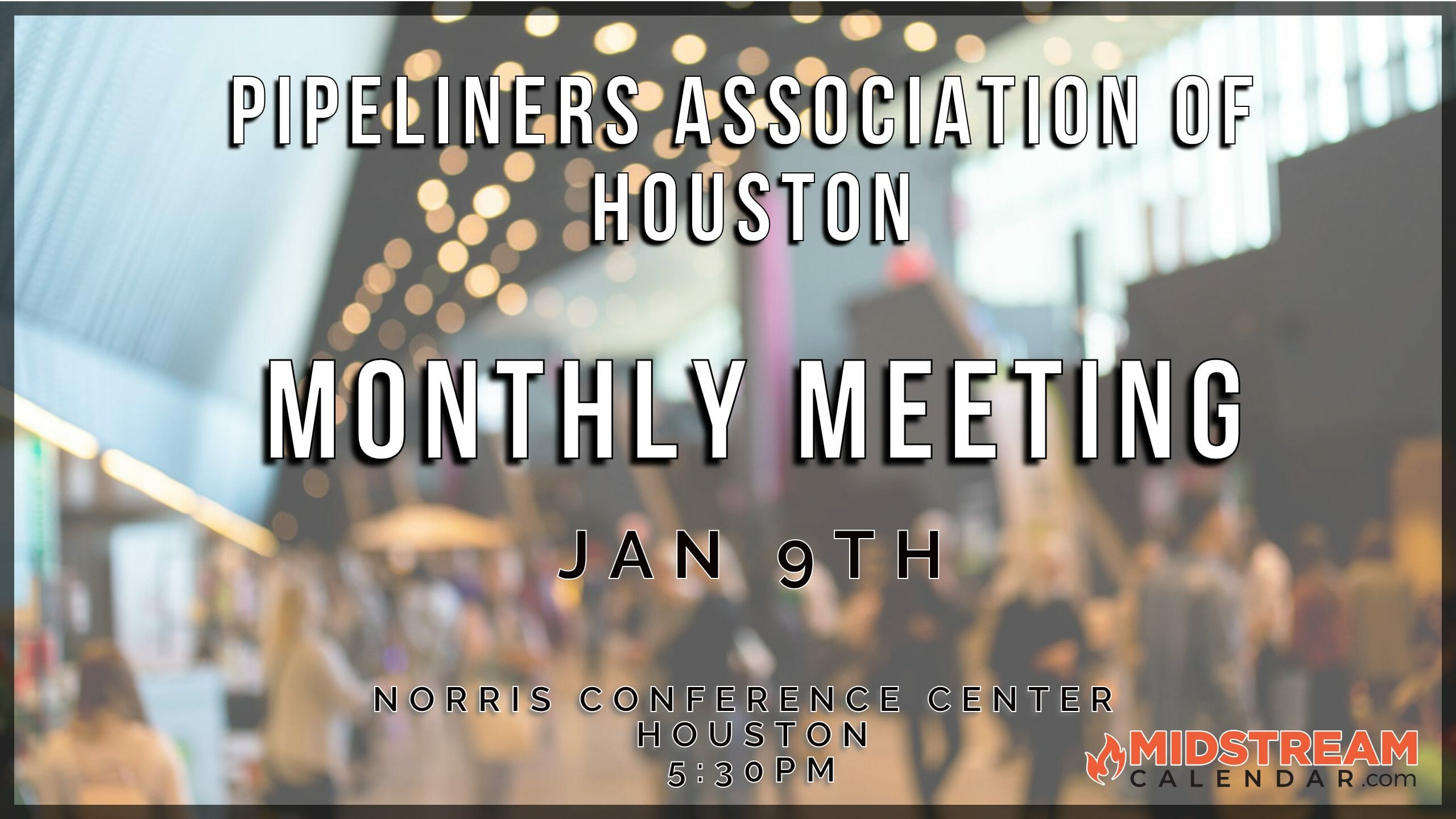 Pipeliners Association of Houston January 2023 Monthly Business Meeting "PHMSA Update" – Jan 9th – Houston
This Event Reminder is Sponsored by:
Speaker: James Prothro, Program Manager Community Liaison, General Engineer, Operations and Standards Review Division – Southwest Region for the US Department of Transportation (DOT), Pipeline and Hazardous Materials Safety Administration (PHMSA)
Register for the Monthly Business Meeting, link to the left.
DEADLINE for Early Registration is 11:59 p.m. on Sunday, January 1, 2023.
DEADLINE for Regular Registration is 11:59 p.m. on Sunday, January 8, 2023.
Late and In-Person Pay at the Door Registration is Monday, January 9, 2023.
Social Hour: 5:30 p.m.
Dinner: 6:30 p.m.
Program: 6:45 p.m.
About The Houston Pipeliners
The Pipeliners Association of Houston is a 501(c)(6) not-for-profit industry based pipeline professional organization, driven by our membership and member volunteers to lead our Industry. We have a rich history of knowledge transfer including:
industry advances and current events
education through professional development and collegiate scholarships and
professional mentoring.
There are other Pipeliners Associations in the Southwest, Rocky Mountain and Appalachia regions with meetings held in cities such as San Antonio, Baton Rouge, Atlanta, Tulsa, Denver, and Pittsburgh.
Mission
The mission of the Pipeliners Association of Houston's is to advance pipeline engineering and operation practices for the mutual benefit of the members and the industry. The means employed for the attainment of this purpose include, but are not limited to, meeting for the presentation of appropriate papers and discussion of items of general intent, as well as discussion of books, publications and other material. The Association shall be both non-profit and non-political in character but may cooperate in civic enterprises.
History
The Pipeliners Association of Houston was formed in 1953 with the purpose to "foster and promote the advancement of pipeline engineering and operating practices for the mutual benefit of the members in the industry and to study and exchange knowledge and ideas relative to the pipeline industry." The Association started with 6 members and continues to evolve and mature with our expanding network across the industry.
The organization prides itself on maintaining a common bond between vendors, operators and contractors who support this industry. Over the years, we have grown in our focus of community and professional development. Today, monthly business meetings provide relevant presentations and discussions about our industry. Our volunteers host events to raise scholarship money for our member's college students. We established the Pipeliners Young Professionals group in 2016 to encourage and support our next generation. In 2017, we partnered with PETEX to develop professional education for our members.
With this rich heritage, we expect to continue to develop as an Association and make lasting impacts on the Pipeline Industry.
Follow MidstreamCalendar.com for upcoming industry events. Midstream Calendar was created to help synchronize the industry by providing a free lookahead for key industry events across the country. We focus on non-profit support, community, and industry specific trade shows and 2023 midstream & pipeline conferences for gathering and gas processing, transmission, compression, refining plants, chemical plants, fertilizer plants, terminals, storage facilities, LNG plants, syngas, and bio mass. The original energy calendar featuring all streams of energy with renewables. More 2022 Oil and Gas Events added every day.
Email Efrain@AllstreamEP.com to get involved.
2023 Midstream Events Houston
2023 Oil and Gas Events Calendar
2023 Renewables Events Houston
2023 New Energy Events Houston
2023 Oil and Gas Charity Events

Houston Pipeliners Monthly Meeting the 2023 Pipeline Industry Outlook with Pipeline and Gas Journal.
Register Now for the Pipeliners Association of Houston Monthly Meeting Feb 6th – Houston – "2023 Pipeline Industry Construction Outlook"