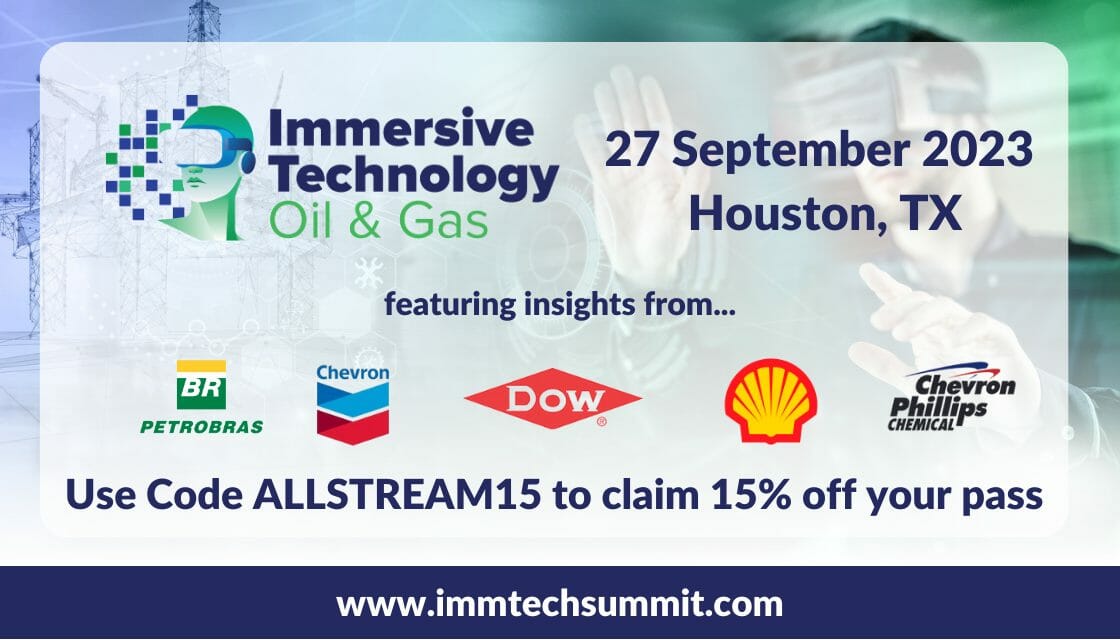 Register now for the Immersive Technology Oil and Gas Summit 9/27/2023 – Houston
This Event Reminder is Sponsored by:

Immersive Technology Oil & Gas Experts Unite to Digitally Enable Workforces for Collaborative, Efficient, Safe, and Sustainable Operations
Allstream Energy Partners and our Media Calendars for Upstream, Midstream, Downstream, and Renewable Energy are proud to be partnering with the Immersive Technology for Oil & Gas Summit on 27 September 2023 in Houston, TX.
The growing pressure for the Oil, Gas, Chemical and Heavy Industries to reduce costs, optimize efficiency and improve safety is driving organizations to digitally transform by leveraging disruptive technologies to solve unique business problems.
Join us for the Immersive Technology for Oil & Gas Summit to hear industry leaders share best practice strategies and exchange know-hows to optimizing training, transforming remote operations, and boosting efficiency.
As development of immersive technologies advances, costs reduce, and availability increases, with many early adopters now realizing a strong ROI across many areas of their businesses.
However, whilst AR, VR, MR, XR, computer vision, edge devices, digital twins, IIoT, wearables and connected worker tools can increase collaboration, enhance decision-making, and support workforce development, the implementation of immersive technology initiatives at pace and scale remains an ongoing challenge.
As oil & gas operators learn how to overcome their rising immersive technology challenges, Allstream Calendars will be hearing valuable insights from attendees and meeting expert speakers from leading oil & gas organizations to aid them in creating an effective AR and VR digitalization strategy.
Early confirmed speakers include:
– Andres Suarez, VR/AR Integration Engineer, Shell
– David Bailey, Product Owner, Connected Worker, Digital Transformation, Chevron Phillips Chemical Company
– Bryan (Damon) Shackelford, Automation, XR Project Manager, Eastman
– Kat Duggan, Manufacturing Digital Transformation Leader, Dow
Join Allstream Calendars at the Immersive Technology for Oil & Gas Summit to hear best practice strategies to digitally enable workforces for collaborative, efficient, safe, and sustainable operations
Find out more and register using our 15% discount code ALLSTREAM15 by visiting https://bit.ly/ImmTechOG-Allstream, email info@amg-world.co.uk or call +44 (0) 113 3970 379 for more details.

Who You Will Meet
This summit is designed for VP's, Directors, Heads, Owners, Managers, Leads and Specialists from:
Digital Transformation / Digital Strategy
Emerging Technology / Operational Technology
Digital Twins / Digital Asset Intelligence / 3D Modelling / Data Simulation / Data Visualization / Industrial Metaverse
IIoT
IT
Enterprise Architecture / Capability Architecture
Edge / Cloud
Data Science / AI / ML / Advanced Analytics
Cybersecurity
Workforce Training / Learning / Development
Asset Assurance / Asset Management / Asset optimization
Energy Transition, Decarbonization and Sustainability