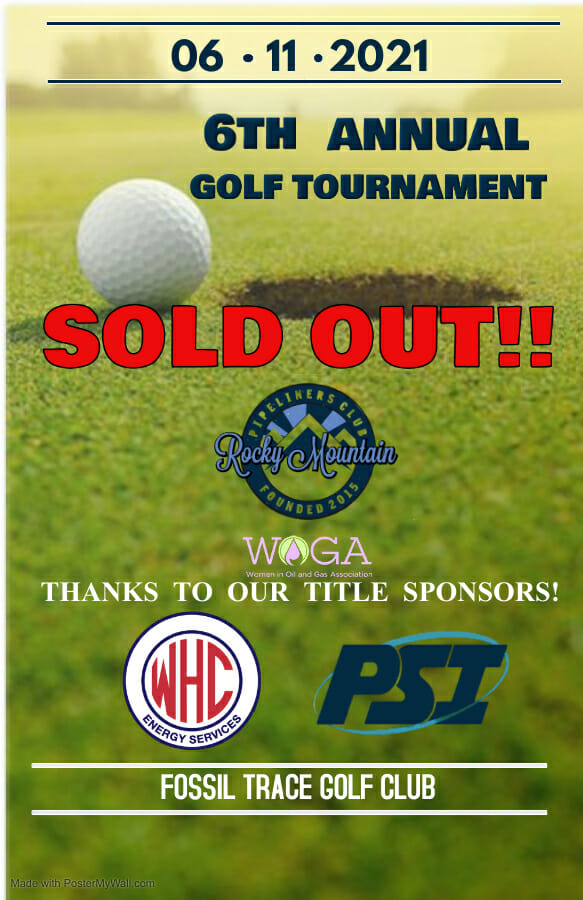 Rocky Mountain Pipeliners Club Golf Tournament – Sold Out
Event Reminder Sponsored By:

6TH ANNUAL CHARITY GOLF TOURNAMENT – FOSSIL TRACE GOLF COURSE
  

Fossil Trace Golf Club (map)
WE ARE EXCITED TO ANNOUNCE THAT THE RMPC HAS PARTNERED WITH

FOR THIS YEAR'S TOURNAMENT!

SOLD OUT IN 3 MINUTES!!! THANK TO ALL OUR SPONSORS!!
SPECIAL 'THANK YOU' TO OUR TITLE SPONSORS AND OTHERS WHO MAKE THIS EVENT POSSIBLE!
THANKS EVERYONE FOR YOUR PREVIOUS SUPPORT! WE LOOK FORWARD TO SEEING YOU AGAIN THIS YEAR!
Please contact us at info@rmpipeliners.org with questions!
We will be holding our 6TH Annual RMPC Golf Fundraiser on June 11th at Fossil Trace Golf Club in Golden Colorado. Members and Non-Members alike are invited to play.  Come enjoy a beautiful day on the golf course and mingle with some wonderful people in the oil and gas midstream community.
Our Golf Tournament is a fundraiser for the Rocky Mountain Pipeliners Club Scholarship program. We look to provide support to what we feel is the most important commodity in our business, our workforce. Our scholarships go to help our employees out in the field, looking to improve their odds in a tough market through education.  We provide funds to help a welder learn how to become a certified weld inspector, or a diesel mechanic to take his skills to the next level, or anyone employed in a technical capacity looking for help with that next certification. We have been able to help folks get raises, promotions and remain competitive in their careers.  In our short time as a club, we have truly made a meaningful impact on lives and in our industry.
Sponsor Level QTY Cost What's Included
Title Sponsor – $5,000 Premium Sponsorship, #1 or #10 Tee Box, 1 Foursome – SOLD OUT
At-The-Turn Sponsor – $3,000 At-The-Turn Tent Sponsor, 1 Foursome – SOLD OUT
Red Sponsor – $2,000 Breakfast+Drink & Lunch+Drink Sponsor, 1 Tee Box Sign, 1 Foursome – SOLD OUT
White Sponsor – $1,800 Skill Hole (sponsor's nice prize included in price- RMPC procuring), 1 Tee Box Sign, 1 Foursome – SOLD OUT
Blue Sponsor – $1,400 1 Tee Box Sign Sponsor, 1 Foursome – SOLD OUT
Cart Sponsor – $1,200 Cart Sponsor Signs, 1 Foursome – SOLD OUT
Cup Sponsor – $1,100 Cup Sponsor, 1 Foursome – SOLD OUT
Regular Foursome – $1,000 1 Foursome – SOLD OUT
Raffle Prize Sponsor (QTY ∞) – $100
WE LOOK FORWARD TO PARTNERING WITH YOU ON ONE OF OUR PREMIER FUNDRAISERS, AND THANK YOU! FOR YOUR SUPPORT OF OUR CLUB AND OUR INDUSTRY'S MOST IMPORTANT COMMODITY, OUR WORK FORCE.